100% Giveaway on Advanced Recent Access – Free License Key – See More Properties of Recent Used Resources – for Windows
View and open files you've worked with recently, eliminating the need to manually locate them. Get Advanced Recent Access license key for free!
Free License Key | No Payment 
Advanced Recent Access Review at a Glance
Advanced Recent Access is designed to see and open more recent used resources (files and directories). And you can see more properties of the recent resources, such as path, size, type, date modified and date created.
With Advanced Recent Access, you'll be able to capture key gains in productivity and efficiency as you gaze upon all of your recent items, including details about file size, path, format, and more! Handy filters let you display only documents, images, video, audio, or compressed files. You can also use this handy tool to easily run, open location, or recycle any item in your list.
Advanced Recent Access is an efficient and user-friendly program which serves in keeping track of all your recent files, enabling you to launch them with just a click, thus saving you valuable time and effort.
back to menu ↑
Features
Key Features of Advanced Recent Access:
Shows Path, Size Type and Date Modified/Created
Automatically Records Accessed Times
Automatically Deletes Nonexistent Resources
Filters Recent Resources by Types
Automatically Remembers Order, Width and Sorting of Columns
Can Hide the Unwanted Properties
back to menu ↑
Requirements
To run Advanced Recent Access with optimum reliability and performance, your system should match the following requirements:
System Requirements for Windows OS:
Supported OS: Windows XP/2003/Vista/7/8/8.1/10, 32 & 64-bit both.
System Requirements for Mac OS:
back to menu ↑
Download
Not sure if Advanced Recent Access does what you need? Try it out now. Please feel free to download Advanced Recent Access here. This Recent access viewer by Trisun Software has been tested professionally and we are assured that no viruses, Trojans, adware or malware contained.
back to menu ↑
Buy Now
Advanced Recent Access retails for $39.99, But, on our website, THE Software Shop, you can get Advanced Recent Access license key for free in the "Software Giveaway" section below. This offer is available for a limited time!
Advanced Recent Access Giveaway is available now for a limited time!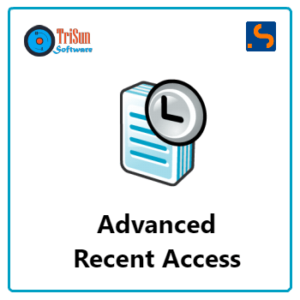 Please note that once you signed in, do not close this page. You will be shown how to get this offer for free.
Also, check out the latest software giveaways that are available here on the software giveaway page.
Thanks for reading Advanced Recent Access Review & Enjoy the discount coupon. Please Report if Advanced Recent Access Free License Key Giveaway has a problem such as expired, broken link, sold out, etc while the deal still exists.