57% OFF Coupon for Ashampoo Snap 10 – The High-end Screenshots and Video Capturing Software – for Windows
Captures/Creates, edits, and sends screenshots and videos. Get Ashampoo Snap 9 with full version license key for free. You can also upgrade to Ashampoo Snap 10 with57% Discount Coupon. Enjoy!
Free Full Version 9 License Key

Ashampoo Snap 10 Review Video
57% OFF Coupon for Ashampoo Snap 10 – The High-end Screenshots and Video Capturing Software – for Windows
Ashampoo Snap 10 Review at a Glance
Ashampoo Snap 10 by Ashampoo Gmbh & Co. KG is the ideal screenshot and video recording solution for your PC. Capture anything you see on your screen as images or videos and add additional information, e.g. texts or arrows. A picture is worth a thousand words – if it is done well! Use the integrated text recognition to copy entire pages of text or share your processed images with friends and family. Whether you need to explain, document or simply demonstrate – Snap 10 is always the best choice!
The benefits of Ashampoo Snap 10
Ashampoo Snap 10 is smart and takes a lot of work off your hands. Whether it's the integrated text recognition that can extract entire pages of text for you, the automatic numbering that can render procedures more comprehensible or the automatic stop feature that will stop a recording when the action is over – it all just makes sense! Create, edit and send, do it all with a single application.
Ashampoo Snap 10 allows you to edit your live recordings by adding text and drawings. It's the fastest and most intuitive way to create instructional videos! You can also record your keyboard input. Where you previously had to insert text explanations and graphics Snap can now do the job for you — ideal for tutorials!
Ashampoo Snap 10 is the most flexible Snap to date. Whether you need to edit your videos on the fly during recording or open your images in a program of your choice, Ashampoo Snap 10 gives you many new options! Discover new features such as the ability to record your keyboard input during video captures, the creation of animated GIFs, the enhanced image editor or the full browser support! Use smart features such as auto stop for your recordings or freely select the display that will be used for Snap's image editor window – experience the most user-friendly Snap of all time!
back to menu ↑
What's new?
The new Ashampoo Snap 10 features big improvements and smart enhancements. As a first, Snap can now capture 3D fullscreen games. The new video editor trims recordings to size without quality loss and helps split up lengthy clips into individual episodes. Web site captures can now include their URLs for easier organizing. It's a brand new experience with enhanced sound recording, video watermarking and smarter editing tools. Meet Ashampoo Snap 10 – everything you need in a single program!
back to menu ↑
Features
Key Features of Ashampoo Snap 10:
Capture modes 

Create screenshots of 3D fullscreen games – NEW
Additional fixed window sizes
Instantly capture all visible desktop windows as objects – NEW
Create collages from multiple screenshots – NEW

Video capturing

Cut videos – NEW
Save videos as individual episodes – NEW
Join video files – NEW
Improved watermarking with live preview – NEW
Turn video cuts into animated GIFs – NEW
Enhanced recording of audio tracks
Live edit video recordings with text and pen annotations – NEW
Display keyboard input during video recordings – NEW

Ashampoo Snap webspace

Include origin (URL) in emailed images (only Outlook) – NEW
Export all objects to Photoshop – NEW
Integrate external applications for image editing and processing – NEW
Video auto-resizing for extreme display resolutions – NEW
OCR

Text recognition support for 6 languages (English, French, German, Spanish, Turkish, Russian)
New text recognition language: Japanese – NEW
Extract text from images with text recognition – NEW
Improved handling
Add origin (URL) to images – NEW
Include origin (URL) in image metadata – NEW
New hotkeys and screenshot settings – NEW
More intuitive settings dialogs – NEW
Speed improvements across all program areas – NEW
Capture system clipboard images that were copied in a browser window – NEW
Capture multiple monitors up to 4k resolution – NEW
Optimized for current processors – NEW
Extended selection options for multi-display environments – NEW
Editing mode

Movable and minimizable edit window – NEW
Highlight effect with image analysis – NEW
Full DPI awareness – NEW
New formatting options for numbered buttons – NEW
Free display selection for edit mode – NEW
Copy objects to system clipboard while in edit mode – NEW
Copy objects between screenshots – NEW
Work with curved arrows and lines for maximum flexibility – NEW
Exit edit mode even with multiple open projects – NEW
Insert locally saved images into screenshots – NEW
Improved object scaling during size adjustments – NEW
Enhanced filling tool with new transparency and tolerance settings – NEW
back to menu ↑
Requirements
To run Ashampoo Snap 10 with optimum reliability and performance, your system should match the following requirements:
System Requirements for Windows OS:
Operating System: Windows® 10, Windows® 8.1, Windows® 8, Windows® 7
Computer: Any computer that runs on one of the above-operating systems at a reasonable speed.
Graphics adapter: min.resolution1024 x 768 and 16-bit High color (32-bit recommended) and min. 64 MB RAM.
Sound Card: none (supported audio record device and microphone recommended)
Other:

For some services an Internet connection is required
Internet connection may be required to verify the serial number during usage of certain features.
System Requirements for Mac OS:
back to menu ↑
Ashampoo Snap 10 Download
Please feel free to download Ashampoo Snap 10 here. This Screen capture software by Ashampoo has been tested professionally and we are assured that no viruses, Trojans, adware or malware contained.
back to menu ↑
Buy Now
Ashampoo Snap 10 retails for$49.99, But, on our website, The Software Shop, you can Ashampoo Snap 10 license key with 57% Off Coupon.
You can also get the previouse version, Ashampoo Snap 9 Full version includes a license key for free in the Software Giveaway below.
This offer is available for a limited time!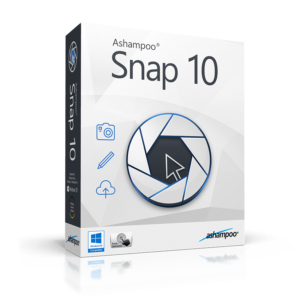 Ashampoo® Snap 10 - Full
The high-end software solution for screenshots and video captures
30-day Money-back Guarantee
Free Technical Support
$39.99
Ashampoo Photo Bundle 10 - Full
TODAY and only OUT OF The Software Shop, US$19.99 instead of US$109.97 - Buy HERE. save up to 81% today!
Includes:

1x Ashampoo® Photo Commander 16
1x Ashampoo® Snap 10
1x Ashampoo® Photo Card 2

30-day Money-back Guarantee
Free Technical Support
$109.97
Ashampoo® Multimedia Bundle 11 - Full
Today you get 81% discount on three TOP sellers in the category Multimedia! But hurry! This offer is only valid for a short while!
Includes:

1x Ashampoo® Snap 10
1x Ashampoo® Slideshow Studio HD 4
1x Ashampoo® Photo Optimizer 7

30-day Money-back Guarantee
Free Technical Support
$109.97
Ashampoo Snap 9 Giveaway is available now for a limited time!
Please note that once you signed in, do not close this page. You will be shown how to get this offer for free.
Also, check out the latest software giveaways that are available here on the software giveaway page.
NOTE:
– All prices shown here are in listed USD (United States Dollar). Your local currency will be converted automatically, You can also switch to any other currencies during the checkout process.
– The discount coupon & your local VAT (Value added tax – if available, vary by country) will be applied at checkout automatically.
– The order(s) for the software are processed by the cleverbridge AG. This company accepts paying on-line, via PayPal, by fax, bank-wire transfer, check, cash, or purchase order.
– You will receive a notification e-mail from cleverbridge AG when your order is processed which will also include your license information.
– Such promotional programs are subject to change without notice, from time to time in our sole discretion.
– Data may vary based on different system or computer.
back to menu ↑
User & Media Reviews
What their users are saying about Ashampoo® Snap 9?
Ashampoo Snap 9 is a professional and versatile screenshot/screen capture software which offers a superb feature-set, way above the norm. Forget those free screenshot capture tools which pale into insignificance next to something like Ashampoo Snap 9 – after using Ashampoo Snap 9, you'll soon realize that there is just no comparison, apples and oranges.
Ashampoo Snap 9 is a highly convenient application to communicate screen contents. It can quickly create, edit and share screenshots and videos.
Anyone who intends to create and share screenshots and screencasts requires good software to begin with. Ashampoo Snap 9 is exactly what you need.
---
Thanks for reading Ashampoo® Snap 9 Review & Enjoy the discount coupon. Please Report if Ashampoo® Snap 9 Giveaway has a problem such as expired, broken link, sold out, etc while the deal still exists.