Quick snapshot, video recording, or technical documentation, Ashampoo Snap 11 has got the tools you need to get the job done quickly and in style! Get Ashampoo Snap 11 license with a 62% discount coupon. USD 15 instead of USD 39.99 – Everybody really needs this program!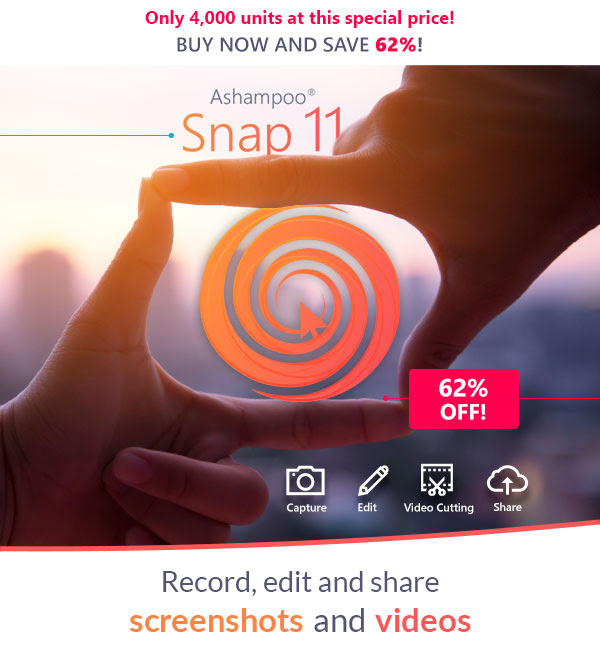 Ashampoo Snap 11 is the fastest and most flexible solution to capture, edit and share anything on your screen as screenshots or videos. Multiple postprocessing features help you augment your screenshots with graphics, texts and effects to illustrate your point with a single image instead of long text descriptions. Whether you record videos, create your own tutorials or simply seek to share what you see with others, Ashampoo Snap 11's versatile tools have got you covered.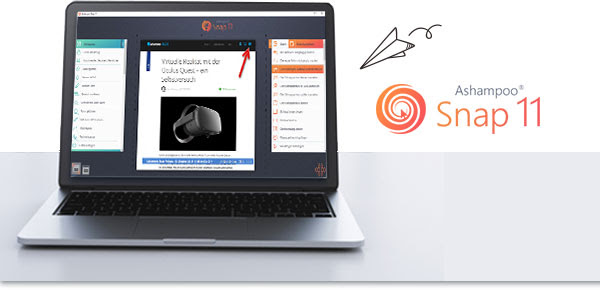 Save videos and images from the internet
The Internet is filled with fascinating images, texts, and videos. Ashampoo Snap 11 makes it easy to capture what you like! Save images and videos and edit them to your liking! Anything you see on your screen, Snap can capture!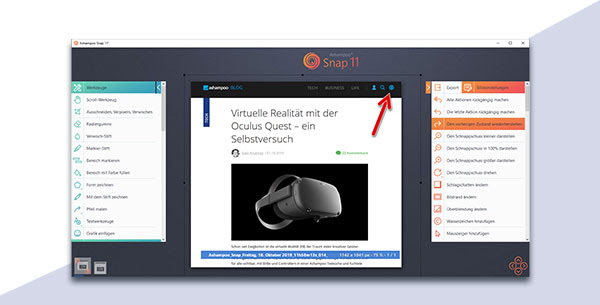 Share information more quickly and save time
A picture is worth a thousand words and helps explain even the most difficult topics. Our brains can process visual information faster and recall it more rapidly! Ashampoo Snap 11 allows you to add comments and illustrations to your images to get to the point swiftly. Point out specific details, draw attention to errors, or highlight essential passages with ease. Go try it out today. You'll be amazed at how many lines of text you can save with the help of annotated visuals!
Share with ease
Would you like to share your images and videos with friends and family or upload them to social networks? Ashampoo Snap 11 shares your files across all popular online and cloud services, including Twitter, Facebook, Dropbox, OneDrive, Google Drive etc. Want an even simpler way? For an even simpler way, upload your files to Ashampoo Webspace for free. Naturally, you can always email your files as well, if all else fails.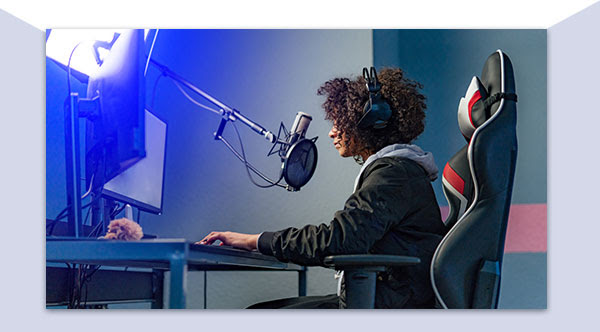 Always the right video for the job
Creating instructional videos or documentaries is a breeze with Ashampoo Snap 11. Recordings are live-annotable with texts, drawings and voice narration. For added clarity, mouse clicks and key strokes can be visualized and watermarks added to protect your IP. Add webcam live feeds and you'll have yourself a masterpiece in no time.
62% Off Coupon: Ashampoo Snap 11 – Screen Record, Edit, & Share Screenshots & Videos