50% Off Coupon on Ashampoo® Video Tilt-Shift – Brilliant Miniature Effects Through Tilt-Shift Filter – for Windows
Adds the famous miniature effect to your videos that originally made a splash in the world of professional photography. Get Ashampoo Video Tilt-Shift full version with 50% discount coupon!
You save $15.00 | 30-day Money-back Guarantee | Secure Payment | 24×7 Customer Support
Ashampoo Video Tilt-Shift Review at a Glance
Ashampoo Video Tilt-Shift is an Ashampoo Video Optimizer Pro spin-off which geared towards users seeking an inexpensive way to use this Video Tilt-Shift feature. Through a clever combination of focus and sharpness adjustments, buildings, landscapes and objects in your videos will look like miniatures in just a few clicks.
For spectacular results, perspective, width and intensity of the effect are adjustable with pixel precision and the built-in live preview ensures users will never be disappointed. But it doesn't stop there! Aside from camera and perspective manipulation, this tilt-shift video program also supports exposure and color adjustments through simple sliders.
In addition, videos can be cropped to custom or common aspect ratios (16:9, 4:3, etc.) and rotated or flipped. Users can even modify playback speeds to simulate slowmo or time-lapse effects.
back to menu ↑
Features
Key Features of Ashampoo Video Tilt-Shift:
Add tilt-shift effects to videos
Adjust effect strength, width and alignment with incredibly ease
Fine-tune exposure, saturation and white balance
Rotate and crop videos to any format
Clever slow-mo and time-lapse effects based on playback speeds
Powerful contrast and color optimization
Perfect for drone videos
back to menu ↑
Requirements
To run Ashampoo Video Tilt-Shift with optimum reliability and performance, your system should match the following requirements:
Operating System: Windows® 10, Windows® 8, Windows® 7 (64-bit)
Software:

Windows Media Player 10
.NET Framework 4.0

Processor:

DVD quality editing / production – Dual-core processor with 2.4 GHz or better
HD quality editing / production – Intel Core i5 / i7 or similar quad-core processor

RAM:

2 GB or higher for DVD quality editing / production
4 GB or higher for HD quality editing / production
8 GB or more recommended

Graphic card:

DirectX 9
Pixelshader v2.0
Min. 128 MB RAM.
Min. 1280 x 1024

Other:

An Internet connection is required to activate the program. The program license is verified repeatedly at regular intervals.
For some services an Internet connection is required.
back to menu ↑
Ashampoo Video Tilt-Shift Download
Not sure if #THE SOFTWARE does what you need? Try it out now. Please feel free to download Ashampoo Video Tilt-Shift here. This video miniature effect program by Ashampoo has been tested professionally and we are assured that no viruses, Trojans, adware or malware contained.
back to menu ↑
Buy Now
Ashampoo® Video Tilt-Shift retails for $29.99, But, through our website, THE Software Shop, you can get this video tilt-shift software full version with 50% discount coupon. This offer is available for a limited time!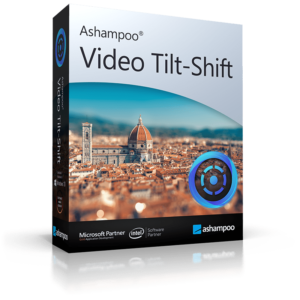 Ashampoo Video Tilt-Shift - Full Version
Get the latest version at a bargain price now!
Download version
Free Software Updates
Free Technical Support by Ashampoo
30-Day Money-back Guarantee
Platform: Windows® 10, Windows® 8, Windows® 7
$29.99
RECOMMENDED: FULL VIDEO EFFECT & ENHANCEMENT
Ashampoo Video Tilt-Shift Giveaway is unavailable at this moment.
Please note that once you signed in, do not close this page. You will be shown how to get this offer for free.
Also, check out the latest software giveaways that are available here on the software giveaway page.
NOTE:
– All prices shown here are in listed USD (United States Dollar). Your local currency will be converted automatically, You can also switch to any other currencies during the checkout process.
– The discount coupon & your local VAT (Value added tax – if available, vary by country) will be applied at checkout automatically.
– The order(s) for the software are processed by the Ashampoo/Cleverbridge company. This company accepts paying on-line, via PayPal, by fax, bank-wire transfer, check, cash, or purchase order.
– You will receive a notification e-mail from Ashampoo/Cleverbridge when your order is processed which will also include your license information.
– Such promotional programs are subject to change without notice, from time to time in our sole discretion.
– Data may vary based on different system or computer.
---
Thanks for reading Ashampoo® Video Tilt-Shift Review & Enjoy the discount coupon. Please Report if Ashampoo® Video Tilt-Shift Discount Coupon/Deal/Giveaway has a problem such as expired, broken link, sold out, etc while the deal still exists.