BEST OFFER
50% Off on Fast Screen Recorder – Free 1-year Registration Key – Computer Screen Activity Recording Tool – for Windows
Record your computer screen activities like your important video conference, video tutorials, educational activity easily. Get your own Fast Screen Recorder license that includes free updates & support with a 50% discount coupon!
✔ Save $20.00. ✔ Free Product Updates ✔ 24×7 Customer Support ✔ 30-day Money-back Guarantee.
Fast Screen Recorder Review at a Glance
You need to record your computer screen If you want to save exactly what is display on the screen. So you can share this recorded video with any other. So many purposes behind this recording screen. You can teach or want to watch it later. To record your screen you need an application. Fast Screen Recorder by FastPCTools is an application that helps you to record screens. This is very user-friendly and easy-to-use software.
Fast Screen Recorder is a screen recorder that records your computer screen with audio like video streaming, webcam, video conference even gaming activities. You can also record only audio or video and both with and without a mic.
The recorded videos can be saved as as an AVI, MP4, WMV or MKV file. It also lets you take screenshots of the whole screen or just a selected area.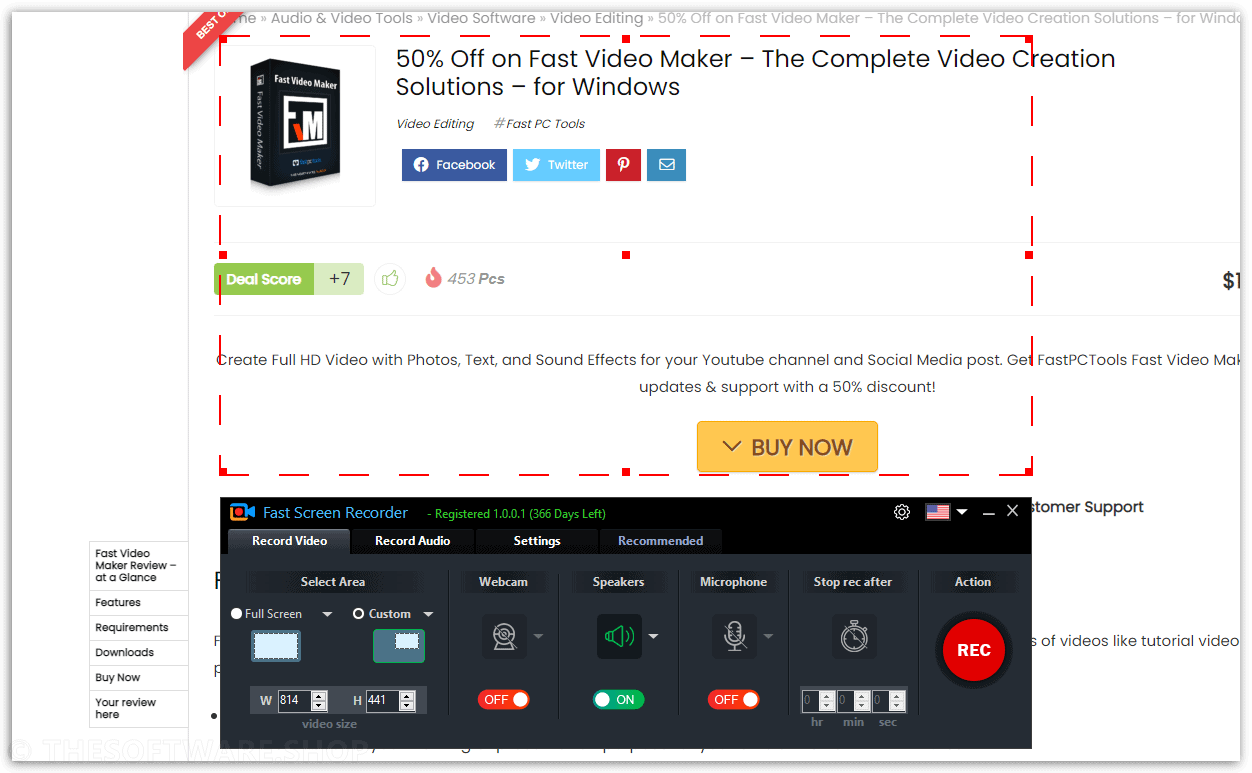 The app can be set up so that it stops recording automatically when the time limit has been reached (or after a specified number of minutes). The Unlimited Screen Recording feature means there are no limits on how long recordings can go for.
Screenshots of Fast Screen Recorder
Features
Key Features
Record Any Screen Area – Select the screen area which you want to record.
Record Video with Microphone – On/off your microphone before start recording. So you can create videos with your voice.
Record only Audio – Record audio with system audio and microphone like music, songs, lectures, etc.
Set Auto Stop Recording – If you know your recording will stop after some time then you set and start recording. Your recording will auto stop the defined time.
Record Screen without Watermark – With the Fast Screen Recorder registered version you can record your computer screen videos without a watermark.
Unlimited Screen Recording – The registered version does not have any limit on video length and number of video recordings.
Auto Video Optimization – Manage memory so, the recorded video size is optimized without quality loss.
Play After Record – After recording video or audio, you will receive an option to play your recorded video.
Disable Record Mouse Activity – If you do not want to record your mouse movement activity then you need to disable the option in the fast screen recorder settings.
Stop Countdown before Recording – When you record a video, then the countdown is running every time. If you do not need a countdown on recording then disable the option from settings.
Change Shortcut Keys – You can change settings with the new keys combination. If you want to reset settings then click on "Reset to Default".
Auto Update Application – This screen recording application continues to upgrade features and fix minor and major report issues.
Capture Full Screenshot – With the Full Screen capture screenshots, You can capture screenshots with taskbar or without taskbar.
Capture Window Screenshot – You can capture screenshot of active window or select window with your mouse hover.
Capture Custom Screenshot – With this tool you can capture any part of your screen. With the mouse you can select screen area for capture.
Requirements
To run #THE SOFTWARE with optimum reliability and performance, your system should match the following requirements:
Compatible with Windows 11, 10, 8.1, 8, and 7
Download
Not sure if #THE SOFTWARE does what you need? Try it out now. Please feel free to download Fast Screen Recorder here. This screen recording tool by FastPCTools has been tested professionally and we are assured that no viruses, Trojans, adware, or malware are contained.
Buy Now
Fast Screen Recorder is available for $39.90. But, through THESOFTWARE.SHOP, You can get your own license with our exclusive 50% discount coupon. This offer is available for a limited time!
ORDER HERE:

You also might like

Giveaway
Fast Screen Recorder - 1 Year (50% Off)
Record your daily routine screen activity like your online Video Meetings, Video Classes, Self-Tutorials, and more.
Record Any Screen Area
Record Video with Microphone and Speaker
Record only Audio
Set Auto Stop Recording
Unlimited Screen Recording
Record Mouse Activity
Free Updates
Platform: Windows
$39.90
Download your videos, playlists, HD videos, and convert the video easily. Get Fast Video Downloader license that …
The safe way to clean your browser(s) for fast and secure internet browsing. Get Fast Browser Cleaner 2.1 full version …
Create Full HD Video with Photos, Text, and Sound Effects for your Youtube channel and Social Media post. Get …
Fast Screen Recorder Giveaway is available now FREE for a limited time!
Please note that once you signed in, do not close this page. You will be shown how to get this offer for free.
Also, check out the latest software giveaways that are available here on the software giveaway page.
NOTES:
– All prices shown here are in listed USD (United States Dollar).
– Such promotional programs are subject to change without notice, from time to time in our sole discretion.
– Data may vary based on different systems or computers.
Excellent
Fast Screen Recorder is a pack of solutions for screen recording. With the this Screen Recorder tool, you can record any moment on your screen. Also, it helps record your online conferences, meetings, tutorials, gaming moment, and more.
Positive
Record Any Screen Area
Record Video with Microphone and Speaker
Record only Audio
Set Auto Stop Recording
Unlimited Screen Recording
Record Mouse Activity
Free Updates
---
Thanks for reading Fast Screen Recorder Review & Enjoy the discount coupon. Please Report if Fast Screen Recorder Discount Coupon/Deal/Giveaway has a problem such as expired, broken link, sold out, etc while the deal still exists.