BEST OFFER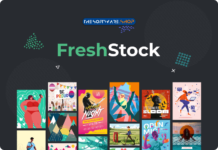 86% Off on FreshStock – Lifetime Unlimited Downloads: A Purpose-driven Stock Vector Library
Download unlimited inclusive visual assets that represent diverse cultures, activities, and lifestyles. Get lifetime access to FreshStock – Unlimited Downloads at 86% discount!
✔ Save $423.00 ✔ Lifetime Access. ✔ 60-day Money-back Guarantee. ✔ Secure Payment. ✔24×7 Customer Support
FreshStock Review at a Glance
Designers, raise your hand if you agree with this: Finding the exact right imagery for your asset is time-consuming, tedious, and frankly boring. And when you're a creative with a tendency to be a perfectionist, landing on the right image is often the worst part of the job. At least, it used to be — until now. Because we have the most diverse stock asset library in the world coming up in today's product showcase: FreshStock!
FreshStock is a stock asset library with thousands of uniquely curated stock vectors and graphic templates created with diversity in mind. Thanks to 30k+ pixel-perfect vectors and graphic templates that reflect the real world, FreshStock makes it easier than ever to create high-quality marketing projects that connect with your audience.
FreshStock's powerful search engine helps you find exactly what you're looking for while also giving you inspiration for future ideas. Search for assets based on theme, type, topic, and more!
Once you discover assets you love, you can customize them to align with your brand, product, or campaign. Plus, you'll be able to save them to shareable collections.
Last, but certainly not least, you can download unlimited vectors and templates without worrying about running out of credits or going over budget.
What is in FreshStock?
FreshStock has a sleek and easy-to-navigate homepage, where you can choose to explore fresh themes, browse by asset type, or check out the newest templates . Let's go ahead and jump into one of these categories.
You can sort the selection by most recent or most popular and explore by asset type, like templates to be edited or by vectors only. You can also conduct a global search and land on your perfect asset that way. Whatever way you find it, here's what the asset page looks like.
From here, you can hit Share to save to your clipboard, download the asset, or save it to a Collection. Collections are basically the FreshStock version of Pinterest, where you can create an unlimited number of files in which you save to your fave assets. You can create a new Collection when you save the asset or make one in the Collection tab.
From this tab, you can also share a collection with someone else. The Downloads tab keeps track of everything you've downloaded, organized by date.
Designers, if you're looking for the freshest assets on the block, look no further. Find unique stock assets with diversity in mind — only at FreshStock. FreshStock helps you find inclusive visual assets that represent diverse cultures, activities, and lifestyles.
Features
Key Features of FreshStock
Unlimited Downloads – Download as many assets as you need.
Edit/Modify downloaded assets
Post/Print/Publish downloaded assets
Download as images in .png or .jpg format, as well as in their editable source format.
Zip files are available for times when you, your designer, or developer need all available formats.
Visual search – makes it easy to organize by theme, asset type, and more.
Collections – Store and organize assets of a certain type or for a particular project
Collection Sharing – Share your collection with another person
Every vector includes native source files, so you can download, import, and customize them however you like.
Requirements
To run #THE SOFTWARE with optimum reliability and performance, your system should match the following requirements:
Internet Connection
Internet Browser
Buy Now
FreshStock is available for $49.00/month. But, through THESOFTWARE.SHOP, You can get FreshStock with a lifetime subscription at 86% discount. This offer is available for a limited time!
Order Here!

You also might like

Giveaway
freshstock - Lifetime (86% Off)
A purpose-driven stock vector library with thousands of socially-inclusive, premium stock vectors, and templates for one flat monthly rate.
Lifetime access to FreshStock

Unlimited downloads per month
Full access to FreshStock's library of curated stock vector and graphic templates

All future plan updates
Please note: This deal is not stackable
GDPR compliant (partner verified)
Only for new FreshStock users who do not have existing accounts
You must redeem your code(s) within 60 days of purchase
60-day money-back guarantee, no matter the reason
$492.00
Get Depositphotos 100 Downloads Credits for $80.00 (On-Demand Downloads) instead of $299.00 with 73% Discount Coupon. ...
Depositphotos presents a solution to help you create eye-catching graphics, regardless of your knowledge in design. Get ...
Upgrade your marketing materials with 1M+ spectacular, royalty-free assets and an easy-to-use editor. Get ...
FreshStock Code Giveaway is unavailable at this moment.
Please note that once you signed in, do not close this page. You will be shown how to get this offer for free.
Also, check out the latest software giveaways that are available here on the software giveaway page.
NOTES:
– All prices shown here are in listed USD (United States Dollar). Your local currency will be converted automatically, You can also switch to any other currencies during the checkout process.
– The discount coupon & your local VAT (Value added tax – if available, vary by country) will be applied at checkout automatically.
– The order(s) for the software are processed by the AppSumo company. This company accepts paying on-line, via PayPal, by fax, bank-wire transfer, check, cash, or purchase order.
– You will receive a notification e-mail from AppSumo when your order is processed which will also include your license information.
– Such promotional programs are subject to change without notice, from time to time in our sole discretion.
– Data may vary based on different systems or computers.
User & Media Reviews
What are their users saying about #THE SOFTWARE? Why they loved it?
Great unique designs
I'm always searching for great designs to use in various places (websites, landing pages, FB ads).
This is a bunch of really fantastic designs.
What I love about them – they are:
✔️ beautiful
✔️ unique (unlike these in stock photo sites)!
✔️ eye-catching
✔️ stop scrolling (will defo test them in PPC traffic)
✔️ most of them ready to use out of the box
✔️ all of them editable to your needs
✔️ can be a great upgrade to your website design
✔️ can be used for commercial purposes
✔️ can be used "as is" on Print On Demand products
What I'm lacking so far is:
👉 ability to search by: size (at least pixels please), color, orientation (vertical, horizontal, square)

YOU WONT REGRET IT
The second I saw this is created by a friend Russ Perry founder of design pickle, i knew that this product will become amazing and bought it.
It may not be there yet compared to other softwares but Russ is a beast at productivity and grew Design Pickle to an 8 figure business in a matter of years.

Super dope
I didn't think I'd need this and it was no different from other vector services but after adding a few of the vectors to my client's sites, it really spruced them up. For a Pizza website, adding the chefs making a sauce added that "flavor". For a sports website, adding the basketball drawings instead of a random stock image made the site feel more custom and one-of-a-kind. Think I'll spend the day adding these gems where they work. Thanks!!!!

Freshstock is amazing
Matt, thank you for bringing the deal. I was skeptical at first, but out of curiosity, got the account. I then searched for a word "strategy" – no results. After that – decided to look for the word "flyer", and found few very amazing results, which can be downloaded as AI files. The results are indeed fresh, as other reviewers mentioned. Unlike other stock sites, they are usable too.
It looks like Freshstock team before selecting and posting the images has been asking the question: "Can I post this image on the front page of my website, will we look professional enough?"
Please continue asking this question, and do not sacrifice quality for quantity.
Wishing you well, and hoping that your collection will grow, and become the bes

will get better, but it is good already
Been using it since I bought it. They have good images, I use more kid oriented material, and unfortunately for now freshstock is lacking a lot of kid oriented vectors, there are some though.
I combine freshstock with other vector websites and my needs are fulfilled.
Glad I got the deal.

---
Thanks for reading FreshStock Review & Enjoy the discount coupon. Please Report if FreshStock Discount Coupon/Deal/Giveaway has a problem such as expired, broken link, sold out, etc while the deal still exists.
Excellent
FreshStock is The most diverse collection of premium stock vectors and templates created by professional artists. For one flat monthly rate, get access to thousands of designs for your next project — plus the ability to send vectors to your Design Pickle designer for editing in just one click.
PROS
Unlimited Downloads
Visual Search
Collections