BEST OFFER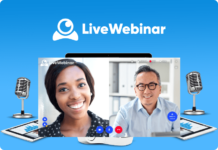 Expired
86% Off Lifetime Access to LiveWebinar – Versatile Webinar Platform & Live Streaming Tool
Stream professional presentations that help you boost brand awareness, generate leads, and engage with customers. Get Lifetime Access to LiveWebinar at 86% Discount now!
You save $611.00 | Lifetime Access | 60-day Money-back Guarantee | Secure Payment | 24×7 Customer Support
86% Off Lifetime Access to LiveWebinar – Versatile Webinar Platform & Live Streaming Tool
86% Off Lifetime Access to LiveWebinar – Versatile Webinar Platform & Live Streaming Tool
LiveWebinar Review at a Glance
LiveWebinar is one of the most advanced webinar software. It's also a collaboration platform compatible with all devices and browsers. It offers you a wide range of possibilities and provide a flexible solution without installation and allows you to organize meetings wherever you are.
What makes us stands out is interoperability. Live Webinar is the only webinar software working on so many devices and operating systems. It also does not require any downloads, registrations, plug-ins nor installation. Live Webinar is also a leading webinar software in cooperation with existing systems and it does not limit the possibilities of future implementations.
LiveWebinar's easy-to-use interface lets you run live webinars on any platform and broadcast them to social channels like Facebook, YouTube, and Vimeo. Don't want to do it live? Edit and share high-quality, customizable HD recordings.
You can host meetings under your own domain and add customized branding to take meetings and webinars to the next level.
Increase conversions with CTAs, boost communication with chat options and polls/surveys, highlight important points with an interactive whiteboard, and get personal using breakout rooms.
You can also get more info on your leads with custom registration forms and then redirect those details to your marketing automation platform with integrations to Zapier, Mailchimp, ConstantContact, and more.
Bottom line: LiveWebinar helps you increase engagement and conversions with high-quality, interactive webinars.

Features
Key Features of LiveWebinar:

Screen sharing – Show participants real-time view of your desktop.
Prezi presentations – Never again bore your audience – present your ideas with interactive Prezi forms.
Storage – Keep your files safe and secure. Share them in meetings using your personal cloud.
Live Streaming Software – Broadcast your meetings and webinars to social media and external sources like YouTube, Facebook, Vimeo, Periscope
Polls & Surveys – Improve your future webinars by getting feedback.
Chat – Ideal solution for Q&A meetings.
Call to action – Convert engagement into sales.
Whiteboard – Present your ideas in a more accessible way.
Invitations – Invite participants by e-mails and text messages.
Presenters – Manage and assign roles to the people who will run your webinars and online meetings
Breakout Rooms – Divide number of your rooms to meet your every customer in separated space online.
Record sessions in HD – Record an amazing webinar experience by surprising your viewers with the highest standards of quality.
Branding & solution under your domain – Add logo, brand colours and throw personalized webinars
Event scenarios – Arrange events, surveys and forms into your own automated events.
Wide range of integrations – Adapt the platform to your system using API interface.
Works well with many marketing automation tools such as: Mailchimp, Campaign Monitor, Freshmail and more
Prepare & Invite

Subaccounts
Friendly Room URL
Custom branding
Registration Page
New Leads Form
Waiting room with agenda
Phone Bridge
Toll-Free Numbers
Custom Numbers & IVR
Invite Participants
Email Invitations
Text Message Invitations
Call-in Invitations
Mass Invitations
Webinar Presenters
Embed On Your Website
Room Advanced Settings
Room Security
Test Your Connection
Ads – Banner
Room Features

Room Layout
Webinar Room Template
Meeting Room Template
Interview AV Mode
Broadcast to FB, YT
Audio & Video
Presentations
Share Documents
Tests, Polls & Surveys
Screen Sharing & Control
Whiteboard
HQ Recording
Recording Editor
Recording PostProcessing
Close Captioning
Audio Modes
Storage – your files
YouTube, Vimeo players
Support & Feedback
Session Management
Participants List
Decisions Pod
Prezi
Vote Manager
Breakout Rooms
Call To Action
HQ Live Streaming
Chat
Automatic Translation
Moderated Chat
Private Chats
Chat History
Presence Manager
Room Languages

Get Results

Thank-You Page
Statistics & Reports
Marketing Automation
Track Your Audience
Customise Platform
Manuals & Tutorials
Advanced API
Requirements
LiveWebinar is a browser based audio video platform utilizing WebRTC technology. Live Webinar enables you to meet face-to-face from any location and provides a wide range of real time communication tools. You only need a browser to create a meeting and start communicating with people instantly. The platform supports: Google Chrome, Mozilla Firefox, Opera and Yandex. This means no downloads, no registrations, no plug-ins, no installation and no add-ons are required. Simply create your room name and URL to start a conference and enjoy seamless meetings with your friends and colleagues.
To run #THE SOFTWARE with optimum reliability and performance, your system should match the following requirements:
Desktop PC

Google Chrome version 29 or later
Opera version 38.0 or later
Mozilla Firefox version 45.0 or later
Yandex version 16
Microsoft Edge
If you currently use a different browser, please consider upgrading.

Mobile

Mobile browsers including Safari and Chrome on iOS and Chrome on Android are not supported by LiveWebinar.
LiveWebinar Free Plan
Not sure if LiveWebinar does what you need? Try it out now. Please feel free to try LiveWebinar here. #THESOFTWARE has been tested professionally and we are assured that no viruses, Trojans, adware or malware contained.
What you get:
2 Hours of Recordings storage
50MB Storage space – e-disk
3 Registration Forms
3 Leads Forms
Marketing Automation
1 Presenter profiles
Whiteboard
Screen Sharing
Email Invitations
Call To Action
Embed room
YouTube player
Vimeo player
Interview AV Mode
Hangouts template
1 Advanced API
Tests, Polls & Surveys
Buy Now
LiveWebinar retails for $710.00, But, through our website, THE Software Shop, you can get lifetime access to LiveWebinar with 86% discount now for just $99.00. This offer is available for a limited time!
ORDER NOW

You also might like

Giveaway
LiveWebinar - Lifetime Deal
Create professional presentations to boost brand awareness, generate leads, and engage with customers.
Lifetime access to LiveWebinar's Custoimized Plan
Room Capacity: 100 participants
Storage for documents: 500 MB
Recordings storage: 10 hours
Recordings: 12 frames per second
Screen sharing and whiteboards
YouTube and Vimeo Player
Broadcast to Social Media
Polls & Surveys
Call to action engagement
Vote Manager
Only for LiveWebinar users who do not have existing paid accounts
Marketing automation tools
Advanced Integrations: Zapier, MailChimp, Klaviyo, Slack, and more
HeySummit integration (coming soon)
Evergreen and Automated Webinar features (coming soon)
All future plan updates
Max 30 scheduled webinars
Max 10 planned permanently open rooms
Stackable:

Add 1 Code = Add 100 participants, 250 MB Storage for documents, 5 hours recordings, Get Exclusive features
BUY 5 Codes: Get all exclusive features + 30 fps recording
Stack up to 5 codes for max of 500 attendees

You must redeem your code(s) within 60 days of purchase
60-day money back guarantee, no matter the reason
$710.00
LiveWebinar Giveaway is unavailable at this moment.
Please note that once you signed in, do not close this page. You will be shown how to get this offer for free.
Also, check out the latest software giveaways that are available here on the software giveaway page.
NOTE:
– All prices shown here are in listed USD (United States Dollar). Your local currency will be converted automatically, You can also switch to any other currencies during the checkout process.
– The discount coupon & your local VAT (Value added tax – if available, vary by country) will be applied at checkout automatically.
– The order(s) for the software are processed by the AppSumo company. This company accepts paying on-line, via PayPal, by fax, bank-wire transfer, check, cash, or purchase order.
– You will receive a notification e-mail from ApSumo when your order is processed which will also include your license information.
– Such promotional programs are subject to change without notice, from time to time in our sole discretion.
– Data may vary based on different system or computer.
User & Media Reviews
What are their users saying? Why they loved it?

Expensive deal, but in webinar world nothing is cheap…
I used free account of LiveWebinar two years ago when the name of this system was HTML5meetings.com for MasterMaind Sessions. I am also paid user of WebinarJam (it is great system for webinars, but for meetings — I have possibility to set only 3 attendees :(and have to pay a lot more money yearly than for this deal). When I discovered H5Ms its blow my mind — I couldn't believe that so good system for video meetings could have free tier with so many functions and possibility to make meetings and even small webinars for 10 users/ 2GB for recordings and many marketing functions. HTML5meetings was working at 'everything' (probably even on the modern fridges with screen and internet connection ;-)) without installation anything.
I wrote message to them many months ago, that their system is excellent and maybe they could go into market using Appsumo… And now dreams come true 😉
Few months ago they changed name for LiveWebinar and changed the free tier to 'just' 5 attendees. Sad info for me – I had to find new MasterMind platform.
When I found information that they are on Appsumo, I immediately went to check offer with disposition to buy it… First impression — the price is big blocker… but when I realized how costly commercial webinar systems are I decided invest in it. It isn't perfect (even WebinarJam isn't), but very matured service, with a strong team and company behind it.
If somebody from LiveWebinar read it, I have one suggestion — be more responsive and active on Appsumo community. Even if yours answers will not be good for Sumo-lings will be better than silence.
Webinars are Best Live!
I am pretty stoked when this deal came out. I have been on their free plan a few months back and wow at long last, finally, they are here on Appsumo!!
Definitely a no-brainer investment for people who are doing an online business. Bought 1 and stacking more!
Just a quick question though, what are subaccounts? they have their own username and passwords and they share a common domain / subdomain?
If you are still in doubt of the platform, signup for a FREE account and test it for yourself. Looking forward to the 1st webinar on LiveWebinar!
Cheers!
Mike of MRDZYN Studio
mrdzyn.com
World Record (or should be)
Customer support is out of this world. While setting up my account, I'm not sure what went wrong as i did not enter my complete email address (left of the .com)
I searched for support and found the contact page and submitted a request to show me how to correct my error. BEFORE I could get back to my email (click back over my email account tab) I refreshed my profile screen and it was updated and I thought I had maybe read it wrong…
when I clicked my tab I had an email stating it was fixed – all of this happened in under 1 minute from start to finish.
For me – that is the record! I have never experienced speedy customer support like that. If this is an indication of what is to come, I'm in heaven!
I did buy 5 codes – I would not have if I had not watched Adams YouTube video review of this platform.
Good product
I think this product is solid. Very generous with branding capabilities.
Just 3 concerns:
1. Will you ever permit a full white label experience? I think your already generous. Specifically asking about the "made with love by LiveWebinar" footer and exit link "Want to make webinars like this question"
2. Will you provide sumolings with the opportunity to purchase a bigger room capacity via LTD? Ideally 1,000 to 1,500.
3. Do you have a public roadmap link for us to see where this train is headed?
FINALLY – A Tool to Replace ZOOM
I had been on the fence about the deal – primarily because I wasn't sure I needed 5 codes, then started reading some of the comments and got a little concerned about some of the feedback.
But – I took a chance and signed up with a free account (first, to see how the playback/video quality was based on the comments around 12 fps). Being that I use Zoom primarily for meetings with collaborators and clients, it was perfectly adequate for me.
So, I bought 2 codes and started testing setting up a permanent event option. I LOVE the branding tool and once I set up that event and realized I could embed it in my site SEAMLESSLY, I was hooked.
I've gone ahead and grabbed 3 more codes (because in the future, I do plan to do more webinars and evergreen webinars) and feel this deal is well worth the money. Especially when I did the math: even if I ONLY used it for meetings, at Zoom's lowest/basic plan, I would have had this paid by now. I've used Zoom for over 3 years… at $15/mo, that's $540 and does NOT include anywhere NEAR the storage and limits my meetings to 50 people.
Now, for a one-time price of $495, I not only replace Zoom for my meetings but, I have a webinar option with LOADS of features and can have up to 500 people. I'm super happy (and always love snagging lifetime deals). 🙂
Thank you so much!
Thanks for reading LiveWebinar Review & Enjoy the discount coupon. Please Report if LiveWebinar Discount Coupon/Deal/Giveaway has a problem such as expired, broken link, sold out, etc while the deal still exists.
Excellent
The platform is pretty elegant and intuitive. I love the permanent meeting rooms where I can customize all the settings to be ready for a sales meeting. Having my presentation uploaded and ready to use is sort simple, making it so easy to just hop on a meeting and be ready to go. Then I just hand out single use pass- tokens to people when I want to meet them. The webinar set up is super simple. I have used zoom and webinar jam which are both great tools. This is definitely right up there with these tools. The only feature I haven't been thrilled with is the integration with my marketing platform (activecampaigm). There is a direct integration or you can use zapier... but both options just don't map the fields the way i want. Honestly, it could be an issue with activecampaign more than live webinar so I am just using a workaround. I don't hold huge webinars on a daily basis so I it isn't a big issue for me. Overall this is a great deal especially for people who want to use this for marketing webinars as well as using it for web based sales meetings.
PROS
- Can stream in full HD at 30 FPS
- Create custom registration forms
- Create lead capture forms when entering the webinar
- Create multiple reminder emails
- Add multiple tracking, GA, FB Pixel, & Custom
- Brand the webinar room (save profiles)
- Multiple engagement options
- Broadcast to Facebook / YouTube / Others (manual setup)
- The audio quality is great.
- Concurrent sessions.
- You can go live instantly.
- Stream to Facebook.
- You can create instant meetings.
- The best part is you can have separate breakout room recordings which as of now no other platform provides according to my knowledge.
- The platform is pretty straightforward.
CONS
- Lacks advanced scheduling options
- Limited email marketing integrations
- Sent emails have their branding, which is low-end branding IMO
- Can't setup everything for the event in advance
- Call to action is disruptive
- Recorder is low unusable 12 FPS
- No audio meters to indicate audio is working
- Embed needs some improvements
- Their CTA when exiting a meeting