Use various photo filters, blend modes, and masks, it's easy to make your spring colors pop using Photo RAW 2021.5. Get up to 48% Off on ON1 Photo RAW 2021.5 with our exclusive discount coupon!
The new ON1 Photo RAW version 2021.5 is coming in just a few weeks, bringing powerful new features that make ON1 editing faster and better than ever. Order now during ON! Spring Sale for the absolute best price! You'll receive version 2021.1 today and a free update to 2021.5 in just a few weeks.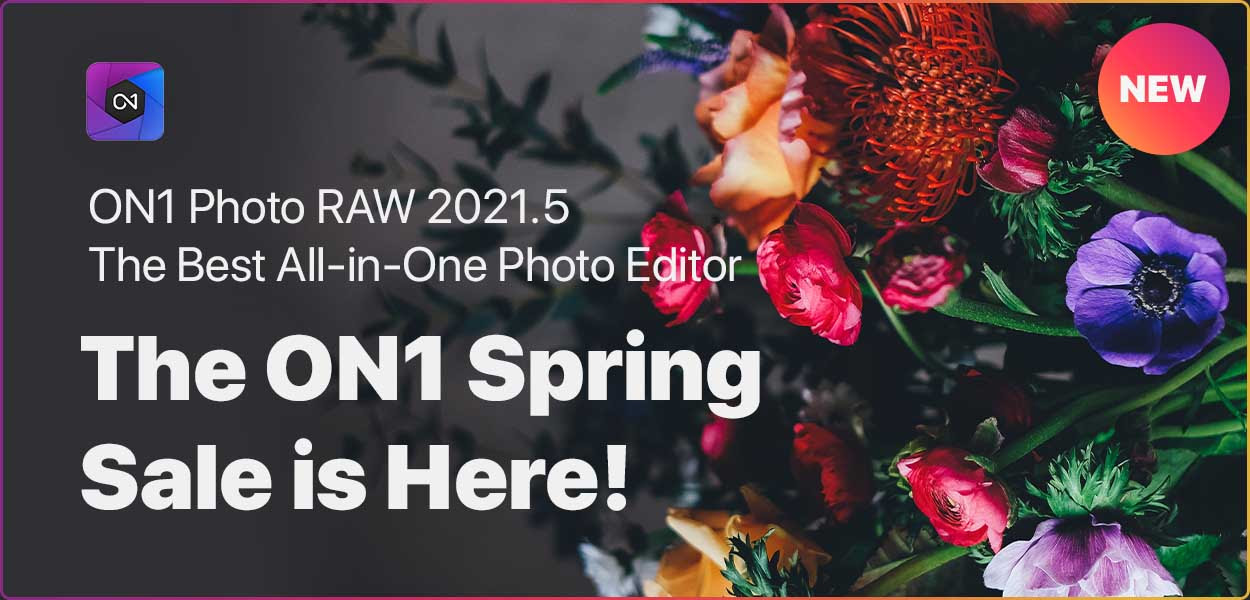 Things are quite different today than they were 12 months ago. Most of the world has been in lockdown all this time. Like many of you, the entire ON1 team had to adapt to working at home.
Nevertheless, ON! team got a whole lot done over the past year. They delivered a steady stream of new releases that brought four new updates to ON1 Photo RAW, plus a huge update just around the corner: ON1 Photo RAW 2021.5.
So, what's next for ON1? Over the next several weeks, They will be sharing each of the new and exciting technologies coming in Photo RAW 2021.5. Version 2021.5 is sure to be a huge hit with faster editing capabilities using fully customizable keyboard shortcuts and more fine-tuning control of each of the sliders. The Lightroom plugins included in Photo RAW are also greatly improved.
They are bringing back the ability to re-edit photos between the apps and greatly improving the batch processing capabilities of the ON1 plugins. Finally, one long-requested feature they are adding is the ability for Photo RAW subscribers to sync their presets and extras across computers and devices.
Customizable Keyboard Shortcuts
Wouldn't it be nice to have total control over your keystrokes? Coming in Photo RAW 2021.5 is the ability to assign all of your keyboard shortcuts to your liking. It's also a huge benefit for our international customers! See it in action
It's just one of many new features in 2021.5.
Other ON1 Photo RAW 2021.5 Sneap Peek:
Fast Edit without A Click – In 2021.5 Update, You can now control the most common adjustments in Develop from most places in the app. New enhancements are also coming to the slider controls and you can now hook up Photo RAW to your control surface!
Return of the Smart Photo – Isn't it time for Lightroom users to feel the love? If you are using Lightroom, this is a feature you will love. When you use Photo RAW as a plugin for Lightroom you can now edit photos and then come back later and access the settings to re-edit them.
Sync Your Creativity – Coming soon for Photo RAW subscribers, is the ability to sync presets and extras via Cloud Sync. Presets, LUTs, backgrounds, borders, and textures will now be shared across your computers and devices.
Efficiently Edit Multiple Photos – There will soon be a faster way to edit multiple photos between Photo RAW and Lightroom. The new batch processing dialog gets you through editing multiple photos in a short amount of time.
Photo RAW 2021 has really come a long way. They added an incredible new healing brush, Portrait AI for automated retouching, a new mobile app with cloud sync capabilities, new smart organize features, plus custom brush shapes and new filters in Effects. They also released a line of plugins with new workflows for Capture One, Affinity, and Corel in addition to Adobe. I encourage you to take Photo RAW on a test drive and experience all the new creative editing tools.
ON1 Spring Sale: 48% Off on ON1 Photo RAW 2021.5 – Make Your Spring Colors Pop!
$51.19 - $95.99
$99.99 - $149.99