O&O Defrag 23 Pro is now available and brings a world-first new feature to optimize your hard disks & SSDs. Get now with a 53% discount coupon and enjoy more speed while at the same time-saving money on your hardware. This offer is available until March 22nd, 2020. Don't miss it. Get now!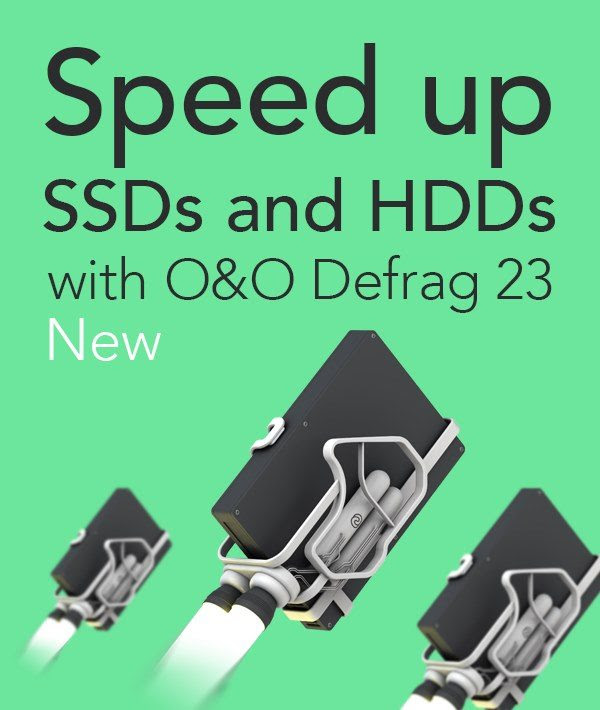 The new O&O Defrag 23 PRO not only defragments traditional hard disks but also SSDs. As a result, the SSD is faster as the number of read and write accesses is reduced by the defragmentation. In addition, the premature wear of the SSD (and of course the conventional hard drive) is prevented because fewer blocks need to be erased and rewritten than before the defragmentation with SOLID/COMPLETE.
Did you know, that defragmenting your hard disk(s) provides the largest performance gain possible for a PC – even in 2019 (aside from hardware upgrades)? The gains in speed from using O&O Defrag 23 professional are all the more noticeable the more intensely a computer is used or when the last defragmentation was made a long time ago.
Did you know, that a regular defragmentation with the new SOLID/COMPLETE method not only speeds up your computer, but also reduces wear and tear on your hard drives and SSDs?
Let O&O Defrag 23 Pro optimize your hard disks and SSDs, and you will get more speed while at the same time saving money on your hardware.
This offer is reserved for you in our Online Shop until March 22, 2020. May not be combined with other discounts/coupons or applied to past purchases. Offer is not valid for resellers or affiliates. Payment can be made by credit card, wire transfer, PayPal, or various local payment options. Also available in various local currencies!
53% Off O&O Defrag 23 Pro: Optimize Hard Disks and SSDs, and Get More Speed