With the full version of EaseUS Partition Master Professional, you have your hard disks completely under control. Partitioning is child's play and even lost partitions can be saved again. Today only, you can get EaseUS Partition Master Pro 12 full version with a license code for free!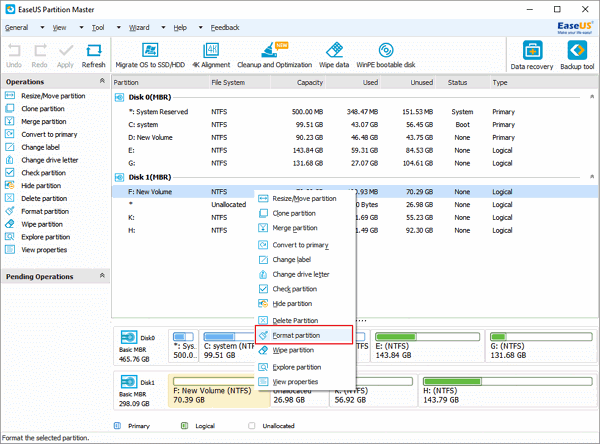 Hard disks used to be divided into two partitions to protect users from deleting parts of the operating system by entering commands. Thanks to the improved user interface and handling, this is no longer necessary these days. Nevertheless, there are still many reasons why it is worth dividing disks into partitions. With the "EaseUS Partition Master Pro" you can manage your hard drive and all partitions simply and effectively. The software enables you to create new partitions and merge existing partitions, format or delete SSDs and HDDs.
EaseUS Special Offers
Giveaway
EaseUS Partition Master Pro is available for $39.95. But, for a limited time, you can get EaseUS Partition Master Pro V12 full version with a license key for FREE!
To get the software for free:
Click on the checked big GET NOW button abow and you will go to the deal page of EaseUS Partition Master PRO
On the deal page, go to the BUY NOW section and open the Giveaway tab
On the Giveaway tab, enter your email to unlock the offering box that contain license / link to the giveaway
Once unlocked, read the HINTS for the next instruction.
Done. Enjoy the full features!
INSTALLATION: During the installation of the program, all you have to do is confirm your agreement with the license terms and complete the installation wizard. When launching the application for the first time, use the "Activate" button in the upper-right part of the program window and enter the license code obtained on the specified website in the newly opened window. Then just click on "Activate" and you can start using the program.
TERMS: You can use the full version of the EaseUS Partition Master Professional program (worth $59.95) for one year after activation, without the right to updates the latest version and technical support. The license is for one non-commercial computer and may not be redistributed or sold. The period of registration, installation, and activation is guaranteed until the end of September 2021.
100% Software Giveaway: EaseUS Partition Master Pro 12 (Free License Code) – Full Version for Windows