GIVEAWAY
Software Giveaway – Ashampoo Disk Space Explorer 2023: Free Full Version | Disk Data Analyzer and Visualizer – for Windows
Master Your Disk Space: Discover, Analyze, and Optimize! Get Ashampoo Disk Space Explorer 2023 with a license key for free!
Free Full Version!
Ashampoo Disk Space Explorer 2023 Review at a Glance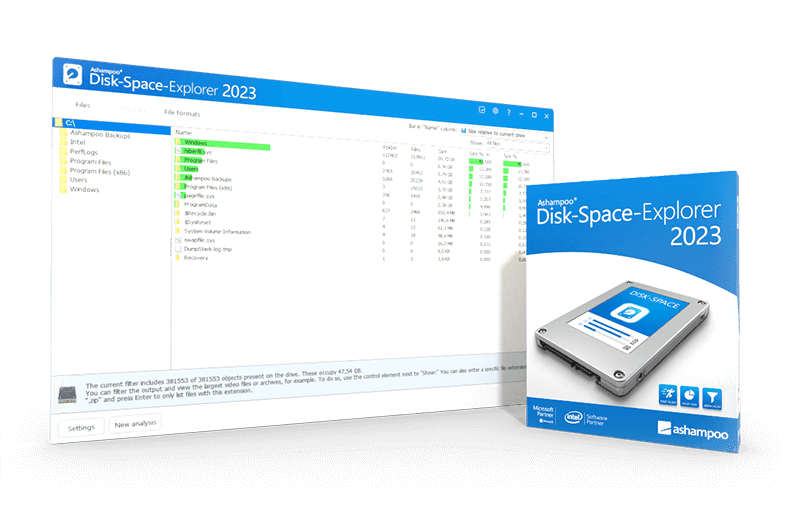 Managing disk space is crucial for maintaining a well-functioning computer system. As we accumulate files and data, it's easy to lose track of how our disk space is being utilized. This is where Ashampoo Disk Space Explorer 2023 comes to the rescue. This powerful tool allows users to analyze and visualize the file structure of their drives, providing a better overview of disk space occupancy and helping to track down resource hogs.
Overview of Ashampoo Disk Space Explorer 2023
Ashampoo Disk Space Explorer 2023 is designed to give users a clear picture of their disk space usage. Unlike the traditional Windows Explorer, this program goes beyond simple file browsing. It provides comprehensive insights into how your disk space is allocated, helping you identify redundant files and optimize your storage. With its user-friendly interface and advanced capabilities, This Disk Space Explorer 2023 is a valuable tool for anyone seeking to gain better control over their disk space.
Identifying Redundant Files
One of the primary challenges in disk space management is dealing with redundant files. These files take up valuable storage space without serving any meaningful purpose. Ashampoo Disk Space Explorer 2023 excels at identifying these resource hogs, allowing you to decide whether to delete or archive them. By eliminating unnecessary files, you can reclaim valuable disk space and improve the overall performance of your system.
Gaining a New Perspective on Drives and File Contents
Disk Space Explorer provides users with a fresh perspective on their drives and the files they contain. While it's easy to underestimate the space occupied by certain types of files, this tool offers a solution. By displaying results by folder or file type, it enables you to easily locate potential resource hogs. For example, if you're looking to identify video files that are consuming significant disk space, you can utilize the built-in file type filters to quickly find them. This feature empowers you to understand how different file categories contribute to your disk space usage, facilitating smarter storage management decisions.
File Distribution by Folder or Structure
With its ability to visualize the file distribution across your drives, you can choose to view the distribution by folder or structure, and the program presents informative charts that reveal the percentages of disk space occupied by each. These visual representations offer a quick and intuitive understanding of how your files are distributed, making it easier to identify areas where space optimization is necessary.
Analysis Based on File Formats
Understanding disk space consumption based on file formats is another essential aspect of effective disk management. Ashampoo Disk Space Explorer 2023 allows you to analyze your disk space usage by different file types, such as documents, images, videos, and more. This analysis provides valuable insights into which formats are occupying the most space, enabling you to prioritize cleanup efforts accordingly.
Customizable File Type Filters
Every user's disk space requirements and preferences are unique. Disk Space Explorer 2023 recognizes this and offers fully customizable file type filters. You can add or remove formats as needed and even group multiple formats together to run custom analyses. This level of customization ensures that you have granular control over the way your disk space is evaluated and helps you tailor the tool to your specific needs.
Multiple Chart Options for Visualizing Results
Disk Space Explorer 2023 goes beyond presenting data in traditional formats. It offers multiple chart options to visualize your disk space analysis results. Whether you prefer pie charts, bar graphs, or other visual representations, the tool has you covered. These visually appealing charts make it easier to grasp the distribution of disk space usage and aid in identifying areas that require attention.
Conclusion:
In a world where digital storage plays an increasingly vital role, effective disk space management is paramount. Ashampoo Disk Space Explorer 2023 emerges as a powerful solution for analyzing and optimizing disk space. By providing a clear overview of disk space occupancy, identifying redundant files, and offering valuable insights into file distribution, this tool empowers users to take control of their storage resources. With its user-friendly interface and customizable features, Disk Space Explorer 2023 is an indispensable companion for anyone looking to optimize disk space and enhance system performance.
Features
Key Features of Ashampoo Disk Space Explorer 2023
Visualize file distribution by folder/structure: Easily see how files are organized on your drives, helping you understand where disk space is being utilized.
Analyze disk space consumption based on file formats: Determine how much space is occupied by different types of files, such as documents, images, videos, etc., allowing you to identify storage-intensive formats.
Locate resource hogs: Quickly find files that are consuming a significant amount of disk space, helping you identify and remove redundant or unnecessary files.
Filter by file type: Focus on specific file types, such as videos or documents, to narrow down your analysis and identify storage-consuming files within those categories.
Customize file type filters: Tailor the analysis to your specific needs by adding or removing file formats and grouping multiple formats together, allowing for personalized disk space evaluations.
Multiple types of charts to visualize results: Present analysis results in various visual formats, such as pie charts or bar graphs, making it easier to comprehend disk space distribution at a glance.
Fast and to-the-point information: Quick and concise details about your local disk space usage, enabling you to make informed decisions about optimizing storage.
Requirements
To run #THE SOFTWARE with optimum reliability and performance, your system should match the following requirements:
Operating System: Windows 11, Windows 10
Requirements: Any device that supports the operating systems listed above. Systems with ARM processors are not supported.
Full administrative rights are required to use the program.
An Internet connection is required to activate the program. The program license is verified repeatedly at regular intervals.
Downloads
Not sure if #THE SOFTWARE does what you need? Try it out now. Please feel free to download Ashampoo Disk Space Explorer 2023 Trial here. This disk space analyzer has been tested professionally and we are assured that no viruses, Trojans, adware or malware contained.
BUY NOW
Ashampoo Disk Space Explorer 2023 is available for $20.00. But, through THESOFTWARE.SHOP, You can get Ashampoo Disk Space Explorer 2023 full version with a license key for free in the Giveawy tab below. This offer is available for a limited time!
SPECIAL OFFERS:

You also may like

Giveaway
Ashampoo Disk Space Explorer 2023 Giveaway
available now free for a limited time!
Please note that once you have signed in, do not close this page. You will be shown how to get this offer for free.
Also, check out the latest software giveaways that are available here on the software giveaway page.
NOTES:
– All prices shown here are in listed USD (United States Dollar).
– Such promotional programs are subject to change without notice, from time to time in our sole discretion.
– Data may vary based on different systems or computers.
---
Thanks for reading Ashampoo Disk Space Explorer 2023 Review & Enjoy the discount coupon. Please Report if Ashampoo Disk Space Explorer 2023 Discount Coupon/Deal/Giveaway has a problem such as expired, broken link, sold out, etc while the deal still exists.