Up to 78% Off on Hard Disk Sentinel Professional Edition – Lifetime License – The Best Hard Disk Monitoring Software – for Windows
 A hard disk monitoring software with highest possible support of HDD/SSD/SSHD (hybrid) drives. Get the lifetime license of the Hard Disk Sentinel PRO with our exclusive Discount Coupon and save up to 78%!
Save up to $117.95 | Lifetime L:license | Free Software Update | Free Support by H.D.S Hungary
Hard Disk Sentinel PRO – Review at a Glance
Hard Disk Sentinel is a hard disk analyzer application, created to monitor the hard disk status, temperature, and health. Moreover, Hard Disk Sentinel can reveal possible problems and performance degradations and predict hard disk failures. By using this software, it is possible to avoid serious data loss.
Hard Disk Sentinel monitors and analyzes your hard disk and solid-state drives, giving you valuable feedback on the health of the drive, any performance degradations, and warning of impending failure. With THIS HARD DISK SOFTWARE, you'll be able to find, test, diagnose, and even repair disk drive issues before they escalate to catastrophic status.
Hard Disk Sentinel supports not only hard disks, but numerous other devices including SSDs, flash media in general, and also provides a method to monitor Network Attached Storage (NAS) devices too. The goal was (instead of making separate tools for different devices) to provide one single solution with a standard environment, to allow users to diagnose, monitor, report, and repair problems with all kinds of storage devices. Using different tools for hard disks, SSDs and many other devices may require more resources and could be confusing – this is why it is better to have a single solution and a standard way to keep an eye on the disk drives storing valuable data.
Hard Disk Sentinel supports over 10000 different device models, hard disks, SSDs, hybrid drives, RAID controllers, internal/external enclosures and so.
back to menu ↑
What's New
Hard Disk Sentinel 5.61 (12/3/2020)
fixed possible BSOD when Intel 750 series NVMe SSD (SSDPEDMW400G4 / SSDPEDMW800G4) used with Intel RST driver 17.8
fixed possible increase of "Number of error information log entries" count on Samsung NVMe SSDs
added further protection against problem in Intel AHCI driver 11.0, 11.2
added support for GEIL ZENITH SSDs
detect eMMC information on additional eMMC devices
improved compatibility with LaCie 2Big Quadra v3
improved reporting of failing SSDs
improved NVMe sector size detection
improved support for SK HYNIX GOLD SSDs
improved support of LEXAR SATA SSDs, PLEXTOR SSDs, Sandisk X300 SSD
non-English language file updates
Hard Disk Sentinel 5.60 (12/2/2020)
Improvements and new features:
added support of LSI / Broadcom 9440 Tri-mode SAS / SATA / NVMe RAID controllers: detect NVMe RAID array members, display complete self-monitoring S.M.A.R.T. status of NVMe M.2 SSDs managed by Broadcom 9440 RAID controller, configured as NVMe RAID (in addition to SATA RAID, SAS RAID)
added support of Highpoint RocketRAID 3740: detect complete hard disk drive status about SATA/SAS hard disk drives and SSDs configured as RAID
added support of Adaptec SmartRAID 3152-8i Controller: detect complete hard disk drive status about SATA/SAS hard disk drives and SSDs configured as RAID
added support of Lenovo 730 series RAID controller: detect hard disk drive status used in RAID configuration
detect and report NVMe Namespace Information: total addressable sectors, current sector size, LBA format list (possible sector sizes) with performance
added function to reset workload counters for Samsung PM883 / PM863a SSDs
added support of KINGSTON SEDC450 series
added support of KINGSTON KC600 series
added support of Seagate Nytro SSDs, Innovation IT SSDs
added support of Realtek RTL9210 NVMe-USB adapters
added support of KESU USB hard disk / SSD enclosure, JAYCAR XC4687 USB HDD docking station
added support of Raidsonic IB-1817M-C31 USB – NVMe SSD adapter with updated firmware
added support of XT-XINTE USB 3.1 Type-C Adapter USB C 10Gbps USB-NVMe adapter
added support of SSK USB-NVMe adapter
added support of QNAP TR-004 4-bay USB – SATA RAID hard disk enclosure: detect and display the status of hard disk drives used in RAID configuration
added support of HIKVISION SSDs
added support of Kingston RBUS… series SSDs, new Kingspec SSDs
added support of WDC PC SA530 SDATB8Y1T00
Improved hardware support:
improved support of ASMEDIA ASM2362 USB-NVMe adapter detection and NVMe SSD status reporting
improved support of various external USB SSDs
improved support of various SAS SSDs, proper support of Sandisk SAS Optimus Eco SSDs
improved display of SAS hard disks, SAS SSDs, added further self-monitoring data to the S.M.A.R.T. page of SAS drives
improved support and correct health display of WD RED SSDs
improved support of Crucial SSDs, Apacer AS340 / Apacer AS350 series SSDs
improved detection under Windows XP with AMD chipset
improved detection under Windows XP with ARECA RAID controllers
improved detection with several Intel chipsets (both RAID and with standalone disk configuration)
improved lifetime writes on Micron, Toshiba SSDs
improved support of ADATA, Kingspec SATA SSDs
improved support of Samsung Enterprise-class SSDs
improved, extended detection of NVMe SSDs on Intel VROC RAID controller
improved, extended detection of MaxCache SSDs on Adaptec SATA/SAS RAID controllers
improved, extended detection on Marvell 9230 SATA RAID controller
improved compatibility and USB drive status detection with Intel H87 chipset
improved support of ADATA SSDs
improved support of KINGSTON HyperX Fury 3D SSD support
improved reporting of lifetime writes on many SANDISK and LITEON SSDs
improved support of Lenovo SSDs
improved support of newer Hitachi SAS Helium (He) drives, reporting additional self-monitoring details
improved support of Lenovo SSDs: previously health maybe 1% only on a new SSD
improved support of various Kingspec SSDs
improved support of various Zheino SSDs
improved support of LSI/DELL SAS/SATA controllers on the high number of disks and Cachecade configuration
improved support of SK Hynix SC308/SC311 SSDs
improved detection and compatibility with AMD RAID integrated controller
improved compatibility with DELLBOSS SSD
improved compatibility with IcyBox RD3620SU3
improved health display for SCSI-NVMe translation
improved performance display for eMMC when health drops to 0%
Bug fixes, further modifications:
completely updated network engine, using TLS 1.2 protocol when sending e-mails
fixed real-time performance display graph on NVMe SSDs
improved disk selector on the user interface, faster redraw/response in case of the high number of disk drives
improved logical drive and NTFS mount point detection and reporting
improved adjustment window of acoustic level, advanced power management on high-DPI
improved display of last update date/time for NAS drives
completely new Turkish language support – thanks for Atyf Zafrak for the translation
fixed bug in HTML report at logical disk free space graph
back to menu ↑
Features
Key Features of Hard Disk Sentinel:
Easy to use interface – 1. Install > 2. Configure > 3. Stay protected
Instant S.M.A.R.T. analysing – Hard Disk Sentinel interprets the performance and fitness related S.M.A.R.T. values and displays the calculated Performance and Health percentage, total power on time and estimated lifetime remaining.
Hard Disk Hardware and Software Tests – Effectively find all hard disk problems because built-in hardware methods are used to verify hard disk components (for example heads, servo, internal buffer in the Short self test).
Seek Noise Test – Seek Test – to verify hard disk noise, seek time performance and temperature.
Logging – Logs all degradations in all SMART parameters and issues alerts in such cases to maximise data protection.
Alerts – Wide range of alerts:  send e-mail (with e-mail->SMS gateway it can be SMS warning to your mobile), network message, can play sound alerts and so.
Shutdown – Shut down the computer on hard disk failure, HDD overheat or health degradation.
Hard Disk Details – Detects and displays every information about the hard disk, from the revision number and buffer size to all features it has.
HDD status in Windows Explorer – View the current health status and used space in Windows Explorer or in any other application,
Information on demand – Current hard disk temperatures and health are displyed on the system tray and can be displayed in a small status window, the desktop itself or in a sidebar gadget (under Windows Vista or newer operating system).
Hard Disk Performance – Logs how much data were read from or written to the hard disk.
Hard Disk Partitions – Displays partitions for each physical hard disks and type and usage informations about them so you cannot run out of space.
Acoustic Management – Control the acoustic level of IDE/S-ATA hard disk. It is possible to increase performance or make the hard disk drives more silent.
Clock Synchronization – It offers option to synchronize the PC clock with an atomic clock via NTP (Network Time Protocol).
Improvements – Hard Disk Sentinel is constantly improving. More features will be available soon.
Feature
Trial
Standard
Professional
Enterprisee
Displaying disk and partition information
Support IDE/SATA/SCSI/SAS/USB drives
Display status on tray, disk icons, sidebar
Run as Application or Service
Hardware disk tests
Hard disk seek time, stress tests
XML export, API for developers
Information by web browser
Customizable interface and reports
Backup and restore configuration, statistics
Password protection
Wide range of alerts (e-mail, sound, message, etc.)
Daily status reports
Clock synchronization with atomic clock
Hot keys to reach features
SMART parameter offset calibration
Surface check
Complete surface analysis, refresh, reinitialise, repair
Industry-standard data destruction
Monitor Network Attached Storage (NAS)
Monitor Windows disk-related events/errors
Portable version (no installation required)
Perform scheduled backup projects
Panic backup – backup upon failure or problem
Burn data to CD/DVD by NERO
Compress files by WinRAR or 7-ZIP
Export registry sections
Transfer files by FTP or e-mail
Scheduled hardware disk tests
Tray icon / report in service mode with non-admin user
Provide complete status by WMI or XML for developers
Remote monitoring over network
Remote disk management (tests, acoustics)
Remote disk and system information
Global and individual logs for remote systems
back to menu ↑
Requirements
To run Hard Disk Sentinel with optimum reliability and performance, your system should match the following requirements:
System Requirements for Windows OS:
Windows 8,7,Vista,2012,2008,XP,2003,2000,NT4: no preparations (for example installing third party packages) required before installation of Hard Disk Sentinel, it can be installed immediately after the operating system first starts.
System Requirements for Mac OS:
back to menu ↑
Hard Disk Sentinel Download
Not sure if Hard Disk Sentinel does what you need? Try it out now. Please feel free to download Hard Disk Sentinel for Windows here. Hard Disk Sentinel by H.D.S. Hungary has been tested professionally and we are assured that no viruses, Trojans, adware or malware contained.
back to menu ↑
Buy Now
Hard Disk Sentinel retails for $19.50/Standard, $29.95/Professional, and $199.50, But, on our website, THE Software Shop, you can get a Hard Disk Sentinel PRO (Latest version) includes a lifetime license and support with our exclusive discount coupon and save up to 78%. This offer is available for a limited time!
Benefits of Registration
Obtain the registration code to enable all functions in minutes. Unlock much more features, functions and configurable options.
Free life-of-product technical support and help.
Lifetime License! Never pay again for any new versions (of the same type)!
Recover lost registration key any time.
No annoying registration notice.
No time or other forms of limitations on usage.
Hard Disk Sentinel Professional License - Latest Version (40% Off)
Latest Version, 1 Computer
Complete data protection solution
Developed for the needs of home users, system administrators and small companies with the most complete set of features to ensure maximum data protection by alerts, hard disk tests and repair, scheduled and automatic backup projects.
Hard Disk Sentinel Professional Portable version is available to use from a pendrive or other removable media without installation to diagnose, test and repair hard disks and SSDs.
$29.95
Hard Disk Sentinel Professional Family License - Latest Version (Save 78.7%)
Latest Version, 5 Computers
Complete data protection solution for Entire Family
Protect up to 5 Computers
Save $117.95 (more than 78% off)
Developed for the needs of home family users, system administrators and small companies with the most complete set of features to ensure maximum data protection by alerts, hard disk tests and repair, scheduled and automatic backup projects.
$53.00 $149.75
Hard Disk Sentinel Standard License - Latest Version (40% Off)
Latest Version, 1 Computer
Failure prevention and hard disk analysis
Hard disk drive monitoring: health and temperature information, alerts and limited set of hard disk tests available to diagnose hard disk drive issues.
$19.50
Hard Disk Sentinel 5.50 Full Version Giveaway is available now FREE for a limited time!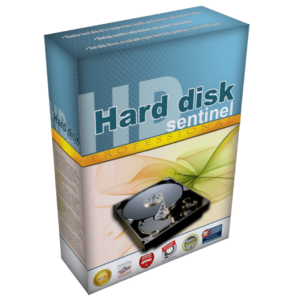 Please note that once you signed in, do not close this page. You will be shown how to get this offer for free.
Also, check out the latest software giveaways that are available here on the software giveaway page.
Please Report if Hard Disk Sentinel Deal/Discount Coupon/Giveaway has a problem such as expired, broken link, sold out, etc.