100% Software Giveaway on ProDRENALIN V1 Full Version – Free Serial Number – Actioncam Optimization, Stabilization, Fisheye Correction – for Windows
Automatically removing fisheye & perspective distortion, stabilizing, correcting rolling-shutter, and even de-noising the video. Get ProDRENALIN V1 full version with a serial number for FREE!
Free Serial Number!
ProDRENALIN V1 Review Video - Tutorial
100% Software Giveaway on ProDRENALIN V1 Full Version – Free Serial Number – Actioncam Optimization, Stabilization, Fisheye Correction – for Windows
ProDRENALIN V1 Review at a Glance
Making videos with your smartphone or action cam is awesome fun, especially if you share them on social media and get great feedback. But how disappointing it can be to shoot a video and discover that it's too shaky, distorted or out of focus to upload anywhere. ProDRENALIN V1 is the video editor for action camera & smartphone videos. It will automatically correct any issues with the footage and even de-noise the audio.
Your spontaneous action and sports videos are promptly and effortlessly processed into professionally looking film material by using ProDRENALIN. ProDRENALIN automatically removes fish eye effects (fish eye) from videos or still images, stabilizes videos and has easy tools for correcting colors, brightness and contrast adjustments.
If your video should now have been blurred during the recording (due to freehand recording), then you can automatically stabilize this in ProDRENALIN. A simple mouse click on the option Stabilize Video checks you video and starts the video analysis. ProDRENALIN also offers the Rolling-Shutter Compensation. The included rolling-shutter compensation improves the distortions or shaking caused by fast panning.
You recorded your video with an action cam. These cams have a curved lens, which produces the so-called fish-eye effect (fish-eye). In addition, these videos are often used on a car, motorcycle, bike or when paragliding (to name just a few activities), as use without a tripod. Camera shaking or vibrations may now occur here. Both can be minimized or even completely eliminated with ProDRENALIN with a few mouse clicks. The tool automatically removes perspective distortions (fisheye effects), stabilizes videos and even corrects rolling shutter image errors that are typical of the action cameras' CMOS sensor.
If your video should not correspond with your ideas concerning color or brightness and contrast, ProDRENALIN offers numerous Video FX Presets or adjustments to further optimize the material. The software can be used to easily adjust brightness and contrast, and to rotate videos, for example to compensate for not quite horizontal horizons. If necessary, you can further fine-tune your material by using the adjusters in the Clip Adjustments register. The finished videos are exported by ProDRENALIN V1 in all common standard formats, which can also be uploaded to YouTube, Facebook & Co.
ProDRENALIN also offers various Video FX Presets and fine adjustments as Tools for the color correction. A simple click on a color template in the Video FX Presets menu is immediately displayed in the Preview of ProDRENALIN. These settings for the color correction are practical, if your original footage was not filmed in optimal light conditions and therefore has color weaknesses. You can upgrade it here.
It is very easy to load and optimize several videos simultaneously, even videos with various settings can be processed at the same time thanks to batch processing.
back to menu ↑
Features
Key Features of ProDRENALIN V1:
Automatically remove fisheye distortion from video or still pics
Rock-steady stabilization – fully automatic
Rolling-shutter correction – Improves the skew & jello of CMOS-sensors
De-noising – ProDRENALIN effectively removes random image sensor noise during export rendering
Simple color correction, brightness & contrast adjustment tools
Rotate the video in case the camera was mounted upside-down
Batch processing for convenient loading of multiple clips to be optimized
Supporting 4K and 2.7K video resolutions
Side-by-side comparison shows the original and optimized video prior to rendering and exporting.
Fully compatible with all action cameras in all supported resolutions, with the ability to import other action camera profiles from proDAD's Defishr application
back to menu ↑
Requirements
To run #THE SOFTWARE with optimum reliability and performance, your system should match the following requirements:
Windows 32-Bit and 64-Bit Vista, Win7, Win8, Win8.1, Win10,
2GB-memory,
recommended: i7-cpu, 6 GB memory
back to menu ↑
ProDRENALIN V1 Download
Not sure if #THE SOFTWARE does what you need? Try it out now. Please feel free to download ProDRENALIN V1 here. This actioncam video optimizer has been tested professionally and we are assured that no viruses, Trojans, adware or malware contained.
Windows (64-bit) Windows (32-bit)
back to menu ↑
Buy Now
ProDRENALIN V1 retails for $29.00, But, through our website, THE Software Shop, you can save on your purchase of its license key with a discount coupon code.
You can also get ProDRENALIN V1 full version with a serial number for free in the Giveaway tab below.
This offer is available for a limited time!
ORDER NOW

You also might like

Giveaway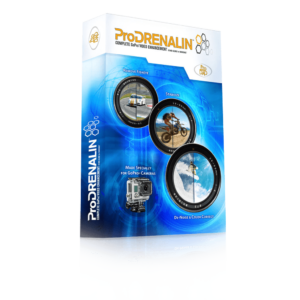 ProDRENALIN V2 PLUS - Full Version (55% Off)
Newest tools
to optimize your
actioncam, drone and smartphone videos
including
professional effects and storyboard function
All ProDRENALIN V1 Features
Optimized Camera Profiles
Adjustable Camera Profiles
CMOS Distortion Correction
Possible levels of Correction
Optimal atabilization of fisheye video
Rolling Shutter Correction
Batch analysis option
Advanced color correction tools
Fully automatic Image correction
Histagram display
Magnifying glass tool
Clip Splitting
Storyboard a rough cut movie
Drag & drop, click & drag in canvas
Common NLE keyboard shortcuts
Video Effects Features

Apply video filter effects
Included video effects Vignette, lighting, color, B&W, others
Adjust location, rotation, scale
Keyframe support

Project Mangement Features

Ability to save & re-open saved project
Save exported project with unique name
Save used settings as a template

Export combined clips as rough-cut movie
Direct upload to Youtube
Stabilization Technology by Mercalli V4
Free Software Update
Free Technical Support by proDAD GmbH
Platform: Windows (32-bit/64-bit)
$99.00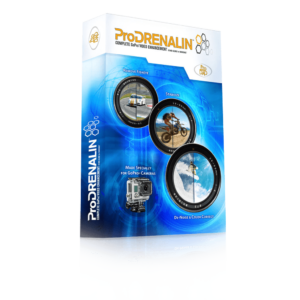 ProDRENALIN V1 - Full Version (25% Off)
The perfect tool for actioncam optimization, stabilisation and fisheye correction -
for a bugdet price, fast and easy!
Autmatic Fisheye Removal
Works wih Video & Still Images
Rolling Shutter Correction
Basic Color/brightness/contrast correction
Video sharpening
Video De-noising
Scalable timeline
Basic clip trim editing
Real-time clip preview/playback
Batch export processing
Stabilization Technology by Mercalli V2
Free Software Update
Free Technical Support by proDAD GmbH
Platform: Windows (32-bit/64-bit)
$29.00
ProDRENALIN V1 Giveaway is available now FREE for a limited time!
Please note that once you signed in, do not close this page. You will be shown how to get this offer for free.
Also, check out the latest software giveaways that are available here on the software giveaway page.
NOTE for Purchaseing:
– All prices shown here are in listed USD (United States Dollar). Your local currency will be converted automatically, You can also switch to any other currencies during the checkout process.
– The discount coupon & your local VAT (Value added tax – if available, vary by country) will be applied at checkout automatically.
– The order(s) for the software are processed by the Digital River / Share-it company. This company accepts paying on-line, via PayPal, by fax, bank-wire transfer, check, cash, or purchase order.
– You will receive a notification e-mail from Share-it / Prodad when your order is processed which will also include your license information.
– Such promotional programs are subject to change without notice, from time to time in our sole discretion.
– Data may vary based on different system or computer.
---
Thanks for reading ProDRENALIN V1 Review & Enjoy the discount coupon. Please Report if ProDRENALIN V1 Discount Coupon/Deal/Giveaway has a problem such as expired, broken link, sold out, etc while the deal still exists.
Excellent
With the professional tool ProDRENALIN V1 from proDAD, Optimize action cam and cell phone recordings quickly and easily and effectively eliminate wobble and vibrations that can occur quickly when used in the action area. In addition, the distortion of an action camera with its extreme wide-angle character is not always desirable.
PROS
Autmatic Fisheye Removal 
Works wih Video & Still Images
Rolling Shutter Correction
Basic Color/brightness/contrast correction
Video sharpening
Video De-noising
Scalable timeline
Basic clip trim editing
Real-time clip preview/playback
Batch export processing
Stabilization Technology by Mercalli V2