87% Off on SpreadSimple – Lifetime Subscription – No-code Website Builder & manager with Google Sheets
Create and manage a feature-rich no-code website using just the data in a Google Sheet. Get a lifetime access to SpreadSimple Pro Plan with a discount of up to 87%!
✔ Save $421.00. ✔ Lifetime Subscription ✔ 60-day Money-back Guarantee. ✔ Secure Payment. ✔ 24×7 Customer Support
SpreadSimple Review Video
A comprehensive overview of SpreadSimple and the basics of creating your website.
SpreadSimple Review at a Glance
Creating a digital storefront for your brand or a website for your fave, hand-picked tool requires tech know-how, creativity, and a whole lot of time. And don't even get me started on how difficult it is to upload, manage, and update your content. I'm tired just thinking about it. Luckily, I don't have to think about it because we're bringing you a lightning fast, no-code solution to get your website up and running in minutes with today's product showcase: SpreadSimple.
Spreadsimple is the simplest way to create and manage feature-rich websites using only the data in your Google Sheet. This is the ideal solution for e-commerce websites, real estate listings, job boards, directories, and much more.
Using SpreadSimple's beautiful website templates, you can create a modern, feature-rich website in about 20 minutes—no tech skills or coding knowledge required. Update and manage your inventory, prices, and orders directly from your Google Sheet, with changes being instantly displayed on your website.
You can customize the design of your page by adding your colors, branding, and logos. Plus, you can include SEO details and features like search, sorting, filtering, and pagination.
SpreadSimple lets you make your website a fully-fledged e-commerce site with browsing features, an order form, a shopping cart, and a PayPal integration. You'll also be able to add additional information to each item (title, price, status, and more) and integrate with popular tools like Google Analytics, Facebook pixel, Hotjar, Mailchimp, and Zapier.
With SpreadSimple, you can effortlessly build a stunning, feature-rich website straight from the data in your Google Sheet.
back to menu ↑
How Does SpreadSimple Work?
Let's dive right in! There are two ways to create a website: with an existing Google Sheet or a template, which is an awesome starting point.
Alright, time to customize our template! The main feature behind Spreadsimple is the connection it makes between the columns in your Google Sheet and the corresponding design elements on your site.
So, we'll kick things off by selecting your Google Sheet. Some elements are connected to a single column, while other elements connect to multiple columns, which is ideal for image galleries, for instance.
Once you've mapped your Sheet, you can enable or disable other elements, like search, filters, and sorting. Say you opt to use the search function, you'll just select which columns from the Sheet users can filter by — no extra coding or work required!
Next up, you're going to add a BUY button. Buttons can connect to a link, order form, details page, or popup. you are going to connect mine to a details page — this is just as simple to build. All you have to do is map the columns to the elements.
Alright, let's check out the rest of the design options. you can switch up the cover image, page layout, text, and colors. Next, you can create a header and footer with my logo and a navigation menu. This leads us to the Pages & Links tab!
When you hit Create New Page, the editor will launch and you can get right to work. Or, you can make it an even easier editing experience with the Expanded Editor. You can add forms and maps, or insert a video with an embed code.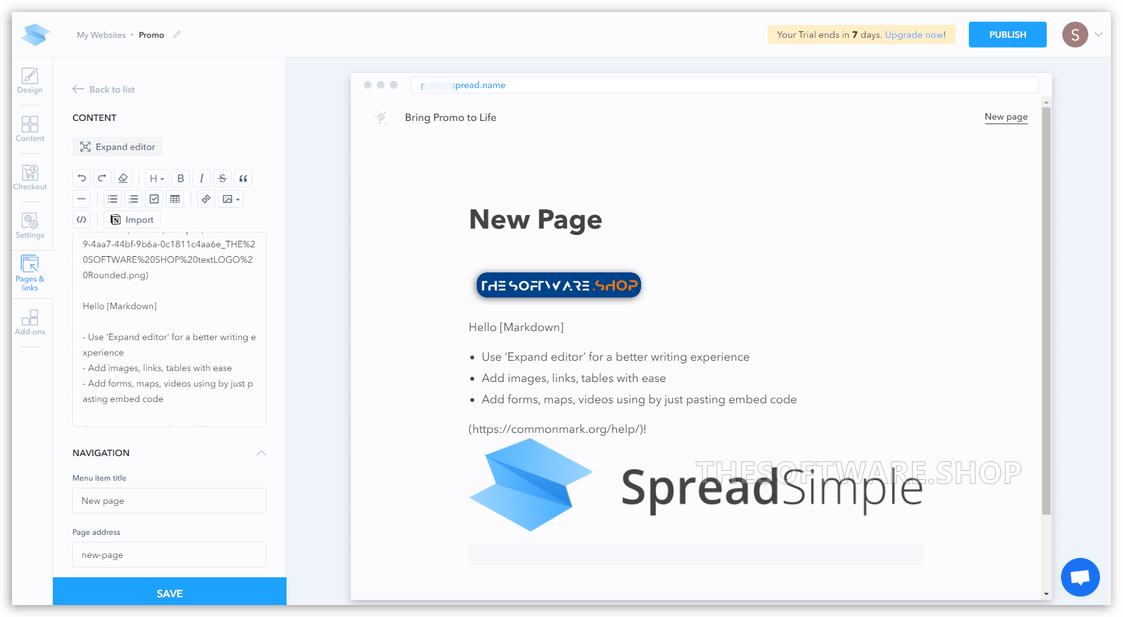 Then over in Settings, you can switch up the language or grab the widget code, which lets you embed this into another website. This is perfect for those who already have, let's say, a fancy landing page for your cafe, but you're sick of keeping the menu up-to-date. With an attractive widget embedded on your existing site, updates are done in a snap!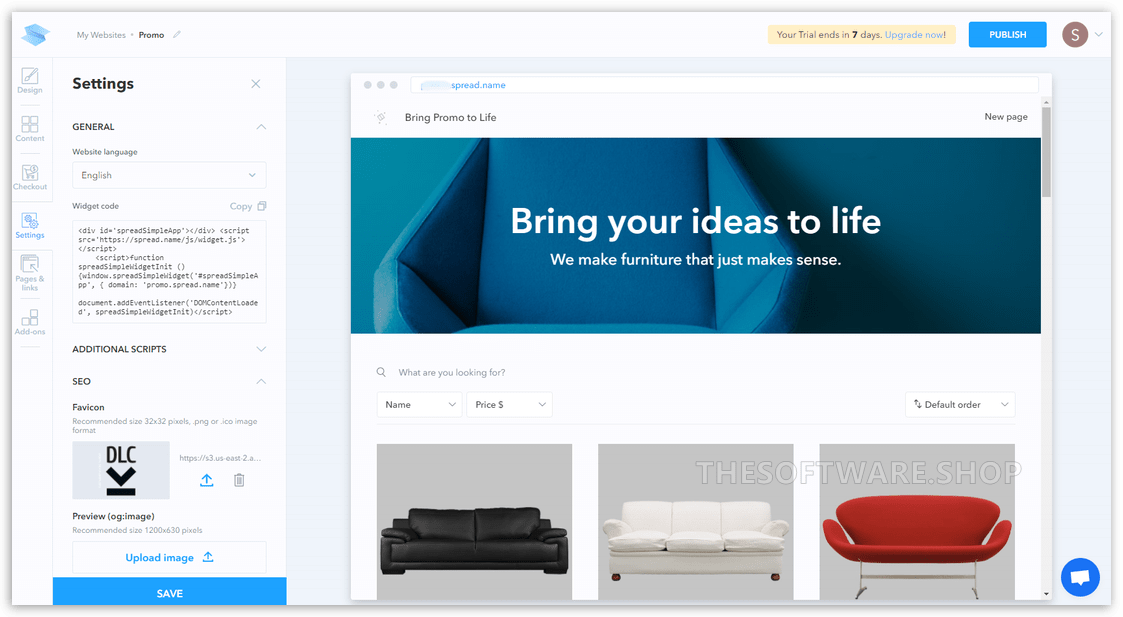 Last but not least, Spreadsimple comes with integrations, including Stripe, WordPress, MailChimp, Google Analytics, and many more that you know and love. Now let's check it out! Here's your final website. It's fully reactive, and updates automatically whenever you change the content of the Google Sheet.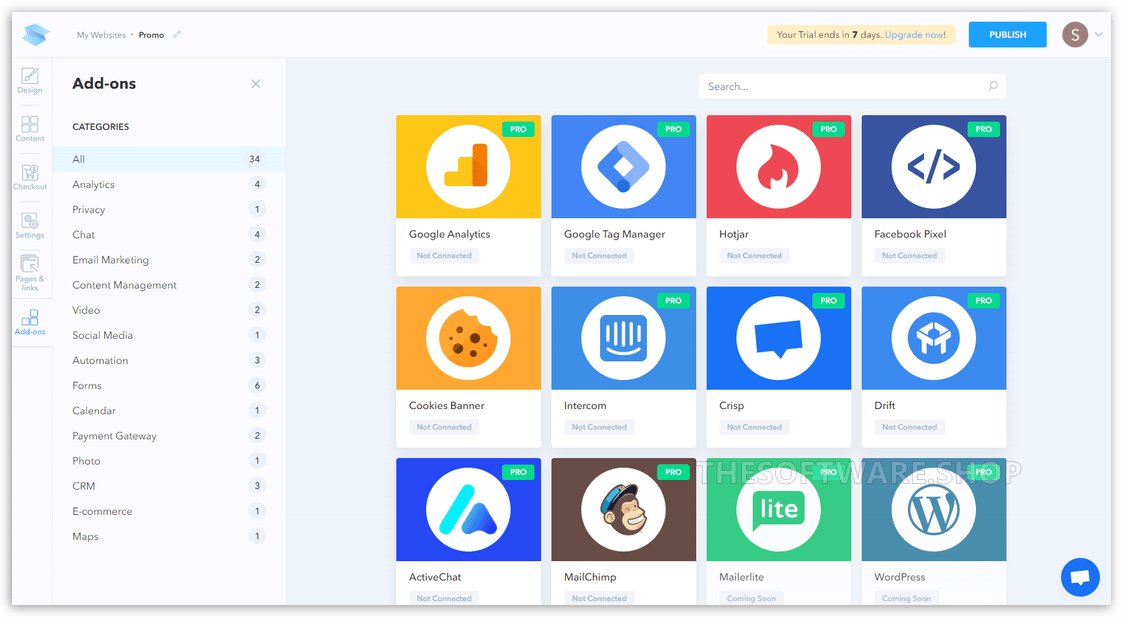 So what're you waiting for? There's never been a better, easier way to build a website. It's total business automation with no coding required! Get your brand on Spreadsimple today.
back to menu ↑
Features
Key Features of SpreadSimple
Always up-to-date & Easy to manage data
Order form
Different themes
Flexible content representation
Content blocks
Sorting, Search, Pagination
Filters and categories
Free dedicated subdomain
Connect custom domain
HTTPS/SSL support
SEO: meta tags, favicon, preview image
Mobile friendly
Add Google Analytics, chats and other scripts
Embed as widget to external website
Item details page
Open any embedded service in popup
Custom integrations (Webhooks)
PayPal
Stripe Checkout
Header & Navigation
Cookie Popup
Content pages
Add-ons
Markdown Support
back to menu ↑
Free SpreadSimple
Not sure if #THE SOFTWARE does what you need? Try it out now. Please feel free to get SpreadSimple free plan here.
Free Plan includes:
Responsive design
Light/dark theme
Search
Sorting
Filters
Pagination
Content blocks
Customizable cards
Instant update with Google Sheets
Customizable SpreadSimple sub-domain
Header & Navigation
Content pages (limited)
Markdown Support
back to menu ↑
Buy Now
SpreadSimple is available for $10.00/month/website & $96.00/year/website. But, through THESOFTWARE.SHOP, You can get SpreadSimple with a subscription to PRO plan at a 87% discount!. This offer is available for a limited time!
Order Here!

You also might like

Giveaway

SpreadSimple Pro - Lifetime (87% Off)
Transform your Google Sheet into a beautiful and easy-to-manage website powered by your data
Lifetime access to SpreadSimple Pro Plan (1 Code)

10 Websites
All free options
Visible for search engines
Add custom scripts and CSS
Add analytics and chat
Collect leads via email
Remove branding
Embed-widget to external website
Add SEO, meta tags, favicon, preview image
Connect custom domain to each website
PayPal and Stripe checkout
Item details page
Cookie Popup
Content pages
Automation (webhooks and Zapier)
Pro add-ons (integrations)

You must redeem your code(s) within 60 days of purchase
All future Pro Plan updates
Stack up to 5 codes
GDPR compliant (partner verified)
A Google account is required to use SpreadSimple
60-day money-back guarantee, no matter the reason
$480.00
SpreadSimple Giveaway is un/available at this moment.
Please note that once you signed in, do not close this page. You will be shown how to get this offer for free.
Also, check out the latest software giveaways that are available here on the software giveaway page.
NOTES:
– All prices shown here are in listed USD (United States Dollar). Your local currency will be converted automatically, You can also switch to any other currencies during the checkout process.
– The discount coupon & your local VAT (Value added tax – if available, vary by country) will be applied at checkout automatically.
– The order(s) for the software are processed by the Appsumo company. This company accepts paying on-line, via PayPal, by fax, bank-wire transfer, check, cash, or purchase order.
– You will receive a notification e-mail from AppSumo when your order is processed which will also include your license information.
– Such promotional programs are subject to change without notice, from time to time in our sole discretion.
– Data may vary based on different systems or computers.
back to menu ↑
User & Media Reviews
What are their users saying about #THE SOFTWARE? Why they loved it?
Spread – SIMPLE
This app has been a great purchase so far!
Combined with Swipe Pages (another AppSumo steal) we are able to build out landing pages and add products to the page within minutes! It's such an awesome combo.
The chat support staff has been amazing and is there right now (Saturday) helping answer all of my questions within a few minutes.
I picked up a full stack on this one, as it'll easily let me sell more quick builds and it will pay for itself in literally one sale.
Just get it, it's worth it.
(Source: Appsumo)

Good product, easy to use, value for money.
I think this is useful for small business owners who want to put up simple catalogue and menu without the complications. I bought a code out of curiosity and I would recommend this to my friends who are starting their home-based business selling cake, and handicraft.
I tried out the FREE version on their site for 1-2 hours trying to break the app but it's actually quite robust and easy to manage. I'm excited to see what the PRO version can do since it offers way more integrations like adding pixel and payment.
Some questions have been raised about the founder of this tool in the LTD FB group given his previous association with an app deal that has gone sour. But I think this developer has been open in his communication and puts out a decent product.
I wish the founder all the best in his new venture. And I think he should be given the benefit of the doubt.
So 5 tacos for me!
(Source: Appsumo)

Finally! A tool which brings my favorite Google App into play
I love using Google sheets because of the flexibility it provides in managing my business. But I had never thought if it would be possible to directly use Sheets within my website. It is really awesome and makes me and my team more productive.
However, I would say that anyone interested in this tool to create a new gmail ID for activating. As this app will have access to the other files on your google drive, I think this should be explicitly mentioned. Another thing is that Google drive has only 15 GB of space. For many people including myself, this limit compels to create multiple gmail accounts. (If there is another option then please advise)
What would I like to see :
1. Ability to connect with multiple Google accounts.
2. Registering with account to be made independent of Gmail. There are many who would like to keep their personal and official Gmail accounts separate.
The possibilities are endless. I am hoping this app develops even more.
(Source: Appsumo)

SpreadSimple for complex problem
This is by far the easiest way to setup a simple online store with just google sheet. I signed up for the trial account and setup my store in just 30 minutes!
It's easy for agencies to provide ecommerce solution to businesses especially at this hard time; every businesses would like to move online however not every business would like to deal with complex ecommerce website.
Simple solutions:
1) Connect to your own custom domain and it will be hosted by SpreadSimple.
2) Send your clients the google sheet and they can add their products
3) Enable payment gateway.
4) Simple design touch up and your store will be ready to go live.
++ for their responsive support team. I get my questions answered in livechat almost in seconds.
(Source: Appsumo)

Simple and Quick turnaround to create a website
Wanted to create a simple and quick functional website for a starting MVP E-commerce. Had some technical problems regarding the stripe which was sorted out ASAP. Liking it so far and stacked to the full. Totally recommend for anyone who wants to have a simple MVP as soon as possible. 🙂
(Source: Appsumo)

---
Thanks for reading SpreadSimple Review & Enjoy the discount coupon. Please Report if SpreadSimple Discount Coupon/Deal/Giveaway has a problem such as expired, broken link, sold out, etc while the deal still exists.