BEST OFFER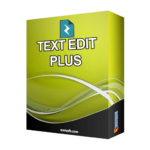 30% Off – Text Edit Plus: Lifetime License | Simple Text Document Creator & Editor – for Windows
Easily create new text documents or modify existing ones. Get Text Edit Plus with a lifetime license at a 30% discount!
Lifeitme License | Free Updates | Free Support!
Text Edit Plus Review at a Glance
Text Edit Plus is an incredibly powerful plain text editor with many useful features. It is a lightweight tool that allows users to quickly create new text documents or modify existing ones. The application is designed as an alternative to Notepad, providing users with a wide variety of features such as multiple tabs, spell checker, and syntax highlighter.
This text editor is a general-purpose editor and is particularly useful for anyone who works with text documents on a regular basis. Its analysis module can be extremely beneficial when quick statistics on text documents are needed, and the ability to compute word frequencies enables users to easily identify and measure repetitions.
Multiple Tabs
One of the standout features of Text Edit Plus is its ability to open and edit multiple text documents at the same time using tabs. This is a huge time-saver for anyone who works on multiple projects simultaneously, as it allows you to easily switch between documents without having to open and close them individually.
Spell Checker
Grammar and spelling mistakes can be a big problem when it comes to professional documents. Fortunately, This code editor tool has a built-in spell checker that helps you identify and correct spelling mistakes, ensuring that your documents are error-free.
Syntax Highlighter
Text Edit Plus comes with a syntax highlighter that makes it easy to identify different elements of your text documents, such as keywords, strings, and comments. This is particularly useful for programming projects, as it helps you quickly and easily identify important code blocks.
Analysis Module
The analysis module in Text Edit Plus is a valuable tool for anyone who needs quick statistics on their text documents. With this feature, you can easily compute word frequencies and spot repetitions in your text.
Quick-Edit Functions
Text Edit Plus comes with a variety of quick-edit functions that can be invaluable for making small fine-tunes to your text documents. Whether you need to trim whitespace, sort lines, or remove duplicates, this text editor software has you covered.
User-Friendly Interface
Text Edit Plus has a clean and simple interface that newcomers will find very easy to use. The application is able to open text files such as TXTs, CSVs, and HTMLs. It also provides a range of features for text manipulation. Numerous quick-edit functions can be incredibly useful when making small adjustments.
Screenshots of Text Edit Plus
Features
Vovsoft Text Edit Plus has a wide range of features that make creating, modifying, and formatting text documents easy. Its multiple tabs and syntax highlighter are especially helpful when working with multiple documents and programming languages. The app also features quick-edit functions such as copy, paste, undo, and redo, which can be invaluable when making small changes. This software also includes a spell-checker, so users can quickly identify and fix typos.
Key Features of Text Edit Plus
Installer and USB/Portable editions
Dark mode and classic light mode
Spell Checker
Export to HTML
Export to PDF
Change background color and font properties
Encoding support: ANSI and Unicode (UTF-8)
Full screen display
Open, edit, save, print plain text files
Generate quick text statistics
Real-time line numbers display
Regular Expressions (RegEx)
Run with external executables
High-DPI awareness for wide screens such as Full HD and 4K
Select columns by using Alt key
Insert date and time
Insert numbers
Insert text into beginning or end of lines
Load files using drag & drop
Insert filenames using drag & drop
Drag & drop selected text
Import picture as text (ASCII art)
Highlight even lines
KeyPress simulator
Randomize lines
Move line up and down
Clip lines
Combine lines
Convert erroneous UTF-8 to ANSI
Convert non-English chars to English chars
Delete first & last chars of all lines
Delete numbers [0-9]
Delete alphabetic [a-z] [A-Z]
Delete non-alphabetic
Delete alphanumeric [a-z] [A-Z] [0-9]
Delete non-alphanumeric
Delete empty lines
Delete duplicate lines
Filter lines
Generate word list
HTTP encode
Reverse line sequence
Reverse line contents
Split lines
Sort lines alphabetically (alphabetize)
Sort lines using line length
Trim lines (left, right, both)
Lowercase and uppercase conversion
Compare 2 texts
Cipher: encode and decode text using password
Generate e-mail list
Find erroneous e-mails
Transform IDs
Show active line number, column number
Open file using parameter
Find and replace string
Wordwrap
Stay on top
Convenient to run portable
Requirements
To run #THE SOFTWARE with optimum reliability and performance, your system should match the following requirements:
Windows 11/10/8.1/8/7/Vista/XP (32-bit and 64-bit)
Downloads
Not sure if #THE SOFTWARE does what you need? Try it out now. Please feel free to download Text Edit Plus trial here. This text editor by Vovsoft has been tested professionally and we are assured that no viruses, Trojans, adware, or malware are contained.
Windows – Installer Windows – Portable
Buy Now
Text Edit Plus is available for $19.00. But, through THESOFTWARE.SHOP, You can get a Text Edit Plus license with our exclusive 30% discount coupon. This offer is available for a limited time!
ORDER HERE:

You also might like

Giveaway
EXCLUSIVE OFFERS
Vovsoft Universal License - Lifetime (95% Off)
All Vovsoft Software Bundle - Get Universal license key for all Vovsoft applications
Activate all Vovsoft Programs (more than 70 Apps currently)
Lifetime license for all software
FREE All future updates
Lifetime free updates!
Free Support by VOVSOFT
Instant activation license key via e-mail.
No trial limitations.
No nag screen, no ads.
Platform: Windows
$99.00 $1368.00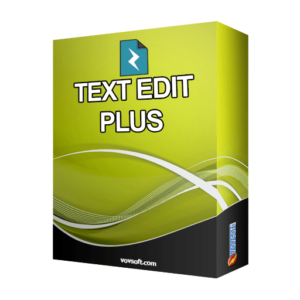 Text Edit Plus - Lifetime (30% off)
Edit text files, generate quick stats
Lifetime License for 1 PC
Export text stats to CSV file
Commercial use allowed
No nag screen, no ads
Ability to disable update notifications
Lifetime free updates
Free Product Updates for a lifetime
Free Technical Support by Vovsoft Team
$19.00
Text Edit Plus Key Giveaway is available now FREE for a limited time!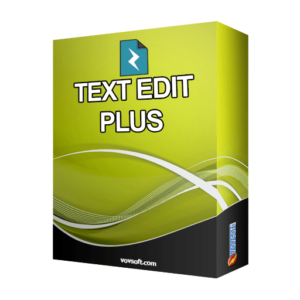 Please note that once you signed in, do not close this page. You will be shown how to get this offer for free.
Also, check out the latest software giveaways that are available here on the software giveaway page.
NOTES:
– All prices shown here are in listed USD (United States Dollar).
– Such promotional programs are subject to change without notice, from time to time in our sole discretion.
– Data may vary based on different systems or computers.
---
Thanks for reading Text Edit Plus Review & Enjoy the discount coupon. Please Report if Text Edit Plus Discount Coupon/Deal/Giveaway has a problem such as expired, broken link, sold out, etc while the deal still exists.