63% Off Coupon on VEGAS Pro 16 Suite + NewBlue Stylizers 5 Imagine – Powerful Video Production, Audio Editing, & High-end Plug-ins
 Start with a world-class NLE, add a powerful disc-authoring application, and balance it out with a collection of high-quality plug-ins to create a suite of amazing products that delivers professional results. Get VEGAS Pro 16 Suite at 63% discount and get NewBlue Elements 3 Ultimate ($299 value) for free
You save $699.00 | Secure Payment | 24×7 Customer Support
VEGAS Pro 16 Suite review Video
63% Off Coupon on VEGAS Pro 16 Suite + NewBlue Stylizers 5 Imagine – Powerful Video Production, Audio Editing, & High-end Plug-ins
VEGAS Pro 16 Suite Review at a Glance
VEGAS Pro 16 Suite is maximized for advanced video and audio editing, deep visual effects processing, total workflow customization, and disc authoring. This premier edition of VEGAS Pro features the core application and a host of additional tools that make it easier than ever to bring your creative visions to life.
VEGAS Pro 16 Suite stands out as an innovative leader when it comes to non-linear editing. The modern user interface delivers a completely customizable experience that provides the ultimate in flexibility. Designed to directly support your preferred workflow, these UI innovations enhance the fast, organic timeline-editing workflow that VEGAS Pro invented.
back to menu ↑
Features
Key Features of VEGAS Pro 16 Suite:
General

 VEGAS DVD Architect  – Blu-ray and DVD Disc Authoring software
Blu-ray and DVD Disc burning from the timeline
VEGAS Pro Connect support; mobile companion app
Sony Wireless Adapter proxy-first workflow
Interactive tutorials
Comprehensive window docking options
Modern window docking controls
Customizable UI
Configurable visible button sets
Saveable and recallable window layouts
UI background color options
Adjustable button icon color strength
Track grouping
Application scripting
Configurable timeline clip event headers
Advanced project archiving
Audio notification of completed render

Plug-ins

Ignite Pro
proDAD VitaScene V3 PRO
Boris FX Sapphire Lighting Unit
Tiny Planet OFX
Bézier masking OFX
AutoLooks OFX
MAGIX eFX audio plug-ins

Hardware / Capture / Export

Intel QSV support
External control surface support
AJA Io Express, KONA 3x, LH, LHe, LHi, LS, and LSe support (Digital only)
GPU hardware acceleration
Blackmagic Design HD Extreme / Extreme 3D, Intensity Pro support (Digital only)
Smart Render
Video

HDR color support NEW
360° Editing NEW
World-class Video Stabilization NEW
Advanced Motion Tracking NEW
Improved High DPI scaling NEW
Unimited Number of video tracks
Picture-in-picture OFX plug-in
Crop OFX plug-in
High Frame Rate (HFR) support
Project-wide video Resample mode setting
Resample mode video property
HEVC support
HEVC import and export
Simultaneous video monitoring (local and external monitor)
32-bit float video processing
ACES 1.0
LUT OFX plug-in
SD / HD-SDI support
Support for gigapixel images
4K project support (up to 4096×4096)
CEA-608 Closed Captioning support
Support for multilayer Adobe Photoshop PSD files
Multiple compositing modes
Group video and audio events script
Stereoscopic 3D editing
Video effects
Smart Upscale effect
Smart Zoom effect
Smart Adaptive Deinterlacing
Vignette video effect
Filters and special effects
Color match filter
Ove 200 2D and 3D video transitions
Credit rolls / text animation
Media generators
White Balance tool
Primary and Secondary color correction
Professional lighting effects
Video scopes: WFM / Vector / Parade / Histogram
Support for 50p and 60p projects
-100% to 1,000% Adjustable Velocity envelopes
Support for Open FX plugins
Text and titles
Complete XDCAM workflow
3D compositing mode
Video track motion (picture in picture)
Audio

Over 35 w / 5.1 FX Number of audio effects
24 / 192kHz Max bitrate / bit depth
CALM Act compliant loudness meters
5.1 surround mixing including film-style panning
5.1 surround and stereo AC-3 encoding
Effects package folders
VST plug-in effect support: VST2
Audio envelopes
ACID loop properties support
On-the-fly Punch-in recording
Tape-style audio scrubbing
ASIO™ driver support
Zplane élastique Timestretching
Auto-input record monitoring
DAW bussing functionality
Multiple record takes
Red Book Audio CD Mastering / Burning

Editing and Media Management

Dynamic storyboard & timeline interaction NEW
Project media hover scrub NEW
Project media in / out points NEW
Resizable project media thumbnails NEW
Preview multiple selected project media files NEW
Add files in bin to timeline NEW
Extensive backup file options NEW
Close gaps between events NEW
Select events from cursor NEW
Automatic subtitle creation from file or regions NEW
Add missing stream NEW
Instant freeze frame creation
Selectively paste event attributes
Project interchange
Cursor object snapping across events and timeline
Envelope brush painting
Envelope automation recording
Smart Proxy editing
Keyboard trimming and event shuffling
Tape-style audio scrubbing
Project nesting
A / V synchronization detection and repair
Real-time event reverse
Dynamic RAM preview
back to menu ↑
Requirements
To run VEGAS Pro 16 Suite with optimum reliability and performance, your system should match the following requirements:
System Requirements for Windows OS:
Operating system: Microsoft® Windows 7 (64-bit), Windows 8 (64-bit) or Windows 10 (64-bit)
Processor: 2.5 GHz 4-core processor (3 Ghz and 8 cores recommended for 4K)
RAM: 8 GB RAM minimum (16 GB recommended; 32 GB recommended for 4K)
Hard drive space: 1.5 GB hard-disk space for program installation; Solid-state disk (SSD) or high-speed multi-disk RAID for 4K media
Graphics card: Supported NVIDIA®: For hardware rendering (NVEnc), GeForce 9XX series or higher with 4 GB; AMD/ATI®: Radeon with 4 GB and VCE 3.0 or higher (Radeon Pro series with 8 GB for HDR and 32 bit projects) or Intel®: GPU HD Graphics 530 series or higher
Other: Microsoft .NET Framework 4.0 SP1 (included on application disc)
Internet connection: Required for registering and validating the program, as well as for some program functions. Program requires one-time registration.
Supported GPU:
VIDIA For hardware rendering (NVEnc): NVIDIA® GeForce 9XX series or higher with 4 GB
AMD/ATI: AMD/ATI® Radeon with 4 GB and VCE 3.0 or higher (Radeon Pro series with 8 GB for HDR and 32 bit projects)
Intel: Intel® GPU HD Graphics 530 series or higher
Import

Video: AAC, AA3, AVI, BMP, MPEG-1, MPEG-2, MPEG-4, WMV, HEVC
Audio: AAC, AIFF, FLAC, LPEC, MP3, OGG, PCA, W64, WAV, WMA
Image: BMP, JPEG, PNG, TIFF, WDP, WMPhoto, DDS, DPX, EXR
Other: AAF, Premiere/After Effects (*.prproj), Final Cut Pro 7/ DaVinci Resolve (*.xml), Final Cut Pro X (*.fcpxml), EDL Text File (*.txt), Broadcast Wave Format, DVD Camcorder Disc, Closed Captioning
Export

Video: AVC/AAC, AVCHD, AVI, HEVC, MOV, MPEG-1, MPEG-2, MPEG-4, MVC, RM, WMV, XAVC S
Audio: AAC, AIFF, FLAC, LPEC, MP3, OGG, PCA, W64, WAV, WMA
Image: BMP, JPEG, PNG, TIFF, WDP, WMPhoto, DDS, DPX, EXR
Other: VEGAS Project Archive (*.veg, *.vf), Pro Tools AAF File (*.aaf), Media Composer AAF File (*.aaf), Premiere/After Effects (*.prproj), Final Cut Pro 7/DaVinci Resolve (*.xml), Final Cut Pro X (*.fcpxml), EDL Text File (*.txt), XDCAM Disc
| Media | Capacity | Description |
| --- | --- | --- |
| DVD-R DL (aka DVD-R9) | 8.5 GB | Dual Layer DVD-R |
| DVD-R | 4.7 GB | Highly compatible with drives and standalone players |
| DVD-RW | 4.7 GB | Rewritable DVD-R |
| DVD+R | 4.7 GB | Philips, Sony, HP, Dell, Ricoh, Yamaha |
| DVD+R DL (aka DVD+R9) | 8.5 GB | Dual Layer DVD+R |
| DWD-RW | 4.7 GB | Rewritable DVD+R (Writable ~1,000 times) |
| BD-R | 25 & 50 GB | Write-once recordable media |
| BD-RE | 25 & 50 GB | Rewritable media |
back to menu ↑
VEGAS Pro 16 Suite Download
Not sure if VEGAS Pro 16 Suite does what you need? Try it out now. Please feel free to download VEGAS Pro Suite for Windows here. This all-in-one Audio Vide Editing tool by MAGIX Software GmbH has been tested professionally and we are assured that no viruses, Trojans, adware or malware contained.
back to menu ↑
Buy Now
VEGAS Pro 16 Suite retails for $1098.00, But, through our website, THE Software Shop, you can save on your purchase of its license key with 63% discount coupon code. This offer is available for a limited time!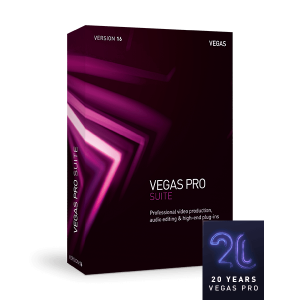 VEGAS Pro 16 Suite Pack
Discover new worlds of video and audio creation in brilliant quality. Quickly create DVD and Blu-ray Discs with powerful disc authoring and work with the latest premium plug-ins.
Included as part of this offer:

$400 discount on VEGAS Pro 16 Suite
NewBlue Elements 3 Ultimate ($299 value)

Powerful video production, audio editing
Free high-end premium plug-ins
Free Technical Support
$1098.00
Vegas Pro 16 Suite Giveaway is unavailable at this moment.
Please note that once you signed in, do not close this page. You will be shown how to get this offer for free.
Also, check out the latest software giveaways that are available here on the software giveaway page.
NOTE:
– All prices shown here are in listed USD (United States Dollar). Your local currency will be converted automatically, You can also switch to any other currencies during the checkout process.
– The discount coupon & your local VAT (Value added tax – if available, vary by country) will be applied at checkout automatically.
– The order(s) for the software are processed by the Magix company. This company accepts paying on-line, via PayPal, by fax, bank-wire transfer, check, cash, or purchase order.
– You will receive a notification e-mail from Magix/Vegascreativesoftware.com when your order is processed which will also include your license information.
– Such promotional programs are subject to change without notice, from time to time in our sole discretion.
– Data may vary based on different system or computer.
---
Thanks for reading Vegas Pro 16 Suite Review & Enjoy the discount coupon. Please Report if Vegas Pro 16 Suite Discount Coupon/Deal/Giveaway has a problem such as expired, broken link, sold out, etc while the deal still exists.