Anybody can create a website with WebSite X5 Evo. Get it now with 55% discount coupon. It's easy, quick and affordable.
Ease to use

Create web sites in only 5 steps. No programming required.
With WebSite X5, no programming skills are required: all you need is a mouse! You can create and add all the pages you want, add all kinds of content and use all the advanced features you need: you work with an intuitive fully-visual interface, and it just takes a few clicks to create product lists, blogs, contact forms, photo galleries and much more and have them all online and running perfectly in no time.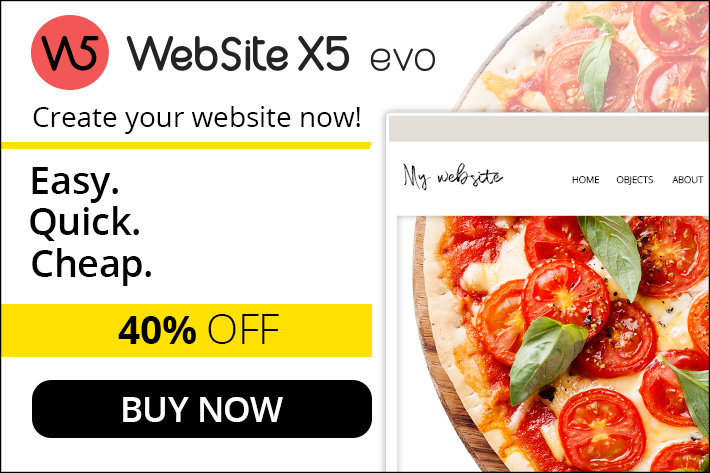 You can concentrate only on the results: WebSite X5 takes care of all the technical aspects, guaranteeing websites that are optimized for search engines, are compatible with all the major browsers and, moreover, are responsive, capable of adapting automatically to the resolution of the device they are displayed on.
What you get with WebSite X5 Evo
Save $44.00
100 customizable templates
Unlimited pages
Shopping cart
Blog
Integrated FTP
Privacy Management
Analytics and SEO features
Online control panel
30 DAY "Satisfaction or Refund" guarantee
12 MONTHS of Update Protection
FREE FOR 1 YEAR Hosting and Domain
Free Support by Incomedia Website X5 Team
Making your website is easy and fun!
Recommended
Everything you need to create as many websites as you want: corporate content, online stores, blogs, galleries, ...
55% Off WebSite X5 Evo: The Smart Website Builder for Microsoft Windows