100% Software Giveaway on Website X5 Go 2020.1 with 25 Customizable Templates (Instead of 15 Customizable Templates)

100% Software Giveaway on Website X5 Go 2020.1 with 25 Customizable Templates (Instead of 15 Customizable Templates)
WebSite X5 Go has all the essentials to guide you, and our Drag & Drop Builder helps you add content to your pages even if you don't know how to code. All the basics for publishing your first project online are included, making building a website easy and fun.
WebSite X5 Go 2020.1 by Incomedia creates as a WYSIWYG editor via drag & drop simple homepages with up to 10 pages. The free version offered today as a gift contains 25 Customizable templates instead of the usual 15 customizable templates.
Special Offer
Instructions: The download, installation and activation must be completed by 29-04-2020 at the latest. So download the setup today , install it, and register with a valid email address at the manufacturer to get the license key.
Tech Specs: Runs perfectly on Windows 7 SP1, 8, 10 | 2 GB RAM | Min. Screen Resolution: 1280 x 768
Compatible with Windows, Linux.Only for certain advanced features PHP 5.6 and MySQL 5.6
An internet connection and e-mail account required for activation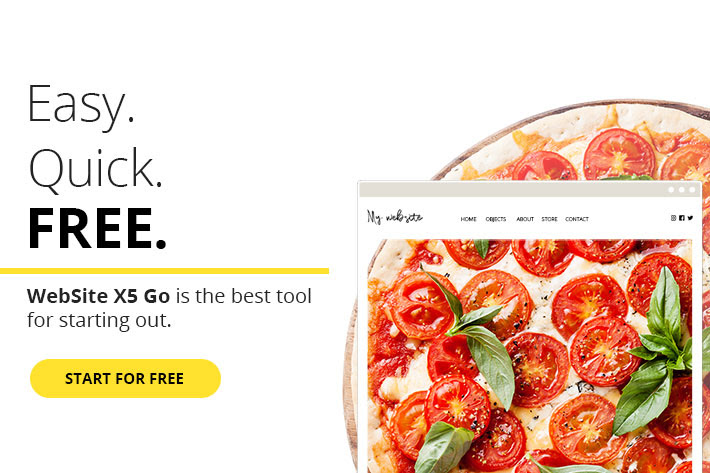 Create your own website now: with WebSite X5 Go 2020.1, it's free!
In five simple steps, no need to learn HTML! Anybody can create a website: the drag & drop editor, the templates, and the objects included let you do it all yourself, without coding.
WebSite X5 Go 2020.1 is the perfect tool for beginners and anyone else with no HTML skills: it eliminates any problems and helps you get your website finished in a snap.
For beginners, WebSite X5 Go 2020.1 offers appropriate templates, with which the websites can be tinkered in only five steps. It automatically creates mobile versions and offers an integrated FTP client for upload.
You can choose from 15 ready-to-use templates, create up to 10 web pages and easily drag & drop text, images, videos, sounds, privacy management and much more.
To publish your website online you just have to upload via the built-in FTP Client Engine.
WebSite X5 Go 2020.1 is a fully visual website maker. Everything you need will be done for you, including generating HTML code for your web pages. They will naturally be compatible with any browser and mobile device.
Making your website is easy and fun!
Special Offers
PROS
15 customizable templates (Free 10 additional template through our deal page)
Websites of up to 10 pages
Automatic mobile version
No coding necessary (Drag & Drop Builder)
Privacy Management
FTP for online publishing
1 license for 2 PCs
Help Center Support