94% Off on ADYOUNEED Ultimate Plan (Lifetime Subscription) – Social Media & Search Ad Creator & Optimizer
Simplify your ad process in one place to create, manage, and optimize your ads across platforms. Get lifetime access to ADYOUNEED Ultimate Plan
✔ Save up to $8517.00 ✔ Lifetime Access ✔ 60-day Money-back Guarantee. ✔ Secure Payment. ✔ 24×7 Customer Support
ADYOUNEED Review at a Glance
Do you wish that you could just create ads and manage their data for all major ad platforms in one place? Well, stop jumping between all the native app platforms and check out ADYOUNEED right now!
ADYOUNEED is the all-in-one ad creation, data management, and audience creation tool that will change the way you market on Facebook, Instagram, and Google forever. Oh, and heads up TikTok and Linkedin are coming soon.
With ADYOUNEED's Guided Creation or Smart Creation, you can confidently create ads on Facebook and Instagram in minutes. And when it comes to Google Ads, ADYOUNEED offers fully automated Dynamic Search Ads by simply adding a link to your website.
ADYOUNEED makes reaching the right audience a breeze. The Audience Finder A.I. will find the best-performing match within three to five days, and Advanced Campaign Creation will combine 10 different ads with 10 audiences to create up to 100 split tests!
The dashboard makes your ad data simple to digest with breakdowns, charts, and graphs. You'll get a bird's-eye view of crucial data like clicks, cost per click, and click-through rates to make smarter decisions about your campaigns.
ADYOUNEED is jam-packed with features that make life easier, like A.I. for optimization, dark mode, and sub-accounts. There's also an integration with Canva, allowing you to edit and design scroll-stopping ads within the platform.
Bottom line: ADYOUNEED has all the tools you need to supercharge your ads and reach and convert your perfect audience.
How does ADYOUNEED work?
All right! Let's get started! Once you've downloaded the ADYOUNEED from their website, you'll see its simplified interface that makes creating and managing ads much more fun. You can choose your platform and then easily choose your objective from traffic, conversion, likes, leads, and more.
For those of you who have struggled with audience creation on Facebook or Google's native ad platform, this tool will help you simplify the process. Let's just use the traffic objective as an example, you can easily set up a manual audience and simply choose the location, age range, gender, and add interest.
But an even sweeter feature called the AI audience finder tool allows you to just select two related interests for your product and the tool does the rest for you. For this example let's say you're selling Protein Powders. So you'd select muscle and weight training as the audience's interests. ADYOUNEED will then test up to 15 audiences including lookalikes and then give you a notification when it's found the best performing one. How awesome is that? it even makes retargeting audiences easier, a couple of seconds, and boom you have your retargeting audience.
If you've ever used Facebook Ads Manager, you know it can be complicated at times but check out how simplified this is. To create a single image ad, simply add your text, your links, CTAs, and thanks to the Canva integration, you don't have to leave the platform to finish your design. Once you've chosen your creative, you get an awesome summary with everything you need all in one place.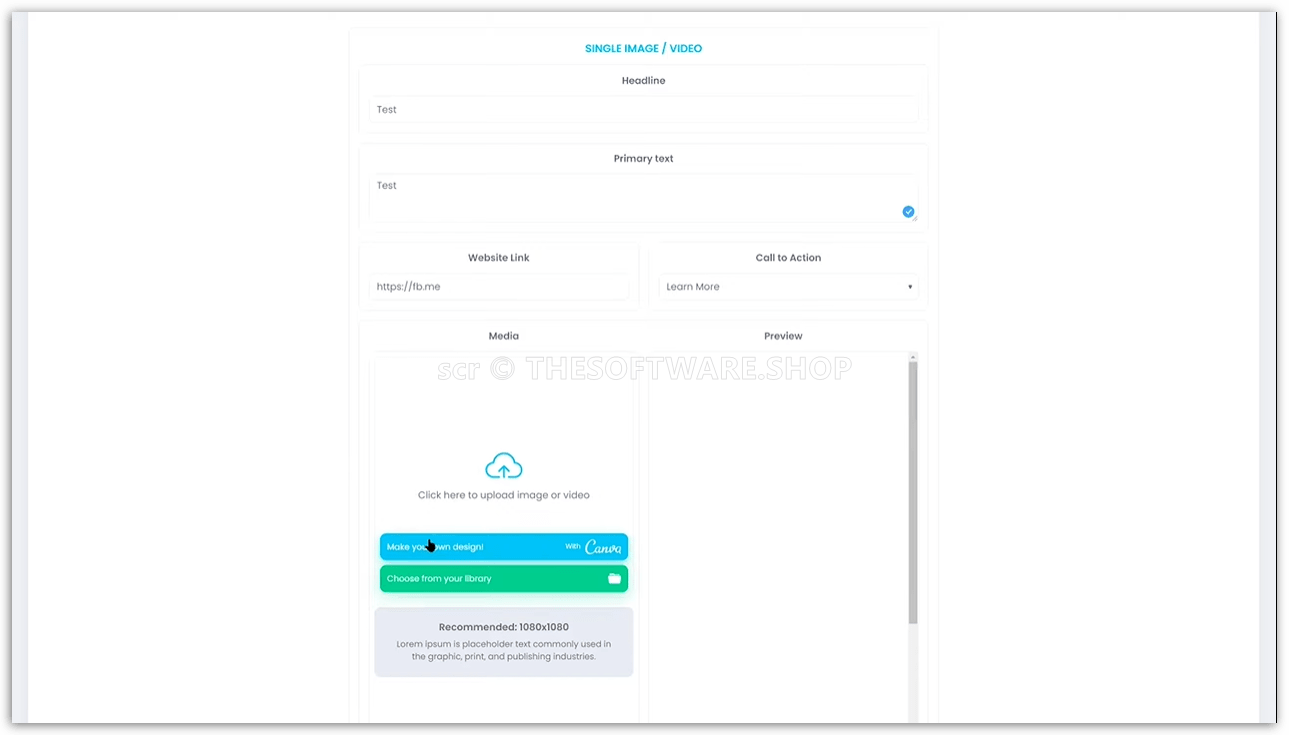 Google Ads which is older and even more difficult than Facebook Ads Manager is super automated and simplified. You have two options traffic and conversions, so it's very automated. Just name your campaign, create the audience, and all you need to give is your website, and it will analyze your website's products, keywords, and create the audience for you. It's amazing, ADYOUNEED uses google's machine learning tools with their own tools to do things like generating a headline for you and you just have to enter your descriptions and extensions if you want. and again you see your summary and it's that easy to just choose your budget and publish it.
When it comes to understanding your campaign performance, ADYOUNEED makes it super easy to see everything in one place. Want to know what your reach or click rate was? easy! Keep scrolling to check out the account breakdown view tool and select the specific KPI you'd like to break down or break down a single campaign with its own chart. As you can see all the platforms are in one dashboard no more tab nightmares!
You can do all of this work with a team by your side just go ahead and create sub-accounts so that you all can work together seamlessly. and that's a wrap on ADYOUNEED. Make your marketing life way easier and get access to this all-in-one ad creation and management platform today!
Screenshots of THESOFTWARE
back to menu ↑
Features
Key Features of ADYOUNEED
Create ads in minutes – Simplify the whole process while producing agency-quality ads in minutes.
Become a full-stack marketer – Easily create and test ads on new platforms in only a single, easy-to-learn platform to discover your best advertising opportunities!
Find your perfect audience – By using artificial intelligence, Provide just 2 interests and ADYOUNEED will test 15 audiences, finding the best-performing match within 5 days. It's that easy.
Gain visibility & optimized results – Clearly see which audience performs best, which ads optimize spending, and decide how to reallocate budgets.
Get awesome support – ADYOUNEED's support team is ready to answer your questions quickly and clearly, no matter your skill level or expertise.
Create 100 split tests—fast – ADYOUNEED will combine up to 10 different ads and audiences, creating as many as 100 split tests, saving hours and ad budgets.
Design ads with Canva – Edit and design eye-catching ads all within ADYOUNEED without relying on a graphic designer.
Learn & improve your skills – Get instant access to ADYOUNEED University, a collection of helpful videos that will teach you how to create, test, and optimize your ads.
Save & collaborate – Easily save draft campaigns and publish them later, and then working together with a teammate by using setting permissions and access levels for other users.
Edit & duplicate faster – ADYOUNEED syncs with your social media platforms, automatically bringing your existing ads into ADYOUNEED so you can edit budgets, creativity, text, or audience.
Share & get feedback – Use "SHARE PREVIEW" and get an easily shareable link to your ads.
Dark mode – Reduce eye strain, prolong your battery or simply have your preferred color scheme.
Join the future of marketing – Utilize the Reinforcement Machine Learning Model and several methods of statistical inferences such as Bayesian Inference for optimization and scaling.
back to menu ↑
Free Trial
Not sure if #THE SOFTWARE does what you need? Try it out now. Please feel free to get a 7-day ADYOUNEED Trial for free here. This All-in-one ads manager platform by ADYOUNEED.COM has been tested professionally and we are assured that no viruses, Trojans, adware, or malware are contained.
Start free trial
No credit card is required. Cancel anytime.
back to menu ↑
Buy Now
ADYOUNEED is available starting at $50.00/month. But, through THESOFTWARE.SHOP, You can get lifetime access to the ADYOUNEED Ultimate Plan with a discount of up to 94% OFF!. This offer is available for a limited time!
Included on All Plans
Features Included in All Plans

AI Audience finder
Automatic optimizations
Split testing
No ad account limit
ADYOUNEED University
Preview downloads
Dark mode
Deal Terms

Lifetime access to ADYOUNEED Ultimate Plan
You must redeem your code(s) within 60 days of purchase
All future Ultimate Plan updates
Stack up to 7 codes
GDPR compliant
Only for new ADYOUNEED users who do not have existing accounts
Note: a Facebook, Instagram, or Google account is required to use and connect to ADYOUNEED
60-day money-back guarantee, no matter the reason
Order Here!

You also might like

Giveaway
#THESOFTWARE Giveaway is un/available at this moment.
Please note that once you signed in, do not close this page. You will be shown how to get this offer for free.
Also, check out the latest software giveaways that are available here on the software giveaway page.
NOTES:
– All prices shown here are in listed USD (United States Dollar). Your local currency will be converted automatically, You can also switch to any other currencies during the checkout process.
– The discount coupon & your local VAT (Value added tax – if available, vary by country) will be applied at checkout automatically.
– The order(s) for the software are processed by the APPSUMO company. This company accepts paying on-line, via PayPal, by fax, bank-wire transfer, check, cash, or purchase order.
You will receive a notification e-mail from APPSUMO when your order is processed, including your license information.
– Such promotional programs are subject to change without notice, from time to time in our sole discretion.
– Data may vary based on different systems or computers.
back to menu ↑
User & Media Reviews
What are their users saying about ADYOUNEED Ultimate Plan? Why they loved it?
Looks to be a no-brainer offer- UPDATED REVIEW
Been playing with it for the past half hour. With unlimited ad accounts and no limit on the ad budget, this deal is really good. Personally, I love their night mode, and the feature-set looks great too. Recommend getting 1 code at least
(Source: Appsumo)

Simple. Robust. Effective.
Just bought ADYOUNEED to have a centralized platform to manage all our agency digital ads. We were searching for a platform like this for a lot of time. And finally it arrived!
It's all simple and intuitive. Now, managing ads has become (quite) a game.
Don't wait, just buy it and your social media marketing will not be the same.
Clap clap to the developers!
(Source: Appsumo)

Bought 7 codes can't redeem any any of them- UPDATED REVIEW
This is a must have tool for digital marketing. I stacked 7 codes immediately and would drop even more in a heatbeat if it was allowed. This product has loads of potential and I expect it will become an even better value as time goes on judging by their roadmap. I also want to point out how responsive and helpful the ADYOUNEED support has been, I had an issue that I brought to their attention and they had it resolved faster than I could get my review edited! Great job to those that helped me but also to the team behind this generous and useful deal.
(Source: Appsumo)

Just exactly what I was looking for
AI marketing platforms are changing the way businesses approach digital marketing. Like many other companies, Adyouneed has capitalized on this trend by creating a platform that delivers powerful advances while simplifying the process for new users. Its platform is simple to set up and use — with an easy-to-use interface that allows users to set up their first campaign in minutes.
For beginners, setting up an AdWords account is sometimes like figuring out how to use a Dementor's Kiss. But with AdYouNeed, you can create and optimize your campaign in no time — all without having to deal with the complexities of even the basic platform tools.
(Source: Appsumo)

Easy to setup, great for beginners, hopefully delivers results.
I'm pretty new to running ads and don't exactly have a huge budget to blow. When I saw ad you need come to Appsumo, I figured, hey maybe this tool can help me jump into digital advertising and all its complexities.
Setting up was a breeze and took me less than five minutes, everything went swimmingly. I'm still exploring the app and everything it offers but its very streamlined, shows KPI's and even integrates with Canva.
I can't wait for Tiktok, Linkedin and maybe Pinterest down the line but ADYOUNEED is looking very very promising.
(Source: Appsumo)

Excellent
ADYOUNEED is a simplified ad creation & optimization platform which they are official partners with Facebook, Google, and Microsoft, allowing us to integrate these platforms to create your Ad campaigns all in one. place.
Positive
Create ads in a matter of minutes regardless of what your marketing knowledge is.
Use ADYOUNEED A.I. Audience Finder to find the best-performing audience on Facebook and Instagram.
See and understand your data clearly thanks to our beautiful charts.
Have simple breakdowns of your data to see which gender, age, platforms, country, or region brings the best results.
Invite people to your account to work with you or simply watch, let teamwork make the dream work.
Reduce eye strain with our dark mode and create ads in the coolest-looking tech app on the web.
---
Thanks for reading ADYOUNEED Review & Enjoy the discount coupon. Please Report if ADYOUNEED Discount Coupon/Deal/Giveaway has a problem such as expired, broken link, sold out, etc while the deal still exists.