79% Off Coupon on Ashampoo WinOptimizer 17 Ultimate Edition – The Best Ashampoo Utilities Bundle – for Windows
The ultimate tool bundle: the best Ashampoo® WinOptimizer of all time plus Ashampoo® Driver Updater plus Ashampoo® UnInstaller. Get Ashampoo WinOptimizer 17 Ultimate Edition license now at a spectacular price with 79% discount coupon! For up to 3 PCs!
You save $118.97 | Up to 3 PCs Each | Secure Payment | 24×7 Customer Support
Ashampoo WinOptimizer 17 Ultimate Edition Review at a Glance
Ashampoo WinOptimizer 17 Ultimate Edition was compiled by our experts to ensure your PC feels and performs like new. Ashampoo® WinOptimizer 17 provides perfect system maintenance, Ashampoo® UnInstaller 8 removes unwanted applications down to the last byte and Ashampoo® Driver Updater keeps system drivers always up to date for maximum performance all the time. Individually, each program is excellent – together, they are unbeatable!
Ashampoo® WinOptimizer 17 – Completes your PC!
Over time, even modern systems slow down or become faulty and cluttered with junk files. Especially Windows 10 collects more data than its users would like. Ashampoo® WinOptimizer 16 takes care of these issues – with unparalleled speed and efficiency. It doesn't take any prior knowledge or lots of time and your computer will feel like new again! Let WinOptimizer help you make the most of your PC and protect, clean and optimize your machine for maximum performance and privacy every time.
Ashampoo® UnInstaller – Installation monitoring with in-depth cleaning
Ashampoo UnInstaller makes it easy to install, test and uninstall applications. Unwanted software, browser extensions and toolbars are gone from your hard disk in just a few clicks! Never before has installation monitoring for leftover-free uninstallations been so extensive and easy to use. Even legacy applications installed prior to UnInstaller can be completely removed thanks to in-depth cleaning! Finally, the innovative super-fast snapshot feature helps you track all system modifications with ease and clarity.
Ashampoo® Driver Updater – Provides optimal performance through up-to-date drivers!
Wrong or old drivers are the enemy of every computer system. Often, drivers are missing or hopelessly outdated. Ashampoo Driver Updater not only finds the best drivers but also installs them for you. There's no need for menu acrobatics with Ashampoo Driver Updater. The well-designed program performs its job of keeping your computer up to date quickly and with a high degree of usability. It analyzes your hardware components and drivers, compares the results against a gigantic database – and then replaces outdated drivers with their latest versions.
back to menu ↑
Features
Key Features of Ashampoo WinOptimizer 17 Ultimate Edition
Ashampoo WinOptimizer 17

Robust early warning system against system failure
Start page with eight optimization tools
Handy task scheduler for maintenance and optimization
More than 30 modules for the perfect Windows system
Enhanced Uninstall Manager with additional details
Brand new cleaner modules
Two program skins available
Full secure boot support
Full secure boot support
ADS Scanner for hidden data streams
Ashampoo® UnInstaller

Software-profiles for perfectly clean uninstalls even without installation logs
Permanently wipe sensitive data during uninstalls
Removes even the most complex and convoluted setups
Automatic leftover file scans also for default uninstallations
History of uninstalled applications
Full Opera support
Up-to-date modules and cleaners
Fast uninstalls via drag and drop on program icons
Enhanced Deep Clean technology
More details on program installations
Easier handling across the board
Microsoft-certified program drivers
Multi-purpose tray menu
No mercy: deletes even locked files
Faster feature access
Ashampoo® Driver Updater

Maximum system stability
Over 150,000 devices supported
More than 400,000 drivers available
Always up-to-date driver database
Comfortable driver backup and restore features
Fix defective systems with ease
The perfect choice for Windows 10 – it finds all drivers
Full gaming performance through optimized use of system components
Greatly facilitates the transition to Windows 10
Fixes WLAN, sound and printer issues
For a faster, more stable system
Fully optimized system usage
Installs all required drivers with a single click
Reduces the risk of system crashes and freezes
Fewer crashes
Fast, stable system
1 click repairs
The best graphics
The best gaming performance
The perfect sound
back to menu ↑
Requirements
To run Ashampoo WinOptimizer 17 Ultimate Edition with optimum reliability and performance, your system should match the following requirements:
Operating System: Windows® 10, Windows® 8, Windows® 7
Computer: Any computer that supports the above operating systems.
Full administrative rights are required to use the program.
An Internet connection is required to activate the program. The program license is verified repeatedly at regular intervals.
back to menu ↑
Ashampoo WinOptimizer 17 Ultimate Edition Downloads
Not sure if Ashampoo WinOptimizer 17 Ultimate Edition does what you need? Try it out now. Please feel free to download Each software that included in Ashampoo WinOptimizer 17 Ultimate Edition here. This ultimate utilities bundle by Ashampoo has been tested professionally and we are assured that no viruses, Trojans, adware or malware contained.
WinOptimizer Uninstaller Driver Updater Product Page
Not only is Ashampoo® WinOptimizer 17, a classic when it comes to system optimization, but its devoted fans also guarantee good optimization tool. We've therefore gave a special bundle offer: you can install WinOptimizer 17 on up to three PCs and receive the popular Ashampoo® Uninstaller und Ashampoo® Driver Updater programs (also for three PCs) for free along with your purchase.
back to menu ↑
Buy Now
Ashampoo WinOptimizer 17 Ultimate Edition retails for $149.97, But, through our website, THE Software Shop, you can get Ashampoo WinOptimizer 17 Ultimate Edition with 79% Discount Coupon. This offer is available for a limited time!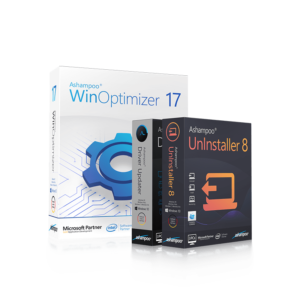 Ashampoo® WinOptimizer 17 Ultimate Edition - Full
The exclusive gift bundle for all buyers of this offer
You get full version:

Ashampoo® WinOptimizer 17 (3 PCs)
Ashampoo® UnInstaller 8 (3 PCs)
Ashampoo® Driver Updater (3 PCs)

Three license keys for every program!
You save $118.97
Download-Version
30-day Money-back Guarantee
Operating System: Windows® 10, Windows® 8, Windows® 7
$149.97
Ashampoo WinOptimizer 17 Ultimate Edition Giveaway is unavailable at this moment.
Please note that once you signed in, do not close this page. You will be shown how to get this offer for free.
Also, check out the latest software giveaways that are available here on the software giveaway page.
NOTE:
– All prices shown here are in listed USD (United States Dollar). Your local currency will be converted automatically, You can also switch to any other currencies during the checkout process.
– The discount coupon & your local VAT (Value added tax – if available, vary by country) will be applied at checkout automatically.
– The order(s) for the software are processed by the Cleverbridge company. This company accepts paying on-line, via PayPal, by fax, bank-wire transfer, check, cash, or purchase order.
– You will receive a notification e-mail from Cleverbridge/Ashampoo when your order is processed which will also include your license information.
– Such promotional programs are subject to change without notice, from time to time in our sole discretion.
– Data may vary based on different system or computer.
---
Thanks for reading Ashampoo WinOptimizer 17 Ultimate Edition Review & Enjoy the discount coupon. Please Report if Ashampoo WinOptimizer 17 Ultimate Discount Coupon/Deal/Giveaway has a problem such as expired, broken link, sold out, etc while the deal still exists.