Switch to Audials One 2022 to record not only music from radio stations, but also Spotify, Netflix, Amazon & many more now in better quality! Save all pieces of music, movies, series as well as TV, radio stations, podcasts & audio books simply and perfectly with a 75% discount!
Save music streams
more powerful than ever
Record Spotify accurately
Optimized track separation for more precise music recordings.
Album tags are automatically added to all music tracks.
In the past, Spotify has blocked individual users of download softwares. Audials enables you to prevent this from happening by allowing you to remain undetected when recording.
Amazon Music, Tidal, Deezer fast & in studio quality
The revamped recording core and encoder now provide perfect, lossless quality in up to 96KHz and 24bit.
Thanks to the optimized song separation feature, you'll always be provided with accurately trimmed tracks.
Effortlessly create your very own music library of studio-quality music at up to 30 times the real-time speed.
Pure music pleasure
New Music Manager: Organize your music fast! Your music is now displayed more clearly and concisely.
Top hits are listed at the top, albums can be folded out, and you can play back recommended playlists and similar artists right away.
In the "Music -> Load" section, you can directly determine which music sources you want to see, and specify your priority.
Drag and drop tracks from all major music streaming services – now also including Tidal – into Audials to comfortably record them in high-resolution audio quality.
Or use the optimized background recording function.
Discover genres, styles and top charts in the brand-new overview.
Determine your own system for naming your music files and simply apply these rules to your entire music collection.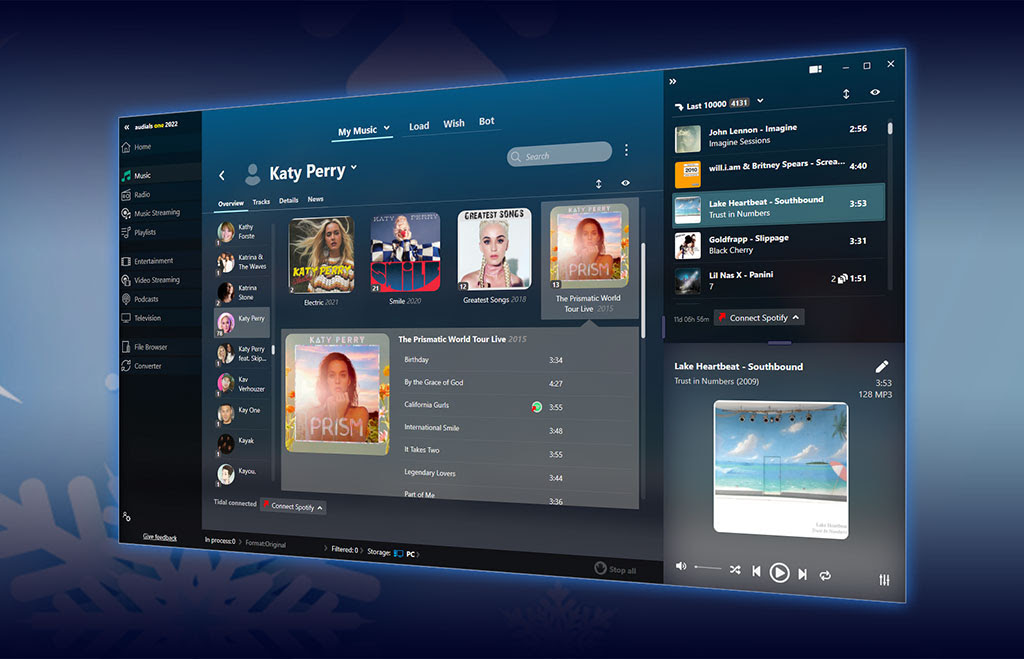 Record movies & series
directly IN Audials
Record Netflix, Amazon, Disney+, YouTube & Co. fast and in top quality
Completely redesigned recorder: recordings in unprecedented video quality guaranteed!
Play back and record video streams directly within Audials for maximum precision and reliability.
Save movies and series in perfect quality and at twice the speed.
Mega-powerful: Record dozens of movies silently and super-fast in the background.
Improved encoder for brilliant videos!
Precise video editor
Accurately trim out any commercials, trailers, and recaps
Zoom in to individual frames and remove any unwanted sequences
Remove black bars from recorded movies with pixel precision
Edit your video footage like a pro!
Save videos in top quality
The powerful search engine finds any movie or series quickly and reliably!
Find subtitles for any movie in any language and effortlessly add them to your recordings with exact precision.
Experience and record immersive Netflix 5.1 surround sound.
New video player with subtitles, slow motion, fast forward & more.
Use the recording scheduler to store dozens of movies in the background with ease.
The trade press is also enthusiastic!
"amazing tool that will become your entertainment center"

Windowsreport
"Superb tool for locating, sourcing, recording and then playing back recorded audio from various sources around the world"

Downloadcrew
"a complete streaming solution for film and music lovers"

Techno360
Your ultimate Stream Recorder, optimized for Windows 11, and also still perfectly compatible with Windows 10.
No risk at all thanks to Audials money-back guarantee: If you don't like Audials One 2022, they'll refund you the purchase price at any time – that's a promise!
We wish you good entertainment,
Your Audials Team
75%Off on audials one 2022 – Only now, only today!