BEST OFFER
74% Off Coupon on Book Like A Boss – Lifetime Membership – All-in-one Scheduling Appointments and Selling Services Online.
 Sit back and relax while your beautiful booking page handles all your appointments and sales. Get a lifetime access to Book Like A Boss with 74% disocunt for just $49
You save $141.00 | Lifetime Access | 60-day Money-back Guarantee | Secure Payment | 24×7 Customer Support
Book Like A Boss Review Video
74% Off Coupon on Book Like A Boss – Lifetime Membership – All-in-one Scheduling Appointments and Selling Services Online.
Book Like A Boss Review at a Glance
How are your clients booking you? This superpower booking page can list services, schedule appointments, and take payments
There are advantages and disadvantages to being an entrepreneur. For example, being your own boss… advantage. Creating your own destiny… advantage.
Having to pay a developer and designer for a simple booking page… disadvantage. Going back and forth via email just to schedule a call… disadvantage.
Let's get rid of those disadvantages, with Book Like A Boss.
Lifetime Access to Book Like a Boss
Book Like A Boss is an all-in-one solution for entrepreneurs looking to create a booking page that sells products or services, takes appointments, and collects payments.
Book Like A Boss is perfect for any entrepreneur or side-hustler… whether you want to charge for your services, or simply have a tool to schedule appointments with clients.
We're talking designers, musicians, accountants, photographers, chefs, developers, writers, etc. (I even got my cleaning lady using it!)
There really is no limit to the kind of entrepreneur that will benefit from Book Like A Boss. These easy steps will have your booking page up and running in under 10 mins:
Input your general info: Here, you'll add your name, what it is you do, and a few flattering pictures of yourself/work.
Calendar: Connect one or more 3rd party calendars to your account and select what times you're available, including buffer and cutoff times.
Services: Let people know what services you are offering and how much you charge. The calendar lets people know when you are available to take their money. (If you don't necessarily use time bookings and do specific projects instead, Book Like A Boss does that as well!)
Sell Products: You can use these options to sell digital or even physical products (like my pog collection).
Add payments options: By entering your PayPal/Stripe details, you'll be able to accept all major credit cards! (Sorry, they haven't found a way to accept checks, Grandma.)
Sync as many calendars as you want & select actions. Click on image to check out my page! It makes me want to hire myself! We love it so much here that we've moved the entire team over to Book Like A Boss.
What does an incredible tool like this cost? Well, ordinarily, for the Big Boss Plan, you're paying $190/yr. However, We are bringing you LIFETIME access for only $49! (And access to all future updates!)
So even if you only use it for three years, you're saving over $570! But, we know you'll end up using it for much longer. Build your booking page for only $49 now!
Don't want to sell products or services? Book Like A Boss is also perfect to simply schedule appointments and calls!
Features
Key Features of Book Like A Boss:
Payment Integrations Integrates with Stripe, Square and Paypal or get paid in cash. Sell Services, Digital & Physical Products
Calendar Integrations Works with your Google, Outlook, Office 365 or iCloud calendar so you're never double booked
Calendar Embed Embed your calendar on other sites such as WordPress, Squarespace & more!
Confirmation & Reminder Emails Add up to 5 automatic email and/or SMS reminders and allow for easy cancellation & rescheduling
Unlimited Packages & Appointments Build out as many as you need, even create custom ones and keep them hidden from your main page
Unlimited Bookings We don't limit how much business you can do and we don't take a cut of your sales
Custom Form Builder Ask the questions you want at the time of booking ie. What is your Skype ID?
Design Your Page Custom header, footer, Video, Photo Gallery, Social Media Links, Profile Pic, FAQ's, Testimonials and more! Make your page uniquely yours!
White Label White label version available. Remove any BLAB branding from your page, embedded calendars and emails.
Group Bookings Allow multiple customers to book the same time slot. Great for webinars, group training and all day events.
Coupons Offer percentage or fixed amount discount coupons to your clients, as well as limit usage and end date.
Custom Domain Use your own domain or keep the free bookme.name URL we give you.
Control Set buffer times between meetings, prevent last minute meetings, create secret event types, and more
Support Email Tickets, Help Center, and an active Facebook group make sure your questions are always answered
Tracking & Integrations Add Google Analytics, Facebook Pixels, Call Page and more!
Free Plan
Not sure if Book Like A Boss does what you need? Try it out now. Please feel free to download Book Like A Boss Free Boss Plan here. This booking software has been tested professionally and we are assured that no viruses, Trojans, adware or malware contained.
Buy Now
Book Like A Boss in this deal retails for $190/year, But, through our website, THE Software Shop, you can get the lifetime access for just $49. This offer is available for a limited time!
ORDER NOW

You also might like

Giveaway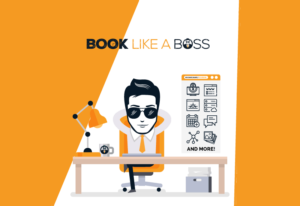 Book Like A Boss - Grande Plan
Create your own booking page in ten minutes with zero tech know-how
Lifetime access to Book Like a Boss' Sumo Grande Plan
All basic features
Sell services, digital, & physical products
Integration with Stripe, Square, & PayPal
Coupon codes
Calendar integrations (Google, Apple, Outlook.com, Exchange, Office365)
Calendar embeds
Zoom, Zapier, and MailChimp integrations
Google Analytics and Facebook Pixels
Email reminders
Booking approval option
Redirects after bookings
Full Pages & Lite Pages for every appointment & package
Time off and vacation settings
Easy rescheduling & cancellations
Stackable:

Stack 2 codes to unlock the Venti plan: Brand removal, group bookings, 100 SMS reminders/mo., custom footer and domain name
New accounts only.
Purchasers of the 2017 BLAB promotion not eligible to stack a second code to the existing account.
60-day money back guarantee. No matter the reason.
$190.00
Book Like A Boss Giveaway is unavailable at this moment.
Please note that once you signed in, do not close this page. You will be shown how to get this offer for free.
Also, check out the latest software giveaways that are available here on the software giveaway page.
NOTE:
– All prices shown here are in listed USD (United States Dollar). Your local currency will be converted automatically, You can also switch to any other currencies during the checkout process.
– The discount coupon & your local VAT (Value added tax – if available, vary by country) will be applied at checkout automatically.
– The order(s) for the software are processed by the AppSumo company. This company accepts paying on-line, via PayPal, by fax, bank-wire transfer, check, cash, or purchase order.
– You will receive a notification e-mail from AppSumo when your order is processed which will also include your license information.
– Such promotional programs are subject to change without notice, from time to time in our sole discretion.
– Data may vary based on different system or computer.
– Even though your deal is lifetime, you must redeem your code(s) by June 1, 2019
User & Media Reviews
What are their users saying? Why they loved it?
One of the best tools I've ever bought
The title above isn't hyperbole. I was on the fence about buying this since I own getomnify.. But ever since they randomly stopped SMS I've been looking for a new platform. Not too mention the entire process was slow, ugly and clunky. Blab is just the opposite. It's quick, its gorgeous to look at and it's so easy to use. Brilliant value. I had a few issues with embedding and SMS but the support team cleared that up for me real quickly. Great support. There are a few minor issues(2 fields for SMS and phone number, can't see number of SMS left, can't mark meetings as done etc) but I'd be nitpicking and support has confirmed they will be working on all those issues. Hopefully us the users get mapped to a public road map. That's all that's missing tbh. Overall, fantastic tool and goes right up there with novocall as one of my favorite tools to get good leads and handle my clients.
BLAB is Awesome
BLAB is an excellent app! Easy to use and setup. I stacked 2 codes.
I only hope that they can add "Templates" for the profile page and be included in this  lifetime deal.
Amazing deal
I took the Book Like A Boss offer and I'm over the moon. I can't believe all the different functionality! Easy to set up, looks professional and easy for people to use. Fab.
Simple & Powerful (with a missing link)
I wasn't sure about purchasing this deal but ended up buying anyway, with the intention of playing around with it (and return if it's not for me). What I loved the most was the simplicity with which I could set everything up. Another great thing about this app is its YouTube tutorials. Anything you want to do, there is a short video tutorial that will guide you through. I eventually ended up purchasing a second code for upgrading it to their Venti plan. Now the only missing feature is the recurring booking. It's something that a lot of online coaches need. Hope team BLAB will realize the value of recurring booking and add this missing link to this, otherwise, robust software.
BLAB delights, once again, current and new customers 🙂
I'm thrilled seeing the BLAB team delivering once again such a fantastic platform both to current and new users. I've been an early adopter; I jumped in without knowing what exactly the evolution of BLAB would have been. After two years of continuous improvements, I have to admit that I'm impressed with the features offered and the solidity of the software.
Ideal for any professional looking for a brandable, sleek and reliable booking platform allowing you not only to create a booking landing page effortlessly (so you do not need a website) but also organise and manage group bookings.
A great journey.
---
Thanks for reading Book Like A Boss Review & Enjoy the discount coupon. Please Report if Book Like A Boss Discount Coupon/Deal/Giveaway has a problem such as expired, broken link, sold out, etc while the deal still exists.