BEST OFFER
Expired
90% Off Discount on a Lifetime Access to Client Portal WordPress Plugin – Client Project Organizing Tool for WordPress
Ridiculously easy to use and integrate with your current workflow. Get a Lifetime Access to Client Portal WordPress Plugin (Single Site/Unlimited Site) with 90% discount now!
90% Off Coupon | Lifetime Access | 60-day Money-back Guarantee | Secure Payment | 24×7 Customer Support
Client Portal WordPress Plugin Review Video
Client Portal WordPress Plugin - Client Projects Management Tool for WordPress
Client Portal WordPress Plugin Review at a Glance
Are you a freelancer or agency who works with clients, and typically uses a number of services for each project? Do you regularly get emails from clients who forgot how to login to your project management tool, can't remember where you put their style guide, and has no idea how to get to your staging server? If so, ClientPortal was created for you.
Client Portal is a super simple, lightweight WordPress plugin that you can use on your website today to allow your clients to keep track of the project and give them access to all files at any time. No more "Can you send me our logo? I've lost it again!" requests. You can keep all your projects assets in one place. You can work how you choose, with the tools that you already love and give your clients a great experience along the way. Client Portal bridges the gap between the professional "Hey, this person has done this before" feel for your clients, and not being restricted by all-in-one (and often subpar) tools.
From copywriters to estate agents. Consultants to furniture shops. Client Portal is for anyone who needs to keep files and software in sync with other people. You can even use Client Portal in other areas of your business. You could use it as lightweight courseware for something you're teaching, or as a free resource centre for your clients. Stay tuned, because we're about to launch a whole heap of Client Portal inspiration to show you just how much you can do with one simple tool.
Features
Key Features of Client Portal WordPress Plugin:
Simple and lightweight
Unlimited Portals
You can add to your main website
Simple interface for your clients
Create custom content pages
Custom branded login pages
Create project templates
The phases and the mark as complete actions
Requirements
To run Client Portal WordPress Plugin with optimum reliability and performance, your system should match the following requirements:
Demo
Not sure if Client Portal WordPress Plugin does what you need? Try it out now. Please feel see the live Client Portal WordPress Plugin demo here. This WordPress plugin by Laura Elizabeth has been tested professionally and we are assured that no viruses, Trojans, adware or malware contained.
Buy Now
Client Portal WordPress Plugin retails for $279 the first year and $99/yr after., But, through our website, THE Software Shop, you can get a single license with a lifetime access for just $39! including all future updates for life (a $99/yr value!)
You can also stack two codes and get the Multi-Site License which gives you the ability to use Client Portal on an unlimited number of sites!
. This offer is available for a limited time!
ORDER NOW

You also might like

Software Giveaway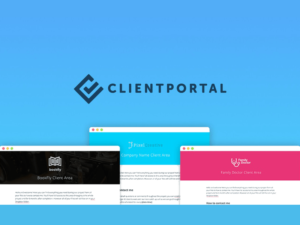 Client Portal WordPress Plugin
Lifetime Access to Client Portal WP Plug-in
Single Site License to use on one site (Buy 1 code)
Multi Site License to use on Unlimited Sites (Buy 2 codes)
Unlimited portals
All future updates & features to plug-in included
Email support
One-on-one live setup NOT included
60-day money back guarantee. No matter the reason.
$378.00
Client Portal WordPress Plugin Giveaway is unavailable at this moment.
Please note that once you signed in, do not close this page. You will be shown how to get this offer for free.
Also, check out the latest software giveaways that are available here on the software giveaway page.
NOTE:
– All prices shown here are in listed USD (United States Dollar). Your local currency will be converted automatically, You can also switch to any other currencies during the checkout process.
– The discount coupon & your local VAT (Value added tax – if available, vary by country) will be applied at checkout automatically.
– The order(s) for the software are processed by the Avangate company. These company accepts paying on-line, via PayPal, by fax, bank-wire transfer, check, cash, or purchase order.
– You will receive a notification e-mail from Avangate when your order is processed which will also include your license information.
User & Media Reviews
What are their users saying about Client Portal WordPress Plugin? Why they loved it?
This is a joke! seriously I downloaded so many client portal plugins. All of them are so damn ugly and less features so I've decided to get the basic client portal and then create my own page for each client, though so many pages for each client would fill in. But I did it anyways.

This is one of those deals that should be a no-brainer if you have a WordPress site and serve clients.
It's not a fancy-shmancy plugin with lots of bells-and-whistles. It does one thing simply and well– provide a nice, clean dashboard where your client can access all materials, content, and information you deliver to them.

This is an easy 5 star deal and is perfect for so many scenarios. Agencies are going to want the double stack so if you have a project that needs a client portal, this is the ideal solution.
As a web designer this is a great tool i was hoping to get something like that. I know a few have said you can do it yourself but who´s got time for that? Excellent work, nice and clean and easy for customers, no more trello (they do not use and you need to explain) and all what is around your client and your business. Will help so much on delivering and giving more value to my designs. A great tool for everyone! stack it.

This is a huge time saver for us to avoid building custom dashboards for clients from scratch. 5 stars for sure, the only thing we wish it would not depend on WordPress and be a stand-alone SaaS.

---
Thanks for reading Client Portal WordPress Plugin Review & Enjoy the discount coupon. Please Report if Client Portal WordPress Plugin Discount Coupon/Deal/Giveaway has a problem such as expired, broken link, sold out, etc while the deal still exists.