In order to Get Ready For Work and School, Move All Your Data To Your New PC in Seconds. Today, we're offering FastMove with an 80% discount. Plus you'll get a FREE GIFT for a limited time only!
Are your children going back to school this year? Or are you heading back to the office? Due to the COVID-19 situation, more and more families are turning to homeschooling and online learning and working from home. And that often calls for a new, faster computer for the students. FastMove will help you set it up in no time!
With FastMove, you won't have to spend hours copying all your files and folders to the new PC and then spend even more time configuring all the settings. FastMove will do it all for you automatically!
Move everything to your new PC in minutes
Seamlessly transfer user accounts, settings, software, files, and more
Copy your device drivers from one PC to another for all your devices
Sync folders both locally and between PCs
Get FastMove with an 80% discount coupon, get a free gift: FileCleaner (Worth $49.95), and then you save 90%!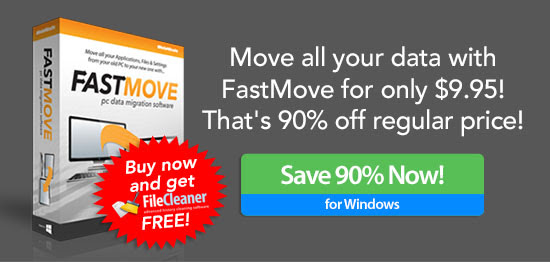 80% Off + Free Gift on FastMove – Get Ready For Work and School with your New PC