Create and edit videos for the brand, marketing, social media, family and more. Get 1-month Access to FlexClip Business Plan for free with a 100% Off coupon code!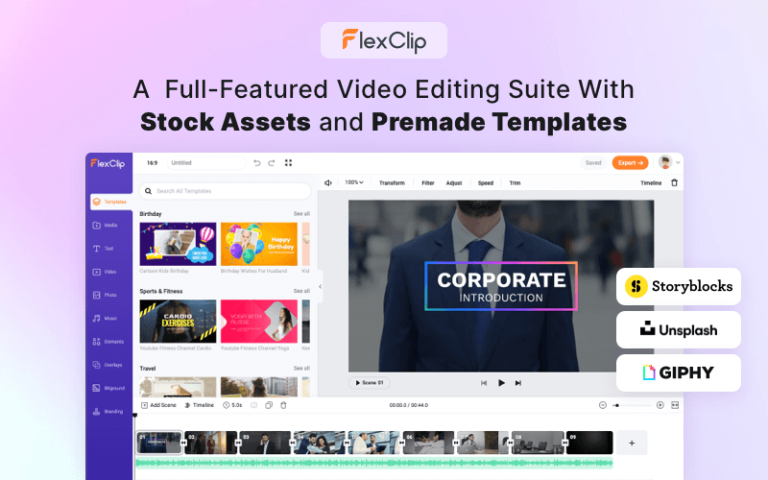 FlexClip is an online video editing tool. It's a modern way to show your ideas and share them with the world. It lets you create, edit, and upload videos online for free. This is great because it means that anyone can get started making their own videos without having to worry about expensive software or equipment.
This online video tool has features that makes it stunning. You can cut, trim, and customize your videos. You can also search for related pro clips to add into your project. This includes themes and templates for your project.
As a movie maker, you can make stunning movies for business, festivals, unique events, or social media. The Slideshow Maker will help you create professional slideshows with music and transitions while Screen Recorder allows you to record anything on your screen.
Why are businesses choosing Flexclip over the rest:
Super cost-effective.
Beautiful Looking UI & UX.
Make videos in just 3-simple steps.
Thousands of templates are available.
Rich animated elements with dynamic text, overlays, widgets, logos, intros/outros, etc. Millions of royalty-free media resources.
Comprehensive and powerful video editing tool for video and music trimming, image adjusting, the aspect ratio changing, effects, voiceover, and watermarks adding.
Built-in screen/webcam recorder.
Storyboard mode + Timeline mode.
Cloud storage and sharing.
Upload custom fonts.
Background removal.
Say goodbye to spending countless hours editing and polishing video content. Take back your time with FlexClip, an all-in-one web tool for making videos and slideshows. With easy-to-use storyboards, tons of templates, a large library of stock assets, and more, FlexClip has everything you need to churn out gorgeous videos in no time.
FlexClip Special Offers
Get lifetime access to this online video editor with a discount of up to 91% Off. As part of the deal, you will also get all features (according to your plan) including free updates & support from FlexClip.
$69.00 $400.00
A simple yet powerful video maker that creates marketing videos and family stories in minutes.
FlexClip Giveaway
FlexClip is available starting at $9.99. But now you can get 1 month access to Flexclip Business plan (Worth $299.99/month) with a 100% Off Coupon code for free!
To get 100% Off Coupon code for free:
Click on the GET NOW button above and you will go to the deal page of this product.
On the deal page, go to the BUY NOW section and open the Giveaway tab
On the giveaway tab, enter your email to open the offering box that contains the coupon code to
Read the hints on the offering box for the next instructions.
Enjoy the full-featured software
You can subscribe to FlexClip Business Plan for free without functional limitations for 1 month. Enjoy!
Software Giveaway – FlexClip Business Plan: Free Monthly Subscription