BEST SELLER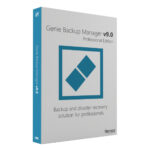 77% Off – Genie Backup Manager Pro 9: Lifetime License | The Award Winning Backup & Disaster Recovery Solution – for Windows
The Award-winning backup and disaster recovery solution for professionals – Get Genie Backup Manager Pro 9 with a 77% discount Coupon for a limited time!
Lifetime License with free maintenance upgrades | 30-day Money-Back Guarantee | Secure Purchase | 24/7 Technical Support
Genie Backup Manager Pro 9.0 Review at a Glance
Genie Backup Manager Pro 9.0 is very easy to use yet powerful and flexible software that can backup and restore files, documents, emails, settings, programs and more, to virtually any local or remote location, including internal and external hard disks, FTP locations, across network, optical media, removable media, memory sticks, and Amazon S3 storage.
Genie Backup Manager Pro 9.0 is the only backup software on the market that offers unlimited FREE Plugins, which the user can download or create to extend the capabilities of Genie Backup Manager™. This backup manager tool is perfect for users of all computer comfort levels. Novice users will find it easy to create their first backup job in a matter of minutes after installing the software, thanks to its intuitive wizard-based user interface, while advanced users will appreciate the software's extended scalability and flexibility, with features such as preserving NTFS Alternate Data Streams, Email notification, and scripting capabilities.
The best backup manager by Genie9 also caters for the data protection needs of business enterprises, by offering features that ensure a reliable backup mechanism for mission-critical data, such as backing up using Open File Backup (OFB), for businesses operating around the hour that cannot afford to shut down its running applications during backup, highly secure encryption, for sensitive documents that must not fall into the wrong hands and scheduling unattended backup tasks for regularly safeguarding constantly changing data.
As we introduce Genie Backup Manager Pro 9.0, we are confident that it can efficiently and effectively address all your data protection needs. Let this Backup Manager works for you and never again worry about losing what you have spent years building or collecting.
Features
Key Features of Genie Backup Manager Pro 9.0:
Functionality

Open File Backup
Pre and post commands
Adjust resources
Snooze backups
Test Data Integrity
Backup Transfer Method
Battery saving mode

Disaster Recovery

Smart Disaster Recovery selection
Multiple Startup Disk recovery options
Easy restore

Save Space

Compression
Limit backup size on media
Purge old backups

Scripting

 GRunScript
Command Line Parameters
Plugin Creator
Data

Outlook 2000-2010
Outlook Express
Windows Mail
Desktop
My Documents
Windows Address book/Contacts
My Photos
My Music
Registry
Windows Settings
Favorites
Windows Fonts
My Computer
My Plugins

Backup Locations

Local drives
Network locations
FTP/FTPS
CD/DVD/Blu-ray
Removable media
Amazon S3
Security

Encryption
Zip Password
Backup encrypted drives

Running Backups

Basic Scheduler
Advanced Scheduler
Snooze backups
Battery saving mode
Power saving options
Run backups while logged off

Restore/View files

Restore Wizard
Native Backup
Swift Restore
Catalog

Backup Types

Full
Incremental
Differential
Mirror
Requirements
To run Genie Backup Manager Pro 9.0 with optimum reliability and performance, your system should match the following requirements:
System Requirements for Windows OS:
Windows XP/Windows Vista/Windows 7/Windows 8/Windows 10 (32-bit and 64-bit platforms)
Pentium III or equivalent and above or AMD equivalent
1 GB RAM
200 MB free disk space
System Requirements for Mac OS:
Downloads
Please feel free to download Genie Backup Manager Pro 9.0 here. This Backup Manager Software by Genie9 has been tested professionally and we are assured that no viruses, Trojans, adware or malware contained.
BUY NOW
Genie Backup Manager Pro 9.0 retails for $69.95, But, on our website, The Software Shop, you can save on your purchase of its license key with a 77% discount coupon code. This offer is available for a limited time!
PURCHASE HERE:

You may like

Software Giveaway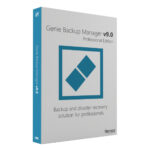 Genie Backup Manager Professional 9.0 - Single License (77% Off)
1 PC, Lifetime License
Get the best backup manager software
Lifetime License
Free Maintenance Upgrades
Receive priority customer support.
Disaster Recovery
Multi-level Security
Advanced Scheduling Capabilities
Supports 32-bit & 64-bit Platforms
30-day Money-back guarantee
$69.95
Genie Backup Manager Professional 9.0 Giveaway is unavailable as at this moment.
Please note that once you signed in, you will be shown how to get this offer for free.
So, once you're signed in, Please do not close this page.
User & Media Reviews
What are their users saying about Genie Backup Manager Pro 9.0? Why did they love it?
After thorough testing, I can only say your product far exceeds my expectations. It is, without doubt, the most versatile, easiest to configure, and fastest backup product I've tried. The ability to restore a file using off-the-shelf zip products is also a great plus. It certainly makes searching old archives for information much easier. We especially like the ability to backup to most any medium and across networks. We were performing backups of our primary server within ten minutes of installation. Thank you for a great product."

I just wanted to take a minute to thank you for your support. I am now using Genie Backup pro 7, and also Genie Online Backup. This is good customer support you gave, and that is why we will stick to using your product…Keep up the good work…"

Genie Backup Manager will solve it
"Thank you, Genie. I have spent a month trying to get my Maxtor One Touch 11 external drive to operate. It comes with its back up software application. The retailer providing technical support section even suggested that I remove my firewall, Register Mechanic, Go Back and anything else that was interfering with the application.
I then went searching for a solution that would work and found reviews that put Genie at number one. I then tried your trial free download and it worked. I have purchased a copy and would recommend your product to anybody.
The free trial test has always been a good sign that you have confidence that your product will work, and I am willing to try them. Thanks from a very satisfied customer."
---
Thanks for reading Genie Backup Manager Professional 9.0 review & enjoy the discount coupon. Please Report if Genie Backup Manager Professional 9.0 Discount Coupon / Giveaway has a problem such as expired, broken link, sold out, etc.