Kick off summer with sunshine and fun then transform photos of good times into colorful artwork with the Portrait Painter photo app. Get JixiPix Portrait Painter license key for free with 100% discount. Free for a limited time!
[Giveaway] JixiPix Portrait Painter – Free Serial Number for PC & Mac
[Giveaway] JixiPix Portrait Painter – Free Serial Number for PC & Mac
JixiPix Portrait Painter Review at a Glance
JixiPix Portrait Painter is a revolutionary paint product that simulates a hand painted gallery-style portrait on fine linen or canvas. This professional painting tool will add color, light, and texture, to your painting, which harmonizes intelligently—and with stunning candor, to produce fabulous works of art that resonate with vibrant life. Artists, Photographers & Hobbyists will love watching their subjects transcend from the living to become immortalized in a timeless masterpiece.
JixiPix Portrait Painter is a professional painting tool that automatically creates a finely painted gallery- style portrait from any image or snapshot then adds color, light, and texture, which harmonize intelligently.
back to menu ↑
Features
Key Features of JixiPix Portrait Painter:
Paint Styles

Portrait Paint—creates a classic-style portrait using the original colors from your photo
Bright & Colorful—replaces the original colors in your portrait with bright colorful ones for a modern style

A classic and modern paint style
Control over brush size, stroke length and bristle strength
Canvas and linen texture
Smooth skin option for freckles and wrinkles
Randomize color palette to change color placement
Fully editable Bright & Colorful color palette
40 One touch settings
Support for high-resolution images and output
Multiple undo
Randomize button
Quick previewing
Customizable settings
Superior customer service
back to menu ↑
Requirements
These are the minimum hardware required to run JixiPix Portrait Painter
System Requirements for Windows OS:
Supported OS: 10/8/7/Vista
System Requirements for Mac OS:
Supported OS: 64 bit OSX 10.6+
back to menu ↑
Download
Please feel free to download JixiPix Portrait Painter here. JixiPix Portrait Painter has been tested professionally and we are assured that no viruses, Trojans, adware or malware contained.
Windows OS (20MB)
Mac OS (36MB)
back to menu ↑
User & Media Reviews
What their users are saying?

I've done several photos this evening, all with great results and no problems-iMac running Lion. Will complain if necessary but I've only had one problem with one Jixipix app in the past and that was quickly updated.
Having tried and been disappointed with several "painting" apps, I was a little weary of trying another, but on a lark gave this one a go. I ran into some of the compatibility issues talked about in some reviews, but Jixi Pix was quick to make it right. The paint effect in this one looks nice and smooth as promised, and works well with my workflow. Thanks!
This app makes my people picture really pop. It has all the wonderful settings and adjustments that I've come to expect from Jixi Pix. It's just absolutely fabulous! Read my full review at iosaffairs.com.
back to menu ↑
Buy Now
JixiPix Portrait Painter retails for $14.99, But, on our website, The Software Shop, you can save on your purchase of its license key with a discount coupon code. This offer is available for a limited time!

This software is unavailable as a software giveaway
Reported - 2017.09.05
Coupon has Expired / Sold Out
no longer available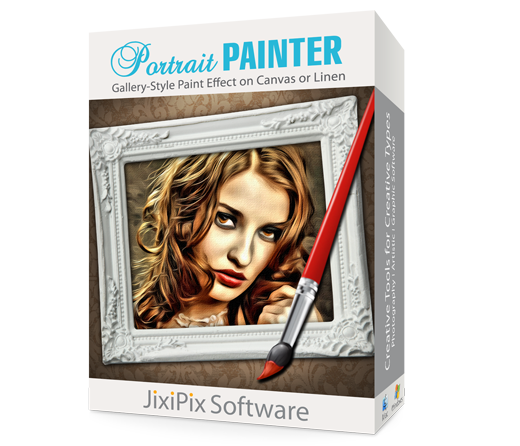 $14.99