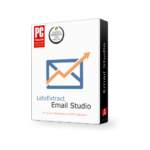 100% Software Giveaway on LetsExtract Email Studio Lite – Free Registration Key – Email Extractor Software – for Windows
Automatically harvests TARGETED email addresses, phone numbers, Skype IDs, and Facebook/Twitter UIDs. Get LetsExtract Email Studio Lite includes a registration key for free in the software shop giveaway of the day!
Free Registration Key
LetsExtract Email Studio Review at a Glance
LetsExtract Email Studio is a brand new app that is based on proven and tested data search and extraction technologies. It will quickly generate massive amounts of TARGETED leads for you. Email Studio can extract all kinds of contact details from your potential customers' social media profiles: email addresses, phone numbers, website links, and so on. Naturally, your targeted newsletters and cold calls will be much more effective than nontargeted ones.
LetsExtract Email Studio is highly optimized for fast HTML page parsing. In some cases, It even had to limit the parsing speed, simply because HTML pages couldn't be retrieved from websites that quickly. You can fine-tune it to grab only the most relevant emails/phones/Skype IDs/SM UIDs. For example, you can harvest phone numbers and Skype IDs to make a highly targeted cold calling list. You can also use your own regular expressions to collect custom information. You can make adjustments even if Email Studio has already begun harvesting. For example, you can change its settings, include or exclude certain web pages, and so on
back to menu ↑
Features
Key Features of LetsExtract Email Studio:
Multi-connection website scanning based on search-engine keyword search
Multi-connection website scanning A single connection. Very slow.
Facebook email/phone harvesting (PRO Edition only)
Twitter email/phone harvesting (PRO Edition only)
Yelp email/phone harvesting (PRO Edition only)
Mailbox email/phone harvesting (Gmail, Hotmail, etc.) (PRO Edition only)
Collect email addresses from files and folders
Bulk email extraction
Business email extractor (PRO Edition only)
Whois email & phone crawler
Free Email Validator (PRO Edition only)
Support for proxy servers
Email address harvesting
Phone number harvesting
Skype ID harvesting
Email crawling by Facebook and Twitter UIDs (PRO Edition only)
Export to Excel, TXT, CSV, OpenOffice or vCard
back to menu ↑
Requirements
To run LetsExtract Email Studio with optimum reliability and performance, your system should match the following requirements:
Supported operating systems: Windows 10, 8/8.1, 7, Vista, and XP
back to menu ↑
Download
Not sure if LetsExtract Email Studio does what you need? Try it out now. Please feel free to download #THESOFTWARE here. #THESOFTWARE has been tested professionally and we are assured that no viruses, Trojans, adware or malware contained.
back to menu ↑
Buy Now
LetsExtract Email Studio Lite retails for $19.00, But, on our website, THE Software Shop, you can get LetsExtract Email Studio lite with a registration key for free. Please go to the Giveaway tab below to grab it free noew. This offer is available for a limited time!
You also might like

Giveaway
LetsExtract Email Studio lite 4.3 Giveaway is available now for a limited time!
Please note that once you signed in, do not close this page. You will be shown how to get this offer for free.
Also, check out the latest software giveaways that are available here on the software giveaway page.
LetsExtract Email Studio Lite 4.3
Get your LetsExtract Email Studio lite for free
HINT

Click on the BUY NOW button in this offering box
You will go to the download section in our page (Opened in the new tab)
Click on the WINDOWS button to download the installation file
Install it & launch the program
Activate the lite version with the following registration key:

694dd0c6-567b-4d8b-a957-88afc086ad0f

Done

Enjoy the features of the lite version
TERMS

Giveaway version: 4.3
Lifetime License
Personal use only
No free updates
No free supports
*The lite version does not include the features which available in the pro version as listed on the features section in this page.
$19.00
We will not send this via email.
NOTE:
– All prices shown here are in listed USD (United States Dollar). Your local currency will be converted automatically, You can also switch to any other currencies during the checkout process.
– The discount coupon & your local VAT (Value added tax – if available, vary by country) will be applied at checkout automatically.
– The order(s) for the software are processed by the Avangate company. This company accepts paying on-line, via PayPal, by fax, bank-wire transfer, check, cash, or purchase order.
– You will receive a notification e-mail from Avangate when your order is processed which will also include your license information.
---
Thanks for reading LetsExtract Email Studio Review & Enjoy the Giveaway. Please Report if LetsExtract Email Studio Discount Coupon/Deal/Giveaway has a problem such as expired, broken link, sold out, etc while the deal still exists.