50% Off Coupon on Premiumpress Auction Theme for WordPress – Lifetime Free Updates – Create Auction Websites, Business Auctions such as Flippa
Starting your own online auction website has never been easier. Get Premiumpress Auction Theme for WordPress with 50% discount coupon code for a limited time!
Save $39.50 | Free  Extra Child Themes | Lifetime Free Updates | 30-day Money-back Guarantee |  Free Dedicated Support
50% Off Coupon on Premiumpress Auction Theme for WordPress – Lifetime Free Updates – Create Auction Websites, Business Auctions such as Flippa
50% Off Coupon on Premiumpress Auction Theme for WordPress – Lifetime Free Updates – Create Auction Websites, Business Auctions such as Flippa
Premiumpress Auction Theme Review at a Glance
This premium auction WordPress theme from PremiumPress offers everything you need to create and operate your own auction website. From Business2Business auctions to niche product auctions, Premiumpress Auction Theme is easily adapted, whatever your business model.
Premiumpress Auction Theme for WordPress has built-in user bidding, automated bidding, buy now and reserve price auctions. Shipping, private messaging, user feedback and trust rating scores plus so much more!
back to menu ↑
Features
Key features of Premiumpress Auction Theme
Auto Bidding, Reserve & Buy Now Prices
Premiumpress Auction Theme has a built in bidding system allowing members to place their highest bid and the system will auto bid for them. They can also set a reserve and buy now listing price.
Members Area & Bidding History
Visitors can join your Website and become members. member has their own logins and unique account area where they can modify their account details, set up payment options and view their bidding history.
House Commission & 'Terms & Conditions'
As a WordPress auction theme owner, you can set up your own commission percentage which means you members will pay you a % for all auctions sold. You can also setup and enter your own website terms and conditions.
User Feedback & Seller Rating
Once an auction has finished and the user has paid for the listing they can leave feedback regarding the transaction and provide a user rating which will show up in the seller's profile.
Custom Fields and Advanced Search
With Premiumpress Auction Theme, you can setup as many custom fields as you like allowing you to create websites for all niche markets. You can then set up the fields to be searchable and add them to your advanced search tool.
Listing Enhancements
Members can enhance their listings with new features such as featured text, highlighted listings, HTML descriptions. Each enhancement you can charge extra $$$ for making it a great revenue resource.
Images,Video,Music,PDF & Doc Uploads
This WordPress auction theme supports a range of different media types allowing your members to upload and share their content with ease. The upload process is clean and simple making it easy for users to add listings.
Free & Paid Auction Listings
As the website owner setting up listing packages is easy. Offer different package features such as auction lengths, free enhancements, and pricing. Why not set up both free and paid auction listing packages and offer more options to your users.
Completely customizable open source themes
Get creative with 100% open-source code – the key to creating completely unique websites for your business. All themes include comprehensive help notes to get you started, so customizing your theme couldn't be easier.
Turn features on and off with one click
Premiumpress Auction Theme comes with a huge choice of design elements but you don't have to use them all at once. Choose the features and displays that you like and turn off the rest until you need them. You have full control over the appearance of your site and you can change it at any time too.
Simple drag and drop homepage design
Your site home page is the face of your business, so you want it to be completely unique and stand out from the crowd. That's why we included a user-friendly home page management tool, so you can design a truly unique homepage by simply dragging, dropping and customizing the elements you want to use.
Choose your own fonts and color schemes
Whether you want to be bold and eye-catching, or subtle and corporate, you can create the right image for your brand at the touch of a button. Choose your color themes, fonts and more directly from the admin panel.
Design your own forms and members area
Premiumpress Auction Theme comes complete with all the functionality you need to quickly and easily create user accounts. Design your own registration form, choose your required fields and customize your member's personal login areas. Your members can then log into and manage their own personal account area.
Manage your email marketing in-house
Drive your own email marketing campaigns without the need for expensive third-party services thanks to the free email management tools included with every theme. Build a subscriber list with your own customizable subscriber form, create targeted emails and schedule your releases for maximum effect and minimum effort.
Control how users search your site
Tailor your own on-site search engine to your site visitors with the PremiumPress advanced search tool. You choose the fields and parameters that matter to your customers, and control how results are displayed too.
Sell memberships and listing package
Create your own membership bundles and paid-for services with our unique listing and membership packages. With no need for extra plug-ins and add-ons, our themes help you get your site up, running and earning money quickly.
Complete order management system
Running your business is a breeze with our integral order management system. Create your own, personalized invoices and manage your orders in real time using sophisticated search and edit tools.
Any language, any time
Building your site in different languages couldn't be easier thanks to the language file editor that comes as standard with every PremiumPress theme. Simply set your preferences via the admin live editor and change them whenever you need to.
Making payments easy
Choose from over 20 popular payment gateways direct from your admin panel. From PayPal to Authorize.net, PremiumPress gives you the flexibility to do business without barriers.
Advanced reporting tools
Get the inside track on your business and see what's working and what isn't with built-in management reporting tools. From vital statistic s to interesting insights, the reports are fully customizable and can be scheduled to run automatically or just when you need them.
Extra value at no added cost
All PremiumPress customers can take advantage of free theme updates, child themes, innovative new plug-ins and a host of extra features. Just log in each month to find out what's new.
back to menu ↑
Download
back to menu ↑
Buy Now
Premiumpress Auction Theme by PremiumPress retails for $79.00, But, on our website, The Software Shop, you can save on your purchase of its license key with 50% discount coupon code. This offer is available for a limited time!
Buy it here!

You also might like

Software Giveaway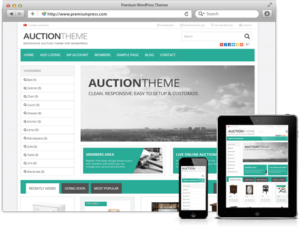 PremiumPress Responsive Auction Theme (50% Off)
Start an online auction website today with this powerful, easy to use, Premium auction theme for WordPress.
Instant Theme Download
Free Child Themes
Lifetime Free Theme Updates
Lifetime Free Theme Support
PSD File Access
Community Forum Access
30-day Money-Back Guarantee
*The discount coupon & your local VAT (Value added tax) will be applied at checkout automatically include your local currency will be converted.
$79.00
PremiumPress VIP Club - All Themes (Save 80%)
30 day money back guarantee. Try risk free today!
Save $350 $474.5
Access to all Premium Themes
100+ Child Theme Downloads (extra designs)
Access Newly Developed Themes & Plugins
PSD Photoshop Files Included
Priority Support
*The discount coupon & your local VAT (Value added tax) will be applied at checkout automatically include your local currency will be converted.
$249 $599
Web authoring software necessary for the most effective collaborative workflow for your design and development team. ...
Get  WordPress Theme websites included in The Core -  Multi-Purpose WordPress Theme by ThemeFuse. Get this theme with ...
 Get CloudPress now with discount coupon & Save up to 50%! BUY NOW Save up to 50% | Secure Payment | 24x7 ...
Premiumpress Auction Theme Giveaway is unavailable at this moment.
Please note that once you signed in, do not close this page. You will be shown how to get this offer for free.
Also, check out the latest software giveaways that are available here on the software giveaway page.
We will not send this via email.
back to menu ↑
User & Media Reviews
If you're looking to run your own auction site for others to buy and sell this is definitely the best one I've used. Customer support definitely goes beyond to ensure their customers are happy!..

I love premiumpress themes and I think it gives alot of people the oppotunity to put their ideas and services online. The only improvement I think they need is their mobile site. I need more options for mobile details . ..

This is my second website made through PremiumPress and I have to say everything has been prefect from the ease of making my auction website to the fast replies from the customer service.You have been great

Thanks for reading Premiumpress Auction Theme review & enjoy the big discount! Please Report if Premiumpress Auction Theme Discount Coupon/Deal/Giveaway has a problem such as expired, broken link, sold out, etc.