GIVEAWAY
100% Software Giveaway on MSD Passwords V1.6.0 – Free – Easy to Use and Secure Passwords Manager Software – for Windows
Save time and make your Internet experience easier. No more need to recall dozens of usernames and passwords to log in to your favorite sites. Get MSD Passwords V1.6.0 full version with a registration code for free
Free license / No Payment
MSD Passwords Review at a Glance
MSD Passwords is a powerful and easy to use password management software which will allow you to navigate to Internet password protected sites with easy using the default browser of your computer. Select a password to protect your data and a strong encryption algorithm will protect the information from unauthorized access. Your information will also be protected while you use the program, thanks to runtime protection features, which prevent other people from using your login information if you leave your computer with the program running.
MSD Passwords Portable is also available, allowing to take your data in a Pen Drive or in a removable disk with ease and with security. If you lose your removable disk nobody will be able to access the information it contains if you protected the program with a password.
MSD Passwords is very easy to use and can be configured to adapt many of its features to the user preferences. You can effectively find the information you are looking for by using the search and filter features. The program allows you to search the information with any combination of data fields and operators and lets you create an unlimited number of professional-looking reports with exactly the layout of the information on the data grids.
By using a password, the user may control access to the program. Besides, the information can be stored in an encrypted format after closing the program to avoid unauthorized access. Thanks to the security options your data will be safe at home and at the office.
In addition to these features, MSD Passwords provides stand-alone tools such as random passwords generator, word processor, spreadsheet and image viewer.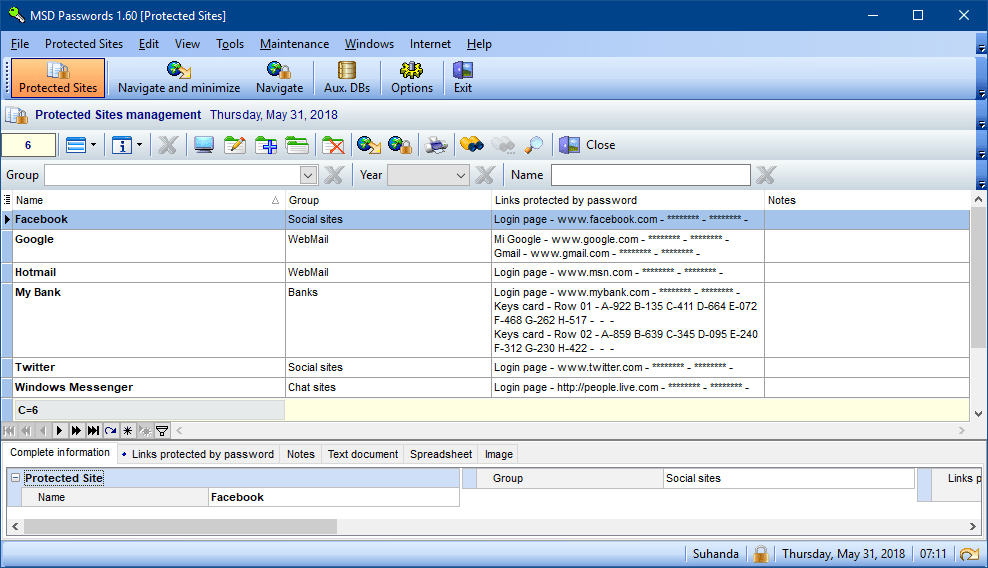 Features
Key Features of MSD Passwords:
Information Management

Data confidentiality and security
The powerful relational database engine
Advanced data grids
Powerful tools for data finding and filtering
Unlimited different reports
PDF support

Ease of Use

Comfortable and easy to use interface, similar to all the program
Fast and comfortable creation of new records in the auxiliary databases
Contextual menu in all the program
Integrated help in all the program
Quick tutorial, integrated into the program help
Variable size edition dialogues
Maximized edition of Notes and Rich Text fields
The content indicator in the dialog tabs
Program iconization in the System Tray

Customization

Aspect, colors, and fonts can be customized in dialogues, tables, etc.
Skins
Program behavior can be customized
Customization of the visibility and position of the columns in the data grids

Advanced Features

Word processor
Spreadsheet
Image viewer
Storage and recovery of table configurations
Confidentiality
Data backup
Data Maintenance
Databases compression
Databases repairing
Auxiliary databases edition
Requirements
To run MSD Passwords with optimum reliability and performance, your system should match the following requirements:
System Requirements for Windows OS:
Supported OS: Windows 10/8.1/8/7/Vista/XP
System Requirements for Mac OS:
MSD Passwords Download
Not sure if this software does what you need? Try it out now. Please feel free to download the MSD Passwords trial here. This password manager by MSD Soft has been tested professionally and we are assured that no viruses, Trojans, adware or malware contained.
Buy Now
MSD Passwords retails for $22 USD (19 EUR), But, on our website, THE Software Shop, you can get the MSD Passwords V1.6.0 full version with a  license code for free in the "Software Giveaway" section tab below. This offer is available for a limited time!
Special Offers

Software Giveaway
MSD Passwords license giveaway is available at this moment.
Please note that once you signed in, do not close this page. You will be shown how to get this offer for free.
Also, check out the latest software giveaways that are available here on the software giveaway page.
NOTE:
– All prices shown here are in listed USD (United States Dollar). Your local currency will be converted automatically, You can also switch to any other currencies during the checkout process.
– The discount coupon & your local VAT (Value added tax – if available, vary by country) will be applied at checkout automatically.
---
Thanks for reading MSD Passwords Review & Enjoy the discount coupon. Please Report if MSD Passwords Discount Coupon/Deal/Giveaway has a problem such as expired, broken link, sold out, etc while the deal still exists.