Celebrate the International Hobbit Day 2020 with Auslogics. Get Auslogics Registry Cleaner Pro license with a 45% discount coupon!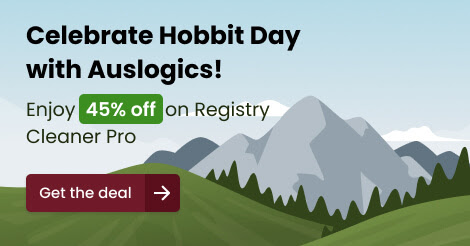 Are you a Tolkien fan? Frodo and Bilbo's birthday, or Hobbit Day 2020, is one of September's most fun holidays and there is no reason why anyone shouldn't celebrate it. Whether you'll hold a book reading meeting or throw a real birthday party with activities and foods hobbits or elves would enjoy, this special day is sure to help clear up your end-of-summer blues.
And here is one more thing to make your day, this time from Auslogics. Grab our Hobbit Day 2020 Special and save 45% on Auslogics Registry Cleaner Pro.
Auslogics Registry Cleaner Pro is great at solving PC stability problems and even clearing up the blues, or rather Blue Screens of Death (BSOD errors). It will search your Windows registry for invalid or old entries and safely remove anything it finds. As a result, you will see fewer glitches and will be able to enjoy a smoother PC experience.

Hobbit Day 2020 Sale – 45% Off on Auslogics Registry Cleaner Pro – for Windows