GIVEAWAY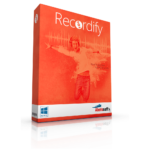 Software Giveaway: Recordify 2022 Plus V7.07 – Free Full Version – Download Music from Popular Music Streaming Services for Windows
Record music from streaming services like Spotify, Deezer, Amazon, Apple Music, aand also from your computer's sound card. Get Recordify 2022 Plus V7.07 – full version with a lifetime license for FREE in today's software giveaway!
Free Full Version!
Recordify 2022 Review – at a Glance
Abelssoft Recordify Plus 2022 is a specialist in recording audio from music players. The strongest aspect of the program is the recording of entire music libraries and playlists from streaming services such as Spotify, Google Play Musicor Deezer, despite the absence of a paid version that is the only one for these services to allow downloads.
The program works as a live recording and saves each song to a separate MP3 or FLAC file. However, you can also record music or any audio directly from your computer's sound card.
The program has the advantage of isolating the recorded audio track over another way of recording, so you can still use your computer normally during recording. When recording from streaming services, the program can automatically obtain information about the songs being played and save them individually as separate files. All you have to do is let your playlist run in the background and the program will take care of all the work organization and song descriptions. Newly contains the program RECognition technology, which can analyze and recognize each song itself and store the correct data in the recording.
Recordify 2022 Plus works as a live recording and saves every song as a single MP3, WAV or FLAC file. It's brilliant! The entire music library – saved with just one click. The software also offers the option to record as "Stereo Mix": With the additional recording function "Stereo Mix", you can also record anything else that is being played on your PC speakers.
With the development of the exclusive RECognition© technology, it is possible to just let your playlist play while Recordify Plus 2022 recognizes every single song and saves it in a correctly named file. The download of the mp3 file is usually of high quality since the music quality is dependent on the streaming service used. Enthusiasts use high-quality settings of up to 320 kbps.
Recordify is sure to delight both regular users and professionals, as it offers several output conversion options. In the menu »Settings | Converter «can choose between classic lossy MP3 and FLAC. In the settings, you can select a bitrate from 92 to 320 kbit for MP3 and a ratio between file size and CPU usage on a scale from 1 to 7 for FLAC.
With this 2022 version, you can finally access tracks from the popular music streaming service Apple Music via Recordify. In addition, the program now also runs stably and reliably under Windows 11.
Features
Key Features of Recordify 2022 Plus Version:
Download Music – Download a single song or an entire playlist with recording all songs to files.
RECognition© – Let your playlist play while Recordify recognizes every single song and saves it in a correctly named file.
Quality – Music quality depends on the streaming service used. Enthusiasts use high quality settings of up to 320 kbps.
Formats – The music downloaded by Recordify can be saved as the MP3 file, WAV, or in the premium quality file format FLAC.
Choose the name – You can choose different file names such as Artist – Title, Artist – Album – Title, etc.
No ads – Deletes ads between songs automatically.
Requirements
To run Recordify Plus 2022 with optimum reliability and performance, your system should match the following requirements:
System Requirements for Windows OS:
Supported OS: Windows 11, Windows 10, Windows 8.1, Windows 7
System Requirements for Mac OS:
Download
Not sure if Recordify Plus 2022 does what you need? Try it out now. Please feel free to download Recordify Free Version for Windows here. This music software by Abelssoft has been tested professionally and we are assured that no viruses, Trojans, adware or malware contained.
Buy Now
Recordify Plus 2022 is available for $10.00. But, today on our website, THE Software Shop, you can get Recordify Plus 2022 V7.07 full version with a lifetime license for free in the Software Giveaway tab below. This offer is available for a limited time!
Recommended

Software Giveaway
A powerful tool for all kinds of screencasting: capturing screen activity or web events, creating voiced software tutorials, and recording video call chats.
Recordify Plus 2022 Giveaway is available now FREE for a limited time!
Please note that once you signed in, do not close this page. You will be shown how to get this offer for free.
Also, check out the latest software giveaways that are available here on the software giveaway page.
Please Report if Abelssoft Recordify Plus 2021 Deal/Discount Coupon/Giveaway has a problem such as expired, broken link, sold out, etc.