50% Off Coupon on Luminar 3 Basic – All-in-One Full-featured Photo Editor & Organizer for Mac and PC
An all-in-one photo app designed that offers everything a modern photographer needs for photo editing & organizing. Get Luminar 3 license with 50% discount coupon!
You save $40.00 | 30-day Money-back Guarantee | Secure Payment | 24×7 Customer Support
50% Off Coupon on Luminar 3 Basic – All-in-One Full-featured Photo Editor & Organizer for Mac and PC
50% Off Coupon on Luminar 3 Basic – All-in-One Full-featured Photo Editor & Organizer for Mac and PC
Luminar 3 Review at a Glance
Luminar 3 is a full-featured photo editor & organizer for Mac and PC which brings over 300 robust tools and features, including fast RAW support, layers, custom brush for selective editing, masking, dozens of photo filters with custom adjustments, Luminar Looks, and a lot more. Luminar 3 features advanced controls that are easy to use. Intelligent filters like Accent AI 2.0 makes it easy to get a great looking image in seconds.
back to menu ↑
Features
Key Features of Luminar 3:
Accent AI 2.0 – New "human-aware" technology recognizes people in your photos and applies adjustments selectively for more realistic images.
Instantly Beautiful Photos with One Click – In less than a second, your photos can look their absolute best.
Al Sky Enhancer – Automatically detects and improves the skies in your images.
Sunrays – Add volumetric lighting to create beautiful beams of light in your images.
Instant looks – Visually browse over 70+ Luminar Looks, hand-crafted by pro photographers.
Powerful & easy to use interface.

Gallery – The Library is where you explore your images.
Single Image View – View and rate your photos one by one.
Edit Panel – Contains all adjustment tools, layers and the histogram.
Looks – This panel makes it easy to choose the best Look thanks to visual previews.

Exclusive creative filters

Structure – Increase contrast and bring out more details in a photo.
Orton Effect – Adds glow and focus to your photos, producing a unique look that's both sharp and blurry at the same time.
Foliage Enhancer – Automatically detects foliage and greenery and makes them more vivid and natural.
Golden Hour – Brings a warm sunlight effect to your photos. This filter emulates the shooting conditions when the sun is low on the horizon (such as shortly after sunrise and before sunset). This indirect light makes even dull photos warm and dimensional

Object Remover

Quickly erase unwanted objects and fix imperfections.
Cut out any odd or excessive details.
Fix skin imperfections fast and restore old photos in just a few clicks

High-quality 16-Bit processing and RAW support,
Use an array of advanced filters such as Advanced Contrast, Remove Color Cast, Details Enhancer to develop the ideal starting point for creative work.
Layers & Masking – Use textures, images, masks, and more for the ultimate in creative filtering.
Powerful noise reduction – Work on your images pixel by pixel to make photos smooth & vibrant in mere seconds.
Non-destructive photo editing – Unlimited edits history so you are always able to recover any of your photo editing steps.
50+ filters that allow you to do more – Powered by the latest photo processing tech handcrafted by Skylum team with over 10 years of development experience producing award-winning software beloved by millions of users.
back to menu ↑
Requirements
To run Luminar 3 with optimum reliability and performance, your system should match the following requirements:
System Requirements for Windows OS:
Operating System Windows 7 (only 64-bit OS), Windows 8.1 (only 64-bit OS), Windows 10 (only 64-bit OS)
Windows-based hardware PC with mouse or similar input device
OpenGL 3.3 or later compatible Graphics Cards
Processor Intel Core i5 or better
Memory 8 Gb RAM or more
Hard disk 10 Gb free space, SSD for best performance
Display 1280×768 size or better
System Requirements for Mac OS:
macOS Mojave 10.14, High Sierra 10.13.1, Sierra 10.12.6, El Capitan 10.11.5
MacBook, MacBook Air, MacBook Pro, iMac, iMac Pro, Mac Pro, Mac mini
Processor Intel 64-bit Core 2 Duo or better
Memory 8 Gb RAM or more
Hard disk 10 GB free space, SSD for best performance
Display 1280×768 size or better
back to menu ↑
Luminar 3 Download
Not sure if Luminar 3 does what you need? Try it out now. Please feel free to download Luminar 3 for Windows or Mac OS X here. This photo organizer & editor by Skylum has been tested professionally and we are assured that no viruses, Trojans, adware or malware contained.
back to menu ↑
Buy Now
Luminar 3 license code retails for $70.00, But, through our website, THE Software Shop, you can get Luminar 3 wtih 50% discount coupon. This offer is available for a limited time!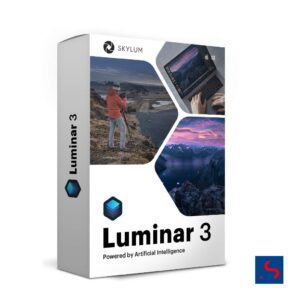 Luminar 3 - Basic
Supercharged image editing & organization for Mac & PC.
Can be use on up to 5 Devices (Windows/Mac)
Free Software Updates
Free Technical Support by Skylum Team
60-day Money-back Guarantee
$70.00
Luminar 3 Giveaway is unavailable at this moment.
Please note that once you signed in, do not close this page. You will be shown how to get this offer for free.
Also, check out the latest software giveaways that are available here on the software giveaway page.
NOTE:
– All prices shown here are in listed USD (United States Dollar). Your local currency will be converted automatically, You can also switch to any other currencies during the checkout process.
– The discount coupon & your local VAT (Value added tax – if available, vary by country) will be applied at checkout automatically.
– The order(s) for the software are processed by the FastSpring  company. This company accepts paying on-line, via PayPal, by fax, bank-wire transfer, check, cash, or purchase order.
– You will receive a notification e-mail from FastSpring/Skylum when your order is processed which will also include your license information.
– Such promotional programs are subject to change without notice, from time to time in our sole discretion.
– Data may vary based on different system or computer.
---
Thanks for reading Luminar 3 Review & Enjoy the discount coupon. Please Report if Luminar 3 Discount Coupon/Deal/Giveaway has a problem such as expired, broken link, sold out, etc while the deal still exists.