GIVEAWAY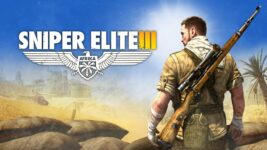 Expired
100% Game Giveaway – SNIPER ELITE 3 – Free Full Version – The Award-Wining Tactical Third-person Shooter Game
NORTH AFRICA 1942. Germany is building a wonder weapon with the power to crush any Allied forces. The infamous Afrika Korps stand in your way. Sabotage their plans or the resistance is over. Get Sniper Elite 3 Full Version for free now!
Free Full Version
Sniper Elite 3 Review Video
100% Game Giveaway – SNIPER ELITE 3 – Free Full Version – The Award-Wining Tactical Third-person Shooter Game
Sniper Elite 3 Review at a Glance
Sniper Elite 3 is a tactical third-person shooter that combines stealth, gameplay choice and genre-defining ballistics with huge, open levels and the exotic terrain of World War 2 North Africa.  SNIPER ELITE 3 takes players to the unforgiving yet exotic terrain of North Africa in a savage conflict against Germany's infamous Afrika Korps.
Equipped with Tiger tanks and the latest weaponry, Germany's infamous Afrika Korps have the Allies outnumbered and outgunned. Worse still, intelligence indicates the Nazis are developing a super weapon in Africa that could destroy all hopes of victory not just in Africa, but in the whole war.
Features
Key Features of Sniper Elite 3:
Expansive new environments – Stalk multi-route environments up to THREE times larger than levels seen in Sniper Elite V2. Never play a level the same way twice.
Adapt to any situation – Use stealth, distraction, sound masking and traps. Your approach. Your way. If things go hot, use the new 'Relocate' mechanic to slip into the shadows and find a new weakness in enemy lines.
New vehicle kill cam – Multi-stage destruction allows you to take out armoured cars, trucks and tanks piece-by-piece before delivering the final shot. See vehicles disintegrate in intricate detail.
Revamped human X-ray kill cam – The acclaimed X-ray kill-cam is back and bolder than ever, including a detailed muscle layer, 3D mesh particles and a complete human circulatory system.
Tense adversarial multiplayer – Five extreme modes of competitive action, earn Medals and Ribbons as you play, gain XP across all game modes and become a true Sniper Elite!
Explosive co-op play – Play the entire campaign in two player co-op or test your team work in two exclusive modes, Overwatch and Survival.
Requirements
To run Sniper Elite 3 with optimum reliability and performance, your system should match the following requirements:
OS: Microsoft® Windows® Vista (Service Pack 2) or Windows® 7 (Service Pack 1) or Windows® 8 or Windows 8.1. Windows® XP is NOT supported.
Processor: Dual-core CPU with SSE3 (Intel® Pentium® D 3GHz / AMD Athlon™ 64 X2 4200) or better
Memory: 2 GB RAM
Graphics: Microsoft® DirectX® 10.0 compatible graphics card with 256 MB of memory (NVIDIA® GeForce® 8800 series / ATI Radeon™ HD 3870) or better
DirectX: Version 11
Network: Broadband Internet connection
Storage: 18 GB available space
Sound Card: Microsoft® DirectX® 10.0 compatible sound card or better
Additional Notes: Windows® XP is NOT supported. Ensure graphics and audio drivers are up to date.
Buy Now
Sniper Elite 3 retails for $29.99, But, through our website, THE Software Shop, you can get Sniper Elite 3 full version for free. Open the Giveaway tab below now! This offer is available for a limited time!
You also might like

Giveaway
Sniper Elite 3 Giveaway is available now for a limited time!
Please note that once you signed in, do not close this page. You will be shown how to get this offer for free.
Also, check out the latest software giveaways that are available here on the software giveaway page.
NOTE:
– Such promotional programs are subject to change without notice, from time to time in our sole discretion.
– Data may vary based on different system or computer.
---
Thanks for reading Sniper Elite 3 Review & Enjoy the discount coupon. Please Report if Sniper Elite 3 Discount Coupon/Deal/Giveaway has a problem such as expired, broken link, sold out, etc while the deal still exists.