BEST OFFER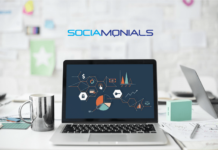 97% Off on Lifetime Access to Sociamonials Business Plan – Self-Optimized Social Media Marketing Automation Tool
Build and sustain a large social community and automate hundreds of mundane IT tasks that would otherwise require hours of attention daily. Get lifetime access to Sociamonials Business Plan with 97% discount for just $49.00
You save $1739.00 | Lifetime Access | 60-day Money-back Guarantee | Secure Payment | 24×7 Customer Support
Sociamonials Review at a Glance
What you already know: social media is a huge marketing channel. What you don't know: you don't have to spend thousands on sponsoring posts or waste hours learning complex tools to get a good ROI.Nope, all you have to do is let this social media hotshot take the wheel: Sociamonials.
Sociamonials is a powerful new social analytics solution for businesses to running campaigns and sweepstakes that get your brand out there — just use the ready-made templates and stunning background images (no coding required!).
Your contests will be fitted with automatic fraud prevention, the ability to approve submissions via mobile, white label options that make your brand the star, and split testing so you can find out which of your campaigns performed best.
You can get users even more involved with Sociamonials' user-generated content integration that lets your customers share video testimonials, photos, and stories.
Sociamonials automates posting and suggests the best times to post for each network based on the business metrics you set (e.g. increase sign-ups, registrations, sales, or leads).
And in a sleek analytics page, Sociamonials lets you see and create unlimited reports on the social media metrics that matter most, like, which social posts and networks generate the most engagement, leads, and revenue.
So, If you're tired of playing the social media guessing game and want to see a real ROI, you need to get Sociamonials.
Features
Key Features of Sociamonials:
Advanced Analytics
Calendar
Automatic reposting queues
Category queues
E-commerce tracking
Lead tracking
Custom website tracking
Asset library
1 million+ stock photos
Unlimited posts archived
Link shortening
Change shared links even after they have posted
Customize posts per network
Optimize send times per network
Direct video uploads, including to YouTube
Social CRM
Share buttons
Android & iOs mobile app
Unlimited Landing pages
Unlimited popups & sticky-tab widgets
Email autoresponders
Photo contests
Video contests
Essay contests
Video sharing gallery
Photo sharing gallery
Referral sweepstakes
Signup & download pages
Coupons
Video testimonials
Product reviews
Customer stories
Refer-a-friend program
Weekly giveaway
User-generated content approval workflow
Auto-syndicate user-generated content to social
Custom submission forms
A/B Split testing
Triggered & scheduled campaign series
Premium integrations
Exclusive Business Features

Up to 5,000 campaign entries per month
Publishing approval workflow
Detailed user permissions

Exclusive Enterprise Features

All Business Features
Up to 300 social profiles
Enterprise security
Up to 500 users
White label social media apps
Remove Sociamonials branding from campaigns
Profanity filter
Encrypted database
Dedicated account manager
Free Trial
Not sure if Sociamonials does what you need? Try it out now. Please feel free to Get Sociamonials Free Trial here. This social media tool has been tested professionally and we are assured that no viruses, Trojans, adware or malware contained.
Register now for free
No credit card – 3 day trial.
Buy Now
Sociamonials Business retails for $149.00/month , But, through our website, THE Software Shop, you can get this social media marketing tool for just $49.00 with a lifetime access plus remove Sociamonials branding as a bonus. It's a price with a 97% discount from the $1788 value for a lifetime access. This offer is available for a limited time!
ORDER NOW

You also might like

Giveaway
Sociamonials Business Plan - Lifetime
Fast track your social media success with automated posting and metrics that matter
Lifetime access to Sociamonials Business Plan
30 social profiles
Unlimited scheduling
3 users
Up to 5,000 campaign entries per month
Remove Sociamonials branding from campaigns (this is a bonus typically not included in the regular Business plan)
Publishing approval workflow
Detailed user permissions
Android & iOs mobile app
Unlimited landing pages, popups, & sticky-tab widgets
Photo, video, and essay contests
Video testimonials, product reviews and customer stories
Custom submission forms
Premium integrations
1 million+ stock photos
Advanced Analytics
Increase your entry limit by 10K/mo. for $10/mo., as needed
Free Lifetime updates to Sociamonial Business Plan
Stackable:

Stack an unlimited number of codes to multiply the number of submissions to campaigns and social profiles
60-day money back guarantee. No matter the reason.
$1788.00
Sociamonials Giveaway is unavailable at this moment.
Please note that once you signed in, do not close this page. You will be shown how to get this offer for free.
Also, check out the latest software giveaways that are available here on the software giveaway page.
NOTE:
– All prices shown here are in listed USD (United States Dollar). Your local currency will be converted automatically, You can also switch to any other currencies during the checkout process.
– The discount coupon & your local VAT (Value added tax – if available, vary by country) will be applied at checkout automatically.
– The order(s) for the software are processed by the AppSumo company. This company accepts paying on-line, via PayPal, by fax, bank-wire transfer, check, cash, or purchase order.
– You will receive a notification e-mail from AppSumo when your order is processed which will also include your license information.
– Such promotional programs are subject to change without notice, from time to time in our sole discretion.
– Data may vary based on different system or computer.
– Even though your deal is a lifetime, you must redeem your code(s) by May 1, 2019
User & Media Reviews
What are their users saying about Sociamonials? Why they loved it?
Great Deal
Just purchased this and RelayThat…a serious 1-2 punch for SM management and marketing campaigns. Highly recommended!
I trust companies that prove they can listen
With every interesting detail and possible standout feature I read, my mind kept coming back to the fact that the best (and most fun, if you ask me) part of the deal was being stunted by non-recurring credits.
I've been burned a couple of times in the past few months as other lifetime deals I bought previously suddenly changed their terms, but you earned my respect and my trust when you proved you could listen to feedback and adapt. I really feel like Socialmonials is going places, and I'm going with it!
Buy. This. Now.
Honestly, this is the 3rd social media manager app I have purchased through AppSumo…and by far the BEST. With more accounts included, a more robust scheduling system, & the category features, am DONE buying more to test. Did you hear that Socialmonials…I COMMITTED to you!
First two deals
I bought my first two deals  as I bought SociaMonials and Relaythat.
Together with my business partners, I am working on creating a low touch social media strategy. I went through reviews for both and love them both.
Solid, Productive and inexpsensive
Its a steal! All the features they offer for a life time, its crazy. Who can't dish out 49$ for their business. This will save you so much time, and help you promote yourself effectively. Its amazing, and support answered me at 20:30, that's a big plus. Great service, get it for a lifetime while you can.
---
Thanks for reading Socialmonials Review & Enjoy the discount coupon. Please Report if Socialmonials Business Discount Coupon/Deal/Giveaway has a problem such as expired, broken link, sold out, etc while the deal still exists.