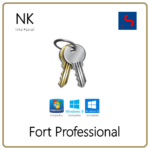 100% Software Giveaway on Fort Professional 5.0 – Free License Key (Local & Portable Version) – A File Encryption and Password Management Software – for Windows
Encrypt your important directories and files with the AES 256 bit keys. Get Fort Professional 5.0 full version with a License Key FREE for Local & Portable Version.
Free License Key
Fort Professional 5.0 Review at a Glance
Fort Professional 5.0 offers easy and reliable encryption of files and folders. Fort can be also used to encrypt files and directories in Onedrive, Dropbox and other similar services. Fort is available in 16 different languages and counting.
Fort Professional 5.0 concentrates on encrypting individual files and directories so they can be safely put into a cloud service or similar. Even if you just have sensitive files and data in your laptop locally, what if the laptop gets stolen? Surely you do not want criminals to be able to use the data.
This encryption tool takes security seriously and uses AES with 256bit keys. On decryption, Fort checks that the data does not tamper in any way and informs if data tampering is detected. For each file, Fort Professional 5.0 generates a random initialization vector that is used only once. Similarly, for keys, a random one time salt is generated by Fort.
What's New?
Fort Professional 5.0 – 2018-10-21:
Fort 5.0 released
Upgraded to .NET 4.6.1
Upgraded SharpShell, SharpZipLib and Json.NET to new versions
New feature: It's now possible to add folders in Fort GUI
New feature: It's now possible to change the location where Fort
password manager stores passwords
New feature: Fort can now remember last used key file during decryption
New feature: Decrypted files are highlighted in red
Bug fix: Better error handling for the password manager
back to menu ↑
Features
Key Features of Fort Professional 5.0:
AES 256bit
Detects data tampering
Multi-lingual
Directory encryption support
Keylogger protection
64bit version available
Password manager
Portable version available
4096bit keyfiles
Filename encryption
Remember keyfile location
Encrypt more than 15 files
Secure file deletion (shredding)
Windows explorer integration
Premium support
back to menu ↑
Requirements
To run Fort Professional 5.0 with optimum reliability and performance, your system should match the following requirements:
Supported OS: Windows 7, 8/8.1, and 10 (32-bit/64-bit)
back to menu ↑
Download
Not sure if Fort Professional 5.0 does what you need? Try it out now. Please feel free to download Fort Home 5.0 here. This encryption tool by Niko Rosvall has been tested professionally and we are assured that no viruses, Trojans, adware or malware contained.
Windows (Local Installer) Windows (Portable)
back to menu ↑
Buy Now
Fort Professional 5.0 retails for $25.00, But, through our website, THE Software Shop, you can get the full version license key for free for local & portable version. This offer is available for a limited time!
You also might like

Giveaway
Fort Professional 5.0 Giveaway is available now free for Windows users
Please note that once you signed in, do not close this page. You will be shown how to get this offer for free.
Also, check out the latest software giveaways that are available here on the software giveaway page.
NOTE:
– All prices shown here are in listed USD (United States Dollar).
– Such promotional programs are subject to change without notice, from time to time in our sole discretion.
– Data may vary based on different system or computer.
---
Thanks for reading Fort Professional 5.0 Review & Enjoy the discount coupon. Please Report if Fort Professional 5.0 Discount Coupon/Deal/Giveaway has a problem such as expired, broken link, sold out, etc while the deal still exists.
Excellent Password Manager
From iolo technologies, the makers of System Mechanic® PC optimization software, now comes ByePass™, secure password management software that, unlike most other password management products on the market, includes a credit card masking feature so that not only can malicious intermediaries never view and steal your credit card information, but even online vendors have no access and cannot store it. Hackproof your life with iolo ByePass, the easy way to stop thinking up, remembering and typing passwords.