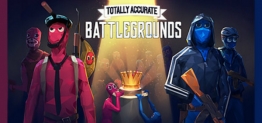 Expired
100% Giveaway on Totally Accurate Battlegrounds (Free Full Version Game) – A Last-weirdo-standing Battle Royale Game!
Experience accurate warfare through the ages. Get Totally Accurate Battlegrounds – free full version now!
Free Full Version
Totally Accurate Battlegrounds Review Video
100% Giveaway on Totally Accurate Battlegrounds (Free Full Version Game) – A Last-weirdo-standing Battle Royale Game!
Totally Accurate Battlegrounds Review at a Glance
Totally Accurate Battlegrounds is a parody of the Battle Royale genre. A bunch of physics-based weirdos fight it out on an island, everything is silly and possibly a bit buggy.
Totally Accurate Battlegrounds was originally made as an April Fools' parody of the Battle Royal genre and the game Totally Accurate Battle Simulator. Jump onto an island from flying trucks, find a gun and survive and look silly while doing it, find and eliminate all your opponents to win the round!
back to menu ↑
Features
Key Features of Totally Accurate Battlegrounds:
Huge map
Physics-based EVERYTHING
Unit Customization
back to menu ↑
Requirements
To run Totally Accurate Battlegrounds with optimum reliability and performance, your system should match the following requirements:
System Requirements for Windows OS:
OS: Win 7/8/8.1/10
Processor: Intel Core i5-2400 @ 3.1 GHz or AMD FX-6300 @ 3.5 GHz or equivalent
Memory: 8 GB RAM
Graphics: NVIDIA GeForce GTX 670 or AMD R9 270 (2GB VRAM with Shader Model 5.0 or better)
DirectX: Version 9.0c
Network: Broadband Internet connection
Storage: 6 GB available space
System Requirements for Mac OS:
back to menu ↑
Buy Now
Totally Accurate Battlegrounds retails for $4.99, But, on our website, THE Software Shop, you can Totally Accurate Battlegrounds for free now. This offer is available for a limited time!
You also might like

Software Giveaway
Totally Accurate Battlegrounds Giveaway is available now for a limited time!
Please note that once you signed in, do not close this page. You will be shown how to get this offer for free.
Also, check out the latest software giveaways that are available here on the software giveaway page.
NOTE:
– All prices shown here are in listed USD (United States Dollar). Your local currency will be converted automatically, You can also switch to any other currencies during the checkout process.
– The discount coupon & your local VAT (Value added tax – if available, vary by country) will be applied at checkout automatically.
back to menu ↑
User & Media Reviews
What are their users saying? Why they loved it?
By far a very fun game from LANDFALL! I have played TABG and Stick Fight both from Landfall, and I have to say I am impressed! This game is a very pollished game. Good job LANDFALL!
Play this if you hate Battle Royales. For an April Fool's side project it's better than it has any right to be. Hilarious physics, buggy as hell. It's a beautiful mess and I love every minute of it.

I would unironically play this if they developed it further, but even as it is, it's still more playable than PUBG.
P.S.
Always go gangsta.
OH. MY.
These movement mechanics MUST be in shooters of the future. So fluent. So organic. Maybe not the most precise, but just try the shooting range.
Hard to find players for it right now though… I'd love to try it with people.

---
Thanks for reading Totally Accurate Battlegrounds Review & Enjoy Full version for free. Please Report if Totally Accurate Battlegrounds Discount Coupon/Deal/Giveaway has a problem such as expired, broken link, sold out, etc while the deal still exists.