BEST OFFER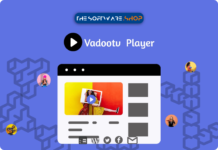 Up to 98% Off on Vadootv Player (Lifetime Access to PRO Plan) – Ad-free Video Hosting Platform
Reduce CDN Costs and Rebuffering In Video Streaming Using Hybrid P2P Streaming and Multi-CDN With A Plug And Play Solution! Get lifetime access to Vadootv Player Pro Plan at a discount of up to 98%!
✔ Save up to $19,601.00 ✔ Lifetime Access ✔ 60-day Money-back Guarantee. ✔ Secure Payment. ✔ 24×7 Customer Support
Vadootv Player Pro Review – at a Glance
If you want to deliver a high-quality, ad-free video experience in a customizable video player that matches your branding? Say hello to Vadootv Player Pro!
VadooTV Player Pro is an ad-free video hosting platform with a customizable player and tools so you can grow your audience. It is the video marketing and sales platform for all of your needs!
With Vadootv Player Pro, you can host ad-free videos in a secure cloud and deliver them through high-speed CDNs. To get rolling, just upload videos in the dashboard or import them from YouTube, Vimeo, AWS, Publitio, and more.
Vadootv Player lets you customize your video player to match your branding and add strategically placed CTAs to drive conversions. You'll have the power to post videos on your website, embed them in emails, or push them to your social media channels. Plus, every video you create gets its own customizable landing page.
Last but certainly not least, Vadootv Player offers HLS encryption and advanced sharing settings, ensuring that access is granted to only the people you want watching your content.
Screenshots of VadooTV Player Pro
How does VadooTV Player Woks
The first things first, let's add a new project. It's super easy to upload videos to your project. Once that's uploaded, Vadootv Player will encode the video in different sizes for different screens. And you can click up here when you're ready to embed and share the video.
Now, let's dive into your Analytics, where you can see things like your views, plays, and engagement. And then moving on to your Landing Page, this is where you can update your video title, description, layouts, calls-to-action for better conversions, and keywords with SEO tags.
Next up, Customization! This is where you can change up the theme color for your video player to match your brand's color scheme and add things like a watermark & password protection to your videos. Vadootv Player also lets you change your thumbnail, so you're not stuck with whatever was autogenerated.
And because we all love Call to Actions, Vadootv Player lets you add them into your videos. Add in a Call to Action button that links out at the exact time you want, and even choose its position on the screen! Next, let's enable lead capture and customize the button to match your brand. Check it out!
Lastly, the VadooTV Chrome extension, new videos are just one click away! Here, you record videos of your screen, your face, or both for personalized sales email & marketing videos, explainers & more!
Vadootv Player is integrated with Integrated, Zapier, Pabbly, Youtube, Vimeo, and many other platforms to work seamlessly to upload, distribute & analyze videos. That's the scoop on Vadootv Player!
Bottom line: It's time to level up your video content and improve your conversions. If you're looking to wow your audience with high-speed, ad-free streaming, look no further than Vadootv Player. Start using Vadootv Player today!
Features
Key Features of VadooTV Player Pro
Video Management – Video hosting solution for Businesses, Marketers, Educators & Trainers.

Upload using dashboard
Ad-free HQ streaming
Customize the playback

Video-Sharing – Post videos on your website, blog, and on social media

Embed on websites
Share with Email
Share on Social Media

Video Analytics & Marketing – Detailed analytics dashboards & marketing tools to grow your audience.

Insight on videos
SEO, CTA, Signups, etc.,
Optimise videos & grow

Ad-free video hosting – High-quality streaming without ads or distractions.
Fully customizable player – Change the player's color, add a your branding, and more.
Adaptive streaming – Dynamic switiching of video resolutions as per user bandwidth
Easy embedding and sharing – Embed videos on your site or email, or share on social media..
Video analytics – Track how your viewers interact with your videos.
Landing Pages – Customized landing pages to grow your reach
Free Plan
Not sure if VadooTV Player Pro does what you need? Try it out now. Please feel free to get Vadootv Player free plan here. This Ad-free video hosting by Vadoo has been tested professionally and we are assured that no viruses, Trojans, adware or malware contained.
Get Free Plan
No credit card required
With this free plan you will get: Hosting up to 10 Free Videos, 1GB of Storage, 1 Domain Security, 1 Project, 1 User. This plan doesn't include the following features: Unbranded Player, Password Protect, HLS Encryption.
Buy Now
VadooTV Player Pro is available for $19.00/month. But, through THESOFTWARE.SHOP, You can get VadooTV Player Pro Plan with a lifetime subscription at a discount of up to . This offer is available for a limited time!
Order Here!

You also might like

Giveaway
VadooTV Player Pro Plan - Lifetime
Grow your business reach with ad-free video hosting on high-speed, secure servers
Lifetime access to Vadootv Player Pro Plan (License Tier 1)

200 total videos
50 GB storage
1500 audios
5 domain security
1 projects
3 users
Ad-free video hosting

Custom video player
Video transcoding and adaptive bitrate
High-performance delivery using CDN
Unlimited bandwidth
Import from Youtube/Vimeo/Gdrive
Custom audio player
Video recorder Chrome Extension
AI camera effects
Video embeds and emails
Real-time video analytics
CTAs and lead capture
Password-protected videos
Customized video landing pages
Integrations with Zapier, Integrately, and Pabbly

No codes, no stacking - just choose the plan (5 License Tiers) that's right for you
You must activate your license within 60 days of purchase
All future Pro Plan updates
Ability to upgrade/downgrade between 5 license tiers
60-day money-back guarantee, no matter the reason
$1456.00
Vadoo Player Giveaway is unavailable at this moment.
Please note that once you signed in, do not close this page. You will be shown how to get this offer for free.
Also, check out the latest software giveaways that are available here on the software giveaway page.
NOTES:
– All prices shown here are in listed USD (United States Dollar). Your local currency will be converted automatically, You can also switch to any other currencies during the checkout process.
– The discount coupon & your local VAT (Value added tax – if available, vary by country) will be applied at checkout automatically.
– The order(s) for the software are processed by the Appsumo company. This company accepts paying on-line, via PayPal, by fax, bank-wire transfer, check, cash, or purchase order.
– You will receive a notification e-mail from Appsumo when your order is processed which will also include your license information.
– Such promotional programs are subject to change without notice, from time to time in our sole discretion.
– Data may vary based on different systems or computers.
User & Media Reviews
What are their users saying about #THE SOFTWARE? Why they loved it?
Excited to use VadooTV player
Vadootv is an excellent service that is more than a video hosting. The customizable options and marketing functions make it an outstanding deal, especially for professionals looking to showcase their work without ads or unwanted recommendations interrupting the experience. Videos load quickly on Vadootv and this flexibility offers easy customization of your player color by hex code. You can also remove branding from the player if you don't want any distractions in your content's background while watching videos online! This deal gets even better when taking into account all of its creative features such as custom thumbnail support – making Vadootv ideal for showcasing local businesses with HD quality footage at affordable prices
(Source: Appsumo)

Great video host / player tool
I already have a few player tools and hosting like publitio and that's why I was a bit concerned to buy this deal but with a such generous storage and video hosting being something that usually drains your website storage or slow it down when not using an embedded code with CDN I finally decided to buy the tier 5 deal. If you have a good number of videos to host, like in my case to create online courses, this is a no-brainer because I don't think we can find a hosting / payer solution with so much storage at this price.
Even being a new tool I have to say the creators did a great job. The UI is simple, clean and easy to use with great tools I see as a bonus in my case like the lead capture and CTA. If you are planning to create courses I highly recommend the tier 3 and up so you can get the Full HD, HLS and white label.
(Source: Appsumo)

Suprisingly good and has a great roadmap
Vadoo is like a baby vimeo. The HLS and white label are foundational but you can take it a step further with landing pages. They have solid integrations which make the product usable out of the box and support has been fantastic.
Full stack just for the 1.5 tbs.
(Source: Appsumo)

Video Hosting & Custom Branding Awesome-Sauce
Well I just started using bad VadooTV video player and am super impressed with how easy it is to use and how feature rich it is. I never had the ability to host branded videos of my own without commercials and now with VadooTV video player I have the ability to do that which I am super excited about. If you're looking for an easy to use video hosting platform to brand your videos without other ads interrupting your videos then VadooTV video player is the answer. I can easily customize and brand the player I am using, produce pop up graphics, text and even buttons and call to actions. If you're a marketer like I am getting vadu TV video player is a no brainer.
(Source: Appsumo)

Really Great Tool
I'm very pleased with this tool. It very easily imports my clients' YouTube videos into the platform but with white labeling and a cleverly located CTA, almost all YouTube marked information is 'hidden'.
I'm using this on landing pages where I want to show looped videos, but I DON'T want my visitors to click away ('out') of the landing page without taking the action I brought them in to take (through paid ads).
So far, this tool is making it very easy to accomplish and one feature that doesn't currently exist has already been added to their feature request list.
They are very helpful and friendly.
This is an excellent tool for the price and highly recommended.
(Source: Appsumo)

---
Thanks for reading Vadootv Player Pro Review & Enjoy the discount coupon. Please Report if Vadootv Player Pro Discount Coupon/Deal/Giveaway has a problem such as expired, broken link, sold out, etc while the deal still exists.