Still not sure what to give Dad on Father's Day? We've got an idea! With the 60% off Father's Day Special, how much better can it get? Surprise your Dad with Auslogics Disk Defrag, or grab a license for yourself. Why not?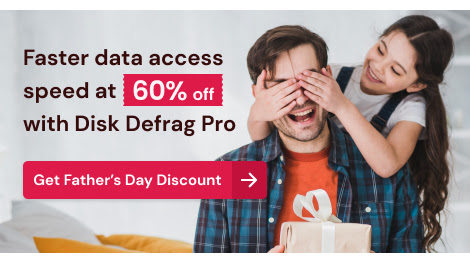 Auslogics Disk Defrag has been recommended by experts as one of the fastest, most efficient and effective defragmenters in the world. It's a handy tool for those who love tinkering with their computers and getting every bit of data perfectly organized.
Besides defragmenting files on your drives, Disk Defrag Pro will let you clean out junk before defrags, run offline defragmentation for locked files, use special algorithms safe for SSD drives, wipe free space on your drives from traces of deleted files and schedule convenient automatic defrags. All this will help ensure continuously fast data access speed and a smoother PC experience.
One Disk Defrag Pro license can be used on up to 3 computers, comes with free support and an unconditional refund guarantee. Father will know what to do with this tool!
60% Off Auslogics Disk Defrag – Father's Day Special Deal