GIVEAWAY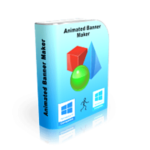 Software Giveaway – Animated Banner Maker v4.4.2.20: Free Full Version | Animation Gif Banner Creator Software – for Windows
Create Animated GIF banners with keyframe animation using images, text, and polygons. Get Animated Banner Maker v4.4.2.20 full version for FREE!
Free Full Version!
Animated Banner Maker Review at a Glance
The Animated Banner Maker is a powerful tool that allows users to easily create captivating and visually stunning animated banners. It utilizes a similar approach to the classic software Flash, offering frame-by-frame and layer-by-layer vectorial animation that is rendered directly into an Animated GIF format. With this innovative program, you can quickly bring symbols to life, whether they are images, text, or polygons.
The program's canvas provides the flexibility to work with dimensions of your choosing, allowing you to create banners in various sizes and aspect ratios. By adding symbols to the canvas, you have full control over their appearance and behavior. Each symbol comes with its own timeline, giving you the ability to create keyframes and animate various features such as position, size, color, rotation, and transparency.
With its keyframe animation-based approach, the program offers a user-friendly interface and intuitive controls that make it easy for both beginners and experienced designers to create stunning animated banners. Whether you are looking to enhance your website or create eye-catching advertisements, the Animated Banner Maker provides the tools to bring your ideas to life in a dynamic and engaging way.
Features
Key Features of Animated Banner Maker
KeyFrame animation – You can have as many key-frames for one symbol as you wish as they can take as long as you want to durate. Therefore one animation of one symbol can last from 10 seconds to 30 minutes for example. On each key-frame, you can change the size, position, transparency, rotation, color for text, and polygons, all independently. Note that you must have the animation concept complete before starting a storyboard. The software is designed to make your idea come to life. 2D basic animation with elements and tools such as the offered by the software offers a wide range of possibilities of creation. It is not for this user guide to discuss the possibilities.
Changing the background color of the canvas: On the Animation Editor click the Background Color button highlighted above to choose a color to be the background color of the animation movie.
Changing dimensions of canvas: On the Animation Editor click the Resolution button highlighted above to see a menu of most common resolutions and also an option to set a custom resolution which may be whatever dimensions you require.
The program supports all resolutions: Create horizontal banners, vertical banners, banners of any size. Note that you can work on a high definition canvas if you wish and have it scaled down only on the moment you export the animation movie.
Exporting Animated GIF: Animated Banner Maker can export Animated GIFs of any duration and dimensions. Note that you can create an animation with a resolution and export it to another. This can be very useful when you have to make a small banner and you can choose to develop it in high resolution and have it scaled down only on export time.
Create Image symbol: You have the ability to pick a color of the image and make it transparent. Secondly you can show a border around the image. Note that you can animate position, size, rotation, and transparency.
Create polygon symbols: You can show a border around the polygon or not. Note that you can animate position, size, rotation, transparency, color, and color of the border.
Create Text symbol: Enter one word, a phrase, you can enter multiple lines. The program offers you a wide variety of fonts to choose from. You have to enter the text, set the font, increase horizontal and vertical definition, choose colors, and then resize the symbol to show the way you want to. Note that you can animate color of face, color of background, color of stroke, color of border, position, size, rotation, and transparency. The font used on the first key-frame is used on all frames for a Text symbol.
Requirements
To run #THE SOFTWARE with optimum reliability and performance, your system should match the following requirements:
Supported OS: Windows 8, 8.1, 10, 11
Downloads
Not sure if #THE SOFTWARE does what you need? Try it out now. Please feel free to download Animated Banner Maker here. This animation software by PCWinsoft has been tested professionally and we are assured that no viruses, Trojans, adware or malware contained.
BUY NOW
Animated Banner Maker retails for $29.95, But, through our website, THE Software Shop, you can get Animated Banner Maker v4.4.2.20 full version for free in the Giveaway tab below. This offer is available for a limited time!
You also might like

Giveaway
Animated Banner Maker Full Version Giveaway is available now FREE for a limited time!
Please note that once you signed in, do not close this page. You will be shown how to get this offer for free.
Also, check out the latest software giveaways that are available here on the software giveaway page.
NOTE:
– All prices shown here are in listed USD (United States Dollar).
– Such promotional programs are subject to change without notice, from time to time in our sole discretion.
– Data may vary based on different systems or computers.
---
Thanks for reading Animated Banner Maker Review & Enjoy the discount coupon. Please Report if Animated Banner Maker Discount Coupon/Deal/Giveaway has a problem such as expired, broken link, sold out, etc while the deal still exists.