Stops the tracking, aka telemetry, of Windows and some apps. Get an Ashampoo AntiSpy Pro license that includes free updates & support with our exclusive 50% discount coupon!
✔ Save $20.00. ✔ For up to 10 PCs in your household ✔ Free Product Updates ✔ 24×7 Customer Support ✔ 30-day Money-back Guarantee.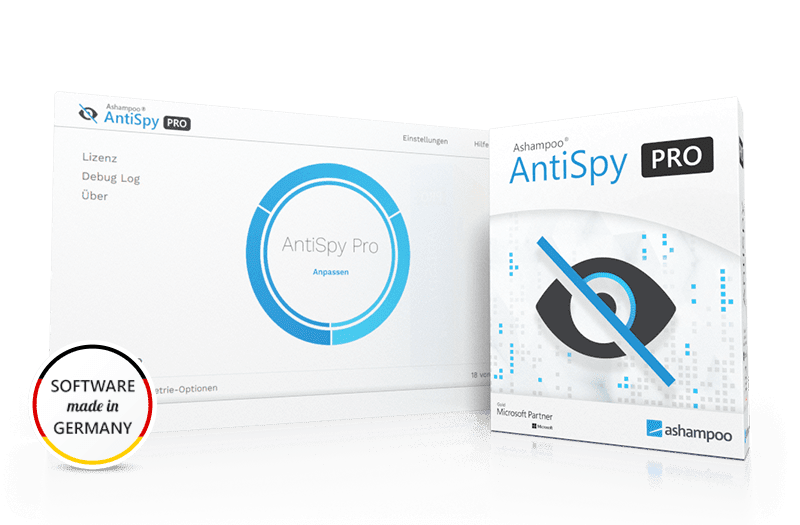 Ashampoo AntiSpy Pro Review at a Glance
We greatly desire better privacy and data protection for our PCs. Ashampoo AntiSpy Pro covers these needs perfectly! This privacy program by Ashampoo puts a stop to the data collecting by Google, Office, Bing, hardware manufacturers, and others. In just a few clicks, you can disable the extensive telemetry and logging activities in Windows 10, 8.1, and 7 systems and other software for a significant privacy boost.
Ashampoo® AntiSpy Pro covers over 100 services, including Office and apps installed by Windows on its own. A single click is all it takes to end the spying and prevent companies from tracking their users.
It does not only target Windows 10 but also Google Analytics and pre-installed utilities from hardware manufacturers or graphics card drivers. Even browsers and graphic cards collect usage data without your intervention! And don't forget the all too chatty Office suite!
Screenshots of Ashampoo AntiSpy Pro
Features
Key Features of Ashampoo AntiSpy Pro
Prevents the sending of telemetry data in over 100 places with just one click!
Regain control and protect your privacy on Windows 10, Windows 8 and even Windows 7 PCs
Silence anti-virus solutions or software pre-installed by the manufacturer of your PC!
Prevent spying from analytics software, like Google Analytics, or the many helper programs pre-installed by hardware manufacturers that are not part of the operating system.
Prevent browsers and graphic cards collect usage data without your intervention!
Disable all data collectors in a single click!
You can also toggle features manually and block individual services to your needs.
You stay in full control: Enable the services you actively use and block the others from sending out telemetry data.
1-click immunization against tracking
Maximum privacy and protection against unwanted usage reports
Silence over 100 programs and services
Disable Windows 10 telemetry as far as possible
Prevent user tracking by Google, Office, Bing, hardware manufacturers and many more
Auto-launch with Windows for permanent data privacy
Easily undo changes instantly
Relentless against unwanted user profiles
Requirements
To run #THE SOFTWARE with optimum reliability and performance, your system should match the following requirements:
Operating System: Windows® 10, Windows® 8, Windows® 7
Requirements: Any device that supports the operating systems listed above. Systems with ARM processors are not supported.
Other:

Full administrative rights are required to use the program.
An Internet connection is required to activate the program.
Download
Not sure if #THE SOFTWARE does what you need? Try it out now. Please feel free to download Ashampoo AntiSpy Pro here. This privacy tool by Ashampoo GmbH & Co. KG has been tested professionally and we are assured that no viruses, Trojans, adware or malware are contained.
Buy Now
Ashampoo AntiSpy Pro is available starting at $39.99. But, through THESOFTWARE.SHOP, You can get you license that includes free updates & support with our exclusive 50%discount coupon. This offer is available for a limited time!
Order Here!

You also might like

Giveaway
Ashampoo AntiSpy Pro (50% Off)
Maximum privacy and protection against unwanted usage reports, tracking, & telemetry.
Download-Version,
1-year-Subscription,
Use it on up to 10 PCs in your household
Free Product Updates
Free Support from Ashampoo
30-Day-Money- Back-Guarantee
$39.99
Ashampoo AntiSpy Pro Giveaway is unavailable at this moment.
Please note that once you signed in, do not close this page. You will be shown how to get this offer for free.
Also, check out the latest software giveaways that are available here on the software giveaway page.
NOTES:
– All prices shown here are in listed USD (United States Dollar). – Such promotional programs are subject to change without notice, from time to time in our sole discretion.
– Data may vary based on different systems or computers.
---
Thanks for reading Ashampoo AntiSpy Pro Review & Enjoy the discount coupon. Please Report if Ashampoo AntiSpy Pro Discount Coupon/Deal/Giveaway has a problem such as expired, broken link, sold out, etc while the deal still exists.