GIVEAWAY
Software Giveaway – Ashampoo Photo Optimizer 2022: Free License Key | One-click Photo Optimization & Editing Software – for Windows
Optimize and edit photos at the click of a button. Get Ashampoo Photo Optimizer 2022 full version with a license key for FREE!
Free full version!
Ashampoo Photo Optimizer 2022 Review at a Glance
Ashampoo Photo Optimizer 2022 is the intelligent photo tool for that certain something in your photos! All functions are clearly arranged and easily accessible. This allows you to achieve amazing results right from the start. Add brilliance and refinement to your pictures in just a few clicks!
There is no need to worry about unwanted changes or losing your pictures! You can always return to the original version at any time. This Photo Optimization tool automatically makes backups of the original versions of your photos in a database with a location that you can determine yourself. This way you can experiment extensively with all the amazing effects and try out different settings without having to worry about the original image. Thanks to the integrated before and after view, you never lose track of your modifications.
Besides, it comes with significantly enhanced photo auto-optimization as well as tools for sharpening and adaptive blurring. For noticeably greater performance and stability, memory management has been optimized throughout the program.
Version 2022 features free image rotation to fix minor perspective issues and manual light curve adjustment to modify shadows, midtones and highlights. Naturally, the program is fully Windows 11 compatible.
Features
Key Features
One-click optimization for bright and brilliant photos
Conversion of photos into the desired format
Optimization of several photos with just one click
Clearly structured user interface
Explorer-like image viewer
Freely adjustable before/after view
Automatic backups
Freely positionable watermarks
Selection of metadata for more anonymity
Requirements
To run #THE SOFTWARE with optimum reliability and performance, your system should match the following requirements:
The 64-bit version for the following operating systems: Windows 11, Windows 10, Windows 8, Windows 7
Computer: Any computer that supports the operating systems.
Other: Microsoft Visual C++ 2015 x86 Redistributable
An Internet connection is required to activate the program. The program license is verified repeatedly at regular intervals.
Ashampoo Photo Optimizer 2022 Download
Not sure if #THE SOFTWARE does what you need? Try it out now. Please feel free to download Ashampoo Photo Optimizer 2022 trial here. This photo enhancer tool by Ashampoo GmbH & Co. KG has been tested professionally and we are assured that no viruses, Trojans, adware or malware contained.
BUY NOW
Ashampoo Photo Optimizer 2022 retails for $29.99, But, through our website, THE Software Shop, you can get the full version with a license key for FREE in the Giveaway tab below. This offer is available for a limited time!
⭐ ASHAMPOO EXCLUSIVE OFFERS

You also might like

Giveaway
Brilliant photos are just one click away. Optimize colors and contrasts, adjust sharpness, remove scratches and noise, ...
The total solution to view, present, edit and organize your photos. Over 200 features cover all common ...
 Create stunning and eye-catching animated photographs. Turn videos into cinemagraphs to capture special moments in ...
Ashampoo Photo Optimizer 2022 Full Version Giveaway is available now FREE for a limited time!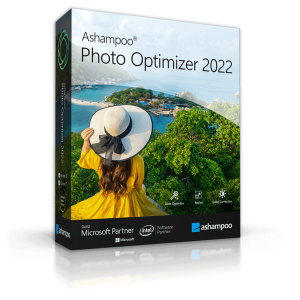 Please note that once you signed in, do not close this page. You will be shown how to get this offer for free.
Also, check out the latest software giveaways that are available here on the software giveaway page.
NOTES:
– All prices shown here are in listed USD (United States Dollar).
– Such promotional programs are subject to change without notice, from time to time in our sole discretion.
– Data may vary based on different systems or computers.
---
Thanks for reading the Ashampoo Photo Optimizer 2022 Review & Enjoy the special offers. Please Report if the Giveaway has a problem such as expired, broken link, sold out, etc while the deal still exists.