BEST OFFER
62% Off Coupon on Ashampoo Zip Pro 3 – The Swiss Army knife for your files: 8 programs in 1 With the Explorer – for Windows
Compress, Encrypt, Exchange, and Backup your important data with a full set of powerful tools. Get Ashampoo Zip Pro 3 with a 62% discount coupon!
You save $24.99 | Lifetime Lciense | 30-day Money-back Guarantee | Secure Payment | 24×7 Customer Support
Ashampoo ZIP Pro 3 Review Video - Compressing and extracting files
62% Off Coupon on Ashampoo Zip Pro 3 – The Swiss Army knife for your files: 8 programs in 1 With the Explorer – for Windows
Ashampoo ZIP Pro 3 Review at a Glance
Ashampoo ZIP Pro 3 is the fastest Zip program now features full multi-core support and compatibility with ZIP, ZIPX, RAR, ISO plus over 60 other formats. It also comes with a handy preview feature for compressed archives and the ability to create self-extracting archives that are instantly usable on any PC without additional software. Distribute your files via FTP, through the cloud or burn them to disc the traditional way!
Owners of a full version receive the portable version for free! This allows you to carry the program with you wherever you go, e.g. on a portable hard disk. All settings stored on that disk will automatically be read as soon as you plug it into a PC. The portable version is smaller but still very powerful and offers almost the same feature set but without the need for installation!
Ashampoo ZIP Pro Office – Add-ins for Outlook, Word and Excel. Compress or encrypt your data right from within your Office applications. Enjoy convenient automatic features and save lots of time!
Ashampoo Encryption Suite – Encrypt your files with strong 256-bit and a selection of highly efficient security formats. Encrypt and sign your Office and PDF documents to preserve their integrity. Supports OpenPGP for access to the latest and greatest in encryption technology.
Ashampoo ZIP Script – Backup your files and folders quickly and easily with powerful AES-256 encryption. Store them in the cloud or through secure FTP, in your home network or in several locations at once. Always ready thanks to Windows scheduler support!
Ashampoo Virtual Drive – Mount ISO files as virtual drives to access files instantly, no extraction required! The easiest way to handle your disc images.
Ashampoo File Explorer – The better Windows Explorer alternative. Featuring a classic split-pane view, numerous ZIP features and access to over 60 formats. File previews included!
Ashampoo Cloud-Browser — Access to six different cloud services. Hassle-free data exchange for constantly updated files — no additional software required!
Become a file compression expert with Ashampoo ZIP Pro 3!
Features
Key Features of Ashampoo Zip Pro 3
| Key Features | |
| --- | --- |
| General functions | |
| Possibly the world's fastest ZIP engine | NEW |
| Up to 70% stronger compression | NEW |
| Instant program start | NEW |
| 4K and touch-ready | NEW |
| Up to 300% faster MP3 compression | NEW |
| 64-bit architecture for maximum speed and full RAM usage | NEW |
| Razor-sharp high-DPI mode | NEW |
| Super-fast TXT/HTML/XHTML file compression | NEW |
| Advanced Codec Pack support for the world's most powerful compression | IMPROVED |
| Excel and Word add-ins to compress, send and encrypt document | ● |
| Outlook add-in to compress, decrypt and encrypt your mails | ● |
| Portable application version included – no installation required | ● |
| Split-view Explorer with additional ZIP features | ● |
| Supports 4K displays | ● |
| Full multi-core support for blazing speed | ● |
| Full FTP access | ● |
| Burn any file to CD / DVD / Blu-ray | ● |
| Easy conversion between various compression formats | ● |
| Powerful ZIPX format support – supports all ZIPX formats: LZMA, JPEG, PPMd, BZIP2, XZ and WAVPACK. | ● |
| Batch Archive Tool – Automatically create multiple archives from individual files. | ● |
| Multi Extract Tool – Extract multiple archives at once. | ● |
| Archive Converter Tool – Convert multiple archives from one type to another. | ● |
| Upload files to Dropbox, Google Drive, One Drive, Amazon S3, Azure and Box online services. | ● |
| FIPS 140-2 validated encryption components. | ● |
| Volume Shadow Copy (VSS) – With VSS, you can backup any file/database on the computer, without closing program using it. | ● |
| UAC elevation support – supports UAC (user access control) elevation to administrator when it detects the need for admin account in order to read or write in some folder. | ● |
| Better integration with WinRAR if installed. | ● |
| Beautiful graphical interface, very intuitive and easy to use. | ● |
| Full integration with Windows 7, 8 and 10, as well as Windows Server editions. | ● |
| Powerful integration with Windows Explorer Shell, both 32bit and 64bit. | ● |
| Supports creating and extracting ZIP, 7-ZIP, CAB, TAR (TAR, TAR.GZ, TAR.BZ2, TAR.XZ) and LHA formats. | ● |
| Supports extracting from over 30 different formats, including RAR, ZIPX, ARJ, ARC, ACE, MSI, NSIS, CHM, DMG, RPM, CPIO, VHD, XAR, LZMA, LZH, SquashFS, CramFS, Z, ZOO, WIM plus ISO (ISO9660 and UDF). | ● |
| Great support for all versions of RAR format, including latest 5.x. | ● |
| Powerful AES encryption with 256 bit strength. | ● |
| Only utility that reads all types of encrypted ZIP archives (PKAES, WZAES, etc.) | ● |
| Virtually unlimited size of the archive, unlimited size of files inside archive and unlimited number of files inside archive when using ZIP and 7-ZIP formats. | ● |
| Integrated Preview that supports many different image, text and other file formats. Preview files without ever extracting them from archive. | ● |
| Repair ZIP Tool – Repair broken ZIP files. | ● |
| SFX Wizard – Create powerful SFX – Self Extracting Archives. | ● |
| Write Multivolume ZIP – Split existing ZIP files into multiple volumes. | ● |
| Ashampoo Encryption Suite | |
| FIPS 140-2 256-bit AES encryption for maximum security | NEW |
| Superior protection against brute force attacks | IMPROVED |
| Encrypt and Decrypt multiple files at once into several different formats: ZIP, ZIPX, 7-ZIP, PAE, PAE2 and OpenPGP. | ● |
| ZIP/ZIPX AES 256 Encryption/Decryption – Full support for industry standard – ZIP/ZIPX AES 256 bit Encryption, fully compatible with open data standards and all of the major compression utilities. | ● |
| Encrypt/Decrypt/Sign/Verify files with OpenPGP standard – Create and Open encrypted OpenPGP files with various different Encryption options. Fully featured! | ● |
| OpenPGP Key Manager – Create, Add new OpenPGP keys via fully featured OpenPGP Key Manager. | ● |
| FIPS 140-2 validated – Encryption Suite uses FIPS 140-2 validated components for AES encryption. | ● |
| Support for PAE and 7-zip formats – Full support for PAE, PAE2 and 7-zip AES encryption formats. | ● |
| Multiple/Batch File Encrypt and Decrypt – Encryption Suite supports encrypting and decrypting hundreds of files at the same time. | ● |
| Password Policies – Set minimum password strength that your users have to enter. | ● |
| Password Manager – Save passwords used for various encrypted files. | ● |
| Password Profiles – Predefine your passwords and use them conveniently. | ● |
| Ashampoo Virtual Drive | |
| Virtual Drive lets you mount your ISO disc images as Virtual Drives, without having to burn any CD/DVD/BD's. | IMPROVED |
| Quick and convenient way to install software and games. | ● |
| Copy Disc to ISO Tool – save your existing discs to ISO images for use with Virtual Drive. | ● |
| Ashampoo ZIP Scripts | |
| Special deduplication filter to eliminate redundancy | NEW |
| High-speed compression with data rates up to 400 MBs | NEW |
| Multi-core optimized 7-Zip support | NEW |
| Powerful Scripting support for creating different backup tasks. | ● |
| Volume Shadow Copy (VSS) – With VSS, you can backup any file/database on the computer, without closing program using it. | ● |
| CD/DVD/BD burner support – Burn your archives directly to the media of your choice. | ● |
| 3 local/network destinations – Copy backup up to 3 local or network destinations for maximum safety | ● |
| Secure FTP/FTP/Cloud uploads – Upload backups to FTP/SFTP/TLS server, FIPS 140.2 validated as well support for 6 different cloud services (Dropbox, Google Drive, One Drive, Amazon S3, Azure and Box). | ● |
| Compression options- Use advanced 7zip compression to minimize backup size, or chose between other possible formats such as ZIP, ZIPX, TAR, CAB, etc. | ● |
| Detailed logging support – Detailed logs that can be emailed upon completion, or just stored on the hard drive/network. | ● |
| Windows Scheduler – Ashampoo ZIP Scripts will create and edit Windows Schedules for you, enabling unattended backups, with many advanced options. | ● |
| Ashampoo Cloud Browser | |
| Save to Dropbox, Google Drive, One Drive, Amazon S2, Azure and many other services | IMPROVED |
| No need to install their services. | ● |
| Download/Upload/Rename/Delete through simple and quick Cloud browser. | ● |
Requirements
To run #THE SOFTWARE with optimum reliability and performance, your system should match the following requirements:
Operating System: Windows® 10, Windows® 8, Windows® 7
Computer: Any computer that supports the above operating systems.
Other:

An Internet connection is required to activate the program. The program license is verified repeatedly at regular intervals.
Full administrative rights are required to use the program.
Ashampoo Zip Pro 3 Downloads
Not sure if #THE SOFTWARE does what you need? Try it out now. Please feel free to download Ashampoo Zip Pro 3 Trial or Free version here. This complete, feature-packed file compression suite by Ashampoo GmbH & Co. KG has been tested professionally and we are assured that no viruses, Trojans, adware or malware contained.
Trial version (Windows) Free version (Windows)
Buy Now
Ashampoo Zip Pro 3 retails for $39.99, But, through our website, THE Software Shop, you can get Ashampoo Zip Pro 3 with a lifetime license at 62% discount coupon! This offer is available for a limited time!
ORDER NOW

You also might like

Giveaway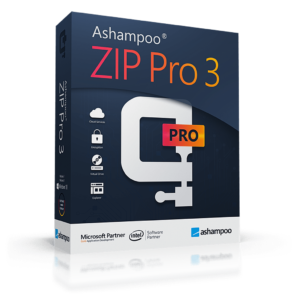 Ashampoo Zip Pro 3 (62% Off)
File archiver to compress, encrypt and back up data—also on the go
Enjoy 8 powerful archive tools in one program

Ashampoo ZIP Pro 3
Ashampoo ZIP Pro 3 Portable
Ashampoo ZIP Pro Office add-ins
Ashampoo Encryption Suite
Ashampoo ZIP Script
Ashampoo File Explorer
Ashampoo Cloud Browser
Ashampoo Virtual Drive

Lifetime License, use the software for a lifetime
Free Minor Maintenance Updates
Free Technical Support by Ashampoo
30-day Money-back Guarantee
Platform: Windows
$39.99
Ashampoo Zip Pro 3 Key Giveaway is unavailable at this moment.
Please note that once you signed in, do not close this page. You will be shown how to get this offer for free.
Also, check out the latest software giveaways that are available here on the software giveaway page.
NOTES:
– All prices shown here are in listed USD (United States Dollar). Your local currency will be converted automatically, You can also switch to any other currencies during the checkout process.
– The discount coupon & your local VAT (Value added tax – if available, vary by country) will be applied at checkout automatically.
– The order(s) for the software are processed by the Ashampoo/Cleverbridge company. This company accepts paying on-line, via PayPal, by fax, bank-wire transfer, check, cash, or purchase order.
– You will receive a notification e-mail from Ashampoo/Cleverbridge when your order is processed which will also include your license information.
– Such promotional programs are subject to change without notice, from time to time in our sole discretion. – Data may vary based on different systems or computers.
---
Thanks for reading Ashampoo ZIP Pro 3 Review & Enjoy the discount coupon. Please Report if Ashampoo ZIP Pro 3 Discount Coupon/Deal/Giveaway has a problem such as expired, broken link, sold out, etc while the deal still exists.