Out Now: CCleaner v5.74, with cleaning improvements and automatic updates for everyone! Get Ccleaner Professional includes a 1-year license key for 1 PC at a 50% discount coupon!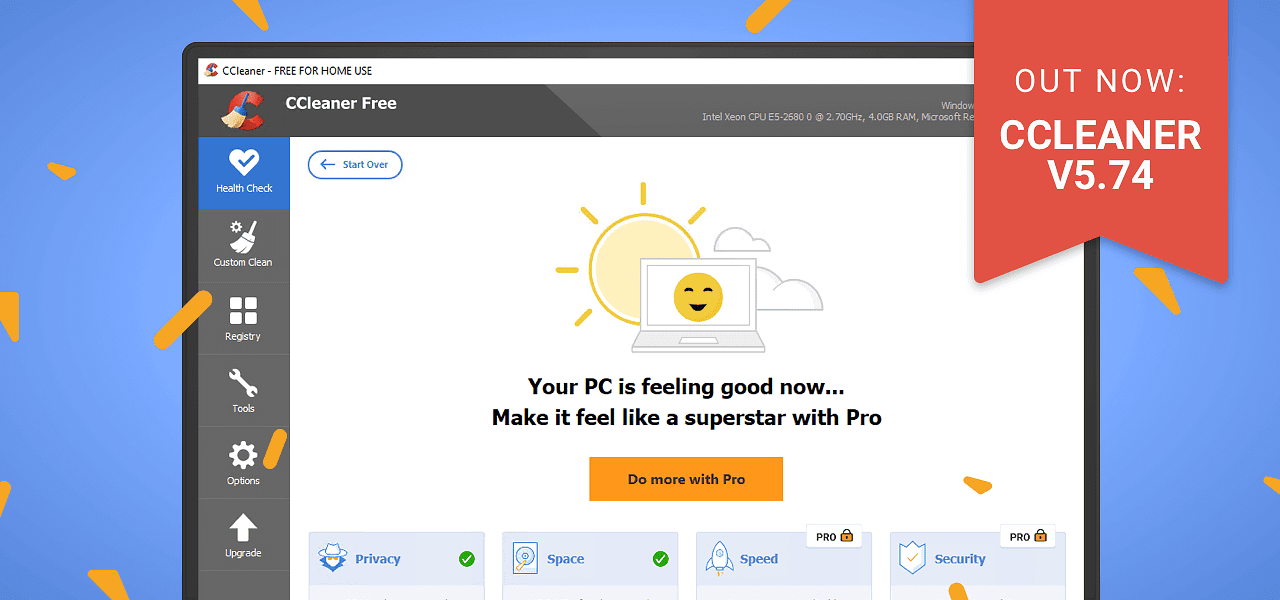 To make your digital life even easier, CCleaner v5.74 now brings automatic updates for everyone, helping to make sure you are always running the latest and safest version of CCleaner available. Auto-updates also gives you immediate access to our newest features and upgrades. You don't need to lift a finger.
Updating to this latest PC version gives you:
Cleaning

This release contains an essential session cleaning compatibility update for Chromium browsers such as CCleaner Browser, Google Chrome, Edge, Brave, Opera, Opera GX, Avast Secure Browser and Vivaldi.

Automatic Updates

Updates to CCleaner will now be applied automatically in CCleaner Free.
You can review your Update Preferences in the 'Options' → 'Updates' menu.
If automatic updates are enabled, CCleaner will run in the background and check for them twice daily (if you run CCleaner it will always check for an update first).

Update Preferences

We have simplified the 'Options' → 'Updates' menu down to two settings: one for controlling automatic updates and another for controlling update notifications.

CCleaner Professional

If your license has expired, we will occasionally show you a reminder when you run CCleaner.

General

We fixed a bug where text in warning message boxes was highlighted.
As always, you can count on Ccleaner to optimize your devices for the digital activities that matter most, making sure they work their best and helping you control your online privacy. Don't miss to get Ccleaner Professional with 50% discount coupon!
New Version Launch Promo: 50% Off on CCleaner Professional v5.74, with all-new automatic updates and better cleaning!