Featured
Expired
62% Off – HitPaw Voice Changer: 1-year License | The Best Real-time AI Voice Changer – for Windows
Transform your voices while in the midst of voice calls, gaming sessions, or online meetings. Get HitPaw Voice Changer: 1-year license that includes free updates and support with a discount of up to 62% OFF!
✔ Free Product Updates ✔ 24×7 Customer Support ✔ 30-day Money-back Guarantee.
HitPaw Voice Changer Review at a Glance
In the dynamic world of digital communication and content creation, engaging with audiences in unique and interesting ways can pose quite a challenge. With the rise of online gaming, live streaming, and virtual meetings, the need to add an element of surprise and creativity to your interactions has become more crucial than ever. This is where the issue lies – how do you make your online presence and communication more engaging, fun, and interactive?
Enter HitPaw Voice Changer – an innovative solution that not only addresses this problem but also offers an avenue for enhanced creativity.
This powerful tool, backed by advanced AI technology, allows you to modify your voice in real-time, adding an unexpected twist to your online interactions, whether it's during gaming sessions, live streams, or even virtual meetings.
But it doesn't stop there. Beyond providing fun and entertainment, HitPaw Voice Changer includes essential features such as noise and echo removal. This guarantees that the voice-changing experience remains clear and undisturbed, letting you fully immerse yourself in the role or character you're portraying.
Versatility for Gamers, Content Creators, and Vtubers
HitPaw Voice Changer isn't limited to any specific category of users; it caters to a diverse audience, including gamers, content creators, and Vtubers. For gamers, the software adds a whole new dimension to gameplay by enabling them to sound like their favorite characters from games like Apex Legends, PUBG, or Rocket League. Imagine the thrill of embodying a menacing demon or a cheerful chipmunk as you conquer virtual worlds!
For content creators and Vtubers, This Voice Changer is a treasure trove of possibilities. Livestreams gain new life as creators can spice them up with a wide range of premium voice effects from the software's extensive library. Engage your audience by becoming the hero they've always admired or the comical character they can't resist laughing with.
Creating Unique Content with HitPaw Voice Changer
The allure of HitPaw Voice Changer lies in its ability to foster creativity and uniqueness. For gamers, it's the opportunity to inject personality into their gaming personas and stand out in the competitive gaming world. For content creators and streamers, the software is an invaluable tool to captivate their audience and keep them coming back for more.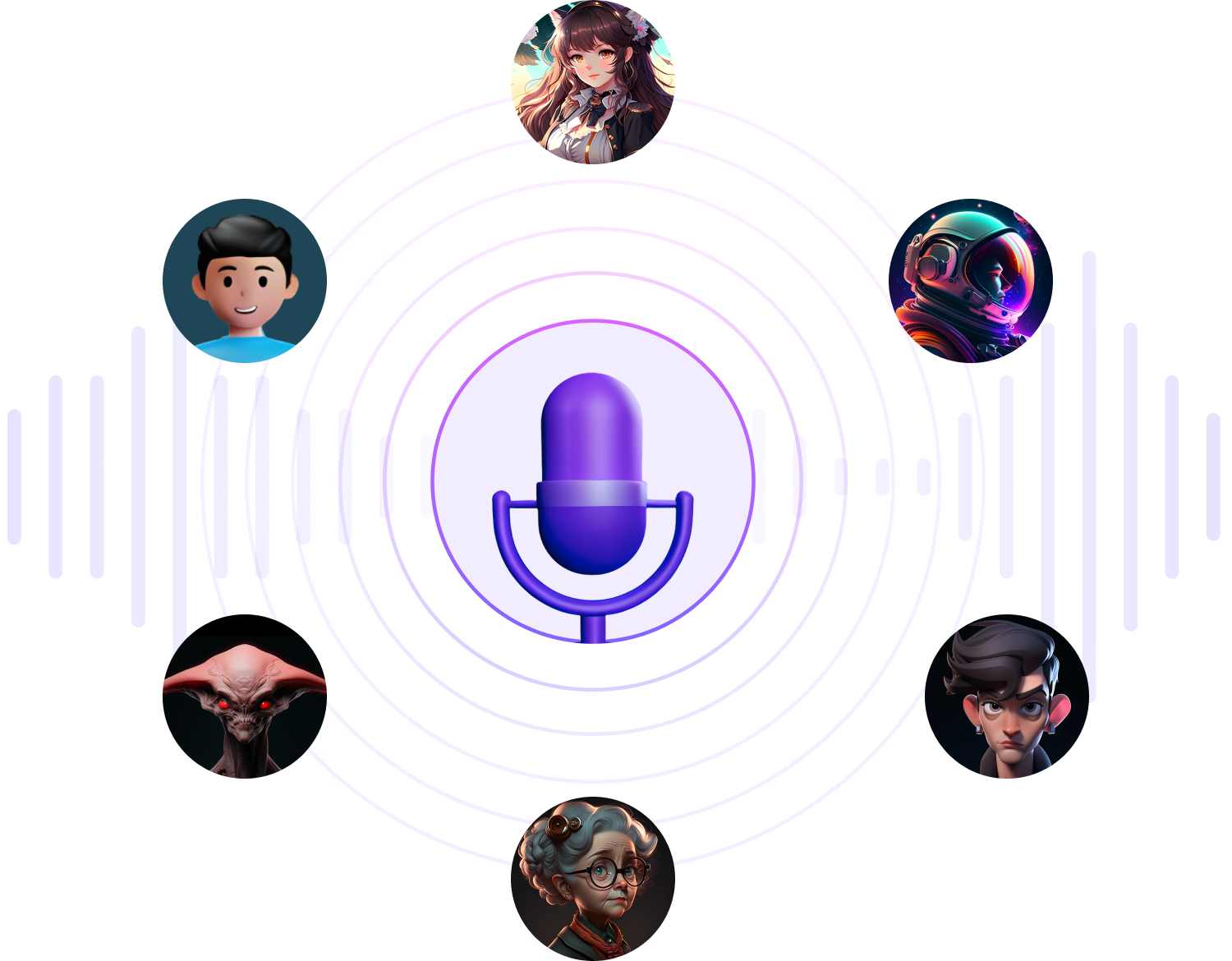 Online meetings also benefit from the Voice Changer, as participants can lighten the atmosphere by adopting different voices during discussions. Spice up your Zoom, Skype, or Google Meet calls with captivating voice effects, turning ordinary meetings into memorable interactions.
Realistic and Natural Voice Generation
The magic behind HitPaw AI Voice Changer lies in its cutting-edge AI algorithm and voice-learning technology. These features enable the software to generate remarkably realistic human voices while retaining the user's unique emotion, emphasis, and speech patterns. The result is a voice-changing experience that feels authentic and immersive.
Various Celebrity and Star Voice Effects Updated
Experience a whole new level of voice modulation with the updated collection of Various Celebrity and Star Voice Effects with HitPaw AI Voice Changer. Now, you can effortlessly imitate the distinct voices of popular personalities such as Donald Trump, Barack Obama, Taylor Swift, Justin Bieber, and many more at the click of a button!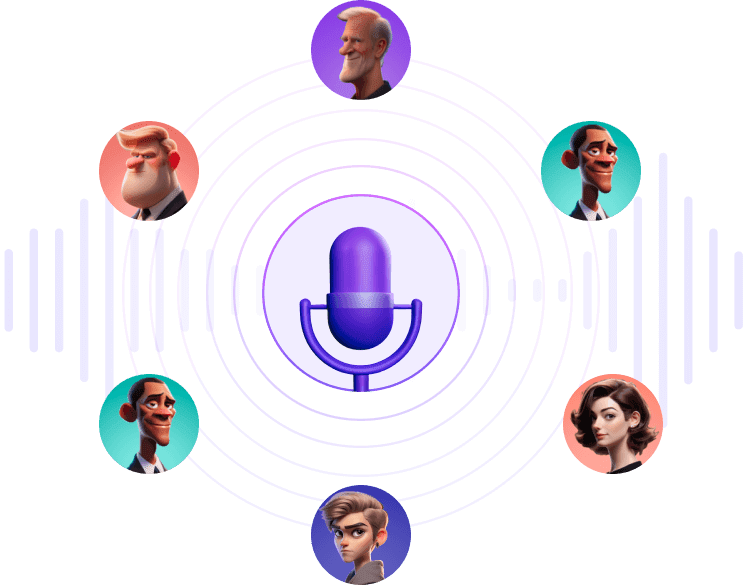 This feature is designed to capture the unique vocal nuances of your favorite stars, making your audio content more engaging and fun. Whether you're producing a podcast, creating a parody video, or simply having fun with friends, our updated voice effects promise an authentic and versatile audio experience.
Use in Discord and Other Communication Apps
For the Discord community, HitPaw Voice Changer serves as an AI voice changer. Its compatibility extends to other communication platforms like Zoom, Google Meet, Skype, TeamSpeak, and more, providing You with seamless integration and endless voice-changing possibilities.
Safety and Responsible Use
While the excitement of HitPaw Voice Changer is evident, it's essential to emphasize responsible usage. As with any technology, You should avoid using voice-changing software for harmful purposes or to deceive others. Instead, let the software be a source of fun and creativity, adding joy and entertainment to your online experiences.
How to Use HitPaw Voice Changer
Getting started with HitPaw Voice Changer is a breeze. The software's user-friendly interface allows for effortless voice modification. You can personalize voice settings, adjusting volume, pitch, and timbre to their preferences. Customizable keybinds provide quick access to favorite voice effects, ensuring smooth transitions between different character voices.
Conclusion
In conclusion, HitPaw Voice Changer stands as an exceptional voice-changing software that enhances online experiences for gamers, content creators, and Vtubers alike. Its real-time voice-changing effects, extensive library of premium voice effects, and compatibility with popular games and programs make it a top choice for those seeking to explore new dimensions of creativity.
The software's user-friendly interface, coupled with its realistic and natural voice generation, ensures that You can effortlessly transform their voices into lifelike characters. However, it is crucial to use the software responsibly, focusing on harmless and fun applications, and avoiding any harmful use.
Screenshots of HitPaw Voice Changer
Features
Key Features of HitPaw Voice Changer
Real-Time Voice Changing: Modify your voice instantly during voice calls, gaming, or live streaming, allowing you to sound like different characters or creatures in real-time.
Extensive Voice Effects Library: Access a wide range of voice-changing effects, including robot, demon, chipmunk, woman, man, ghostface, and anime actor, providing endless possibilities for creative voice transformations.
Seamless Integration: Integrate perfectly with popular games like Fortnite, PUBG, League of Legends, and applications such as Discord, Zoom, Skype, Google Meet, and TeamSpeak, making it easy to use across various platforms.
Noise and Echo Removal: Enjoy clear and high-quality voice-changing experiences with built-in noise and echo reduction, ensuring your transformed voice remains distortion-free.
AI-Powered Realism: Utilize cutting-edge AI algorithms and voice-learning technology to produce remarkably realistic and natural-sounding voices, preserving your unique emotional and speech patterns for an immersive experience.
Customizable Keybinds: Personalize your voice-changing experience by assigning shortcuts to your favorite voice effects, allowing quick and effortless switching between different character voices.
Versatile Applications: Ideal for gamers, content creators, Vtubers, and online meeting participants, enhancing gameplay experiences, creating engaging content, and adding excitement to live streams and virtual interactions.
User-Friendly Interface: Navigate through the software effortlessly with a user-friendly interface, enabling even beginners to utilize its powerful voice-changing features with ease.
Compatibility with Multiple Devices: Enjoy the convenience of using the software across various devices, including Windows and macOS systems, providing flexibility for different user preferences.
Responsible Use and Fun: Encouraging users to use the software responsibly and for harmless and fun purposes only, fostering creativity and enjoyment in voice interactions and content creation.
Downloads
Not sure if #THE SOFTWARE does what you need? Try it out now. Please feel free to download HitPaw Voice Changer trial here. This AI voice modifier tool by Hitpaw has been tested professionally and we are assured that no viruses, Trojans, adware or malware contained.
Buy Now
HitPaw Voice Changer is available starting at $35.95/month. But, through THESOFTWARE.SHOP, You can get HitPaw Voice Changer license that includes free updates and support with our exclusive discount coupon. This offer is available for a limited time!
BUY FOR WINDOWS:
BUY FOR MAC

You also might like

Giveaway
NOTES:
– All prices shown here are in listed USD (United States Dollar).
– Such promotional programs are subject to change without notice, from time to time in our sole discretion.
– Data may vary based on different systems or computers.
---
Thanks for reading HitPaw Voice Changer Review & Enjoy the discount coupon. Please Report if HitPaw Voice Changer Discount Coupon/Deal/Giveaway has a problem such as expired, broken link, sold out, etc while the deal still exists.