Expired
100% Software Giveaway on Start Menu X PRO – Free Full Version – The Best Alternative Windows Start Menu – for Windows
 Replace or add the Start menu, change the Start button, customize the looks of the menu to different skins. Get Start Menu X PRO v6.32 full version for free!
Free Full Version!
Start Menu X Pro Review Video
100% Software Giveaway on Start Menu X PRO – Free Full Version – The Best Alternative Windows Start Menu – for Windows
Start Menu X PRO Review at a Glance
Start Menu X PRO is an alternative to the Windows Start menu, based on the proven Windows 7 style, enhanced with additional features. This Alternative Windows Start Menu software replaces the Start menu after installation with the button in the lower left corner of the Windows desktop.
A fundamental change will be visible at first glance without further setup – Start Menu X does not use animated tiles like Windows 10, but classic icons in the style of Windows 7 and other older versions of this operating system. On top of that, however, Start Menu X adds many other features that can make your PC experience faster and more enjoyable.
For example, this alternative Start menu works with separate panels that can replace File Explorer when accessing folders and files on your hard drive. In the Start Menu X, there is also a search engine in applications and file contents or even a computer shutdown timer.
back to menu ↑
Features
Key Features:
Replace the Start button
Replace the Menu
Shut-down timers
Easily varying size
Any scale for any DPI
Internal document search
Manage the Virtual Groups
Sort files by name
One-click-launch
Change the structure and add tabs.
back to menu ↑
Requirements
To run #THE SOFTWARE with optimum reliability and performance, your system should match the following requirements:
Supported OS: Windows XP up to Windows 10 (32 and 64 bit)
back to menu ↑
Start Menu X PRO Download
Not sure if #THE SOFTWARE does what you need? Try it out now. Please feel free to download Start Menu X Freeware here. This alternative start menu by OrdinarySoft has been tested professionally and we are assured that no viruses, Trojans, adware or malware contained.
back to menu ↑
Buy Now
The Pro version of this Start Menu program retails for $19.99, But, through our website, THE Software Shop, you can get Start Menu X PRO v6.32 full verison for free in the Giveaway tab below. This offer is available for a limited time!
Start Menu X PRO Full Version Giveaway is available now free for a limited time!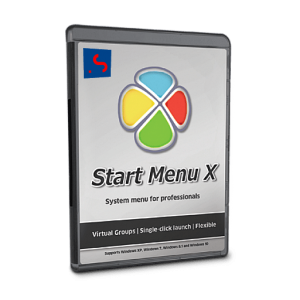 Please note that once you signed in, do not close this page. You will be shown how to get this offer for free.
Also, check out the latest software giveaways that are available here on the software giveaway page.
NOTE:
– All prices shown here are in listed USD (United States Dollar).
– Such promotional programs are subject to change without notice, from time to time in our sole discretion.
– Data may vary based on different system or computer.
---
Thanks for reading Start Menu X PRO Review & Enjoy the discount coupon. Please Report if Start Menu X Full Version Giveaway has a problem such as expired, broken link, sold out, etc while the deal still exists.