GIVEAWAY
Software Giveaway – Taskade: Free 1-year Access to Unlimited Plan – All-in-one Collaborative Productivity Tool | Chat, Organize, Get Things Done!
Let your team take notes and chat in a unified workspace. Get 1-year Access to Taskade Unlimited with 100% Off promo code for Free!
Taskade Review at a Glance
There are tools you can hack together for remote work. Then, there are remote-native tools: tools built by and designed for remote teams. By the time, we will be enjoyed the freedom and flexibility of working from anywhere—but we were also frustrated about having to hack together multiple tools in order to Get Things Done.
Few of the communication, collaboration, and project management tools in the typical "remote stack" felt like they were designed for remote teams. Virtually none were designed by remote-first teams.
We ended up constantly switching between a handful of different tabs and tools just to complete the basic functions of our day to day work. To paper over that fragmentation, we rely on group chat—a noisy, technological reflection of the open office's worst tendencies.
That's what inspired us to present: Taskade!
Taskade is one simple tool that allows teams to manage projects, brainstorm ideas, write product specs, and video chat together seamlessly, with everything syncing in real-time across all devices. You can use Taskade for free without any workspace restrictions. Create as many projects and templates as you like, collaborate with as many people as you need, across all our platforms.
Taskade also allows for multiple channels of communication, which include video calling, chat, and notes. Also, you get an array of emojis. Additionally, you can customize the type of notifications you want to have on your desktop, emails, and mobile applications.
There are also several ways in which you can view, tag, and highlight your tasks. Moreover, you can add live notes, comments, and attachments to tasks and easily integrate them with your calendar. Other team members can view notes, comments, and calendars of team members to have a clear idea of team operations and updates.
With Taskade, every conversation refers back to the task list. It gives your team the ability to discuss a project while offering the ability to see the project timeline, tasks, priorities on the same screen. This productivity tool removes the separation between tasks, notes, and communication, so you can stay focused and get work done. From ideas to actions, discussions to decisions, all on the same page.
It works with the platforms you already use on Mac or Windows desktops or as an iOS or Android app or as a Chrome or Firefox browser extension.
Screenshots of Taskade
Features
Taskade is packed with tools to make collaboration and remote work that much easier. One of the best features might be the ability to work on projects together in real time.
Key Features of Taskade
FUNDAMENTALS

File Size – Share and upload as many files as needed in Taskade. This is the maximum per file size limit when you upload a file on Taskade.
Tasks and Projects – Create tasks, projects, templates, and workflows for free. Sharing a project is free in Taskade, project editors will not be billed.
Workspace Members – Invite team members to your workspace for free. Workspace members will have full access to projects and templates inside. You can change team permissions for each member.
Collaborate with Guests – If you work with clients or contractors outside of your company, share your projects with guests so they can collaborate on the same page. Sharing a project is free, project editors will not be billed.
Custom Workflows & Templates – Each workspace and subspace supports custom templates created by you and your team. Automate your team workflows by creating your own templates. Custom templates will help eliminate repetitive workflows, so you can focus on getting work done, faster and smarter.
iOS, Android, Chrome, Desktop Apps – Taskade is available on all devices and platforms. Bring Taskade with you wherever you go. All data syncs in real-time to every device and team member.
Real-time Collaboration & Commenting – Every member's data syncs in real-time to every device and team member. Edit, comment and video chat on the same page.

TASK MANAGEMENT

Reminders & Due Dates – Get your whole team notified for tasks due and more. Notifications are enabled for email, browser, desktop, and mobile.
Assign Tasks & Projects – Assign yourself or your teammates tasks or projects.
Task Commenting – Leave comments directly on tasks to let your team know about your opinions.
Move and Copy – Move or copy tasks and projects to anywhere in your workspaces.
@ Mention People – Mention your team members in your project and filter tasks by person.
#Filter Tasks – Type hashtags # to set priorities or categorise tasks for the project.
Pomodoro Timer – Add countdown timers to each task and get things done! Manage distractions and control your time with the pomodoro method.
Sort Projects & Tasks – Sort tasks in alphabetical order, by completion status, and by due date.
Repeat Tasks – Automatically repeat your tasks with Recurring Tasks!
Custom Repeat Interval – Set custom intervals for your repeating tasks.
Bulk Assign Tasks – Multi-select tasks and assign yourself or other team members.
Bulk Due Dates – Multi-select tasks and add due dates in bulk.

TEAM COMMUNICATION

Chat and Messaging – Chat and communicate with your team while collaborating on any project. Get notified across our web, mobile, and desktop apps instantly.
Video Conferencing – Hop onto on a conference call with your team members while collaborating on a project for free without limits.
Screen Sharing – Share your screen with others effortlessly while collaborating on the same project. Share a window, full-screen, or the entire browser tab.

TEAM COLLABORATION

Project History – Project History provides a visual activity feed of the changes made to your project. This includes edits and task completions from all collaborators.
Version History – Recover any information you need by accessing your Version History. Access previous revisions and restore a project to any snapshot.
Real-time Multiplayer Syncing – Have your team collaborate on the same project in real-time. Collaboratively edit tasks, notes, together across multiple devices.
Workspace and Subspaces – Create workspaces and subspaces. A subspace is independent from the parent workspace, but simply grouped together to help you organize and manage multiple teams. A subspace has it's own member list, team permissions, projects and templates. If you upgrade a workspace, subspace members will be also billed.
Team Calendar / Roadmap / Agenda – Visualise your team's tasks based on a timeline through the team's calendar, roadmap or agenda.
Push Notifications – Get your whole team notified instantly with push notifications across all platforms via email, mobile, browser and desktop. Notifications include reminders for tasks due, new chats, comments, projects, and workspace member updates.
Activity Feed – Access all of your personal and team notifications in one place.
Search – Search tasks, projects, and comments across all workspaces.
Team Permissions – Manage the amount of access your team or clients have over your projects and workspaces.
Shareable Project Links – Send an invite Link href your project or workspace – and control who gets access to edit or view.
Checker Role Permission – Limit workspace members to checking and unchecking items only.

PROJECT VIEWS

Task List – Select Task List to view your project in a traditional document view.
Kanban Board – Select Kanban Boad to communicate status, progress and issues.
Action Sheet – Select Action Sheet to view your due dates and assignees in a table format.
Mindmap – Select Mindmap to visulise and present your ideas and concept in a mindmap view.
Org Chart – Select Org Chart to visualise and present your organisation and struture of your team.
Customize List Format – Select different checkbox and bullet point formats for your tasks and blocks.

WORKSPACE CUSTOMIZATIONS

Create Custom Templates – Each workspace and subspace supports custom templates created by you and your team. Automate your team workflows by creating your own templates. Custom templates will help eliminate repetitive workflows, so you can focus on getting work done, faster and smarter.
Templates Gallery – Need inspirations for how to use Taskade? Browse through our templates gallery with over 300 free workflows and templates for Taskade.
Dark Mode / Night Theme – Need a fresh look? Turn on Dark Mode and let your eyes take a break.
Internationalization (15+ languages) – Work in any language you prefer!
Upload Logo – Upload your own team logo for your workspace.
Upload Backgrounds – Customise your backgrounds or upload your own backgrounds to add your own flair.

INTEGRATIONS

Embed Apps & Instant Preview – Embed content from popular apps and quickly preview embedded content without leaving the project. Currently supported apps inclide: YouTube, Loom, Vimeo, Wistia, Figma, InVision, SoundCloud, Typeform, Whimsical.
Calendar Feed Integration – Sync all your tasks with Google, Apple or Outlook Calendar.
2-Way Google Calendar Integration – Sync all your tasks 2-way with Google Calendar in real-time.
Dropbox, Google Drive, One Drive – Share and upload file attachments to Taskade from your preferred cloud storage solution.

DATA SECURITY

Data Encryption – Taskade partners with Amazon Web Services and Salesforce Heroku for cloud hosting.
Regular Backups – Your data is backed up regularly with Amazon Web Services and Salesforce Heroku.
Google Single Sign-On – Sign into Taskade with your Google Account.
Twitter Single Sign-On – Sign into Taskade with your Twitter Account.
Facebook Single Sign-On – Sign into Taskade with your Facebook Account.

SUPPORT AND SUCCESS

24/7 Support – Receive 24/7 Support wherever and whenever.
Priority Support – Receive Priority Support to get immediate support for important and urgent concerns.
Onboarding and Training – Receive Custom Onboarding and Training to get your team up to speed with Taskade.

COMING SOON TO TASKADE!

Calendar View
Gantt View
Time Tracking
Email to Taskade
Schedule Templates
Advanced Reporting
Advanced Permissions
SAML, 2FA, and SCIM
Requirements
To run #THE SOFTWARE with optimum reliability and performance, your system should match the following requirements:
Mobile Apps – Work from anywhere with real-time collaboration, video call, and messaging
Browser Extensions – Turn your new tab into a productivity machine and stay focused.
Desktop Apps – Native apps for Mac, Windows, and Linux

Recommended for macOS 10.10 or later, Windows 7 or later, and Linux x64.
Downloads
Not sure if #THE SOFTWARE does what you need? Try it out now. Please feel free to download Taskade here. This team productivity tool has been tested professionally and we are assured that no viruses, Trojans, adware or malware are contained.
Buy Now
Taskade is available starting at $9/month. But, through THESOFTWARE.SHOP, you can get Lifetime access to Taskade Unlimited Plan for FREE with 100% Discount Promo Code in the Giveawy tab below! This offer is available for a limited time!
PROMO CODES

You may like

Giveaway
Taskade Unlimited - Yearly (72% Off)
When you subscribe to the yearly Unlimited plan, you will get a $48 discount (without coupon). Use this coupon to get an additional 50% discount. So you'll save up to 72% on your annual Unlimited planxsusbcription
$60.00 $108.00
Taskade Unlimited - Monthly (50% Off)
$9.00
Taskade Giveaway is available now FREE for a limited time!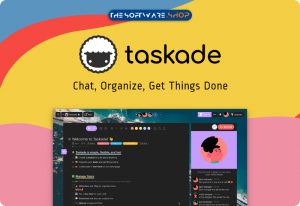 Please note that once you have signed in, do not close this page. You will be shown how to get this offer for free.
Also, check out the latest software giveaways that are available here on the software giveaway page.
NOTES:
– All prices shown here are in listed USD (United States Dollar).
– Such promotional programs are subject to change without notice, from time to time in our sole discretion.
– Data may vary based on different systems or computers.
User & Media Reviews
What are their users saying about #THE SOFTWARE? Why they loved it?
I have stopped looking for task management apps since I found Taskade. It manages my work, side projects and personal life. Simply great.
(Source: ProductHunt)

John Xie gave me a try for this app about a year ago. Up till now, I am hooked with this app. It is my close friend on my mobile phone, Tab, and on my Mac using the chrome extension. Everywhere, and anytme, I can control my task list.
The sharing options are very helpful. I can share based to anybody to edit my work, or only for view. The UI and UX are excellent.
So, if you have not used it, you must install it and try.
Thanks John for this excellent app.

---
Thanks for reading Taskade Review & Enjoy the discount coupon. Please Report if Taskade Discount Coupon/Deal/Giveaway has a problem such as expired, broken link, sold out, etc while the deal still exists.