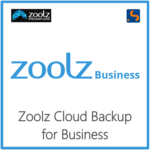 40% Off Coupon on Zoolz Business Cloud Backup – One Terabyte Storage (Unlimited Servers, Unlimited Users) – The New & Affordable Cloud Backup for Business
Provide backup for unlimited users, servers & external drives with simple & transparent pricing adequate for your business. Get Zoolz Business Cloud Backup One Terabyte Storage – Unlimited Server & user with 40% Off Coupon
You save $80 | 30-day Moneyback Guarantee | Secure Payment | 24×7 Customer Support
40% Off Coupon on Zoolz Business Cloud Backup – One Terabyte Storage (Unlimited Servers, Unlimited Users) – The New & Affordable Cloud Backup for Business
40% Off Coupon on Zoolz Business Cloud Backup – One Terabyte Storage (Unlimited Servers, Unlimited Users) – The New & Affordable Cloud Backup for Business
Zoolz Business Cloud Backup Review at a Glance
Zoolz Business Cloud Backup offers simple and transparent pricing adequate for businesses of all sizes. Zoolz Cloud Backup for Business is a secure and reliable cloud backup solution which provides backup for unlimited users, servers & external drives.
Zoolz Business Cloud Backup is the first cloud backup to adopt Tribrid backup; providing an economical and practical backup solution for all businesses. The next-gen of hybrid is nowhere with Tribrid backup. Tribrid enables businesses to protect all data produced and save storage costs without sacrificing any data. Tribrid backup introduces 3 storage types; Instant, Cold and Local Storage, where you select what data to store on each storage type and Zoolz will handle the rest.
Zoolz Business Cloud Backup intuitive design combines enterprise-level features such as scalability, centralized management, reliability, data tiering and more at a very affordable price. By leveraging AWS technology and our powerful backend, we provide a solution that will allow all businesses, no matter how large, an easy move to the cloud. Unlike other services, Zoolz does not cap bandwidth upload/download speeds nor does it set upload/download file size limitations. You can use quality cloud backup feasible for all businesses.
Zoolz is available for Windows OS, Mac OS X, Android, & iOS.
back to menu ↑
Features
Key Features of Zoolz Business Cloud Backup:
Backup

Continuous data protection that monitors file changes
Back up everything, desktops, laptops, servers, external drives and Network drives
Scheduled backups
Multiple performance modes; turbo, smart, battery saving and presentation
Step-by-step backup configuration wizard
Easy to use data selection
Advanced file filtering, by type, size, date and expression
Pause/Resume backups
The ability to back up open files
Block level backups for large files
3 level deduplication; machine level, company level, and global
Smart file/folder rename detection, files will not be uploaded twice
Lightweight client, all major operation are done on the backend servers
Military level 256-AES encryption of files
Back up any file no matter how large
Intelligent bulk upload of small files for faster backups

Security

Highly secure military level AES encryption of files before leaving the computer
Secure transfer of all files with 256 AES
Secure 256-AES server-side encryption
Complies will all laws and regulations for safely processing, transferring, and storing data
On the fly decryption when the file is needed

Backup Policies

Supports user defined or Admin defined backups
The ability to configure the user's data selection, privileges, and settings all from one centralized location
File retention rules
Advanced file filtering options by wildcards or regular expressions
Filter by size and date
Set backup frequency or schedule
Throttle and schedule internet bandwidth usage
Easy to use Smart Selection
Set backup performance modes
Global Exclude by wildcards

Mobile Apps (Work on the go)

Share files no matter how large with a tap
Listen to your music
Access your encrypted documents instantly
Save documents, music and photos to your mobile

Reporting

Backup and restore activity
System alerts
Client locator to locate your clients across the globe
Bandwidth usage monitor
Storage usage monitor

Windows integration

Backup marker to indicate any file backed up, removed and modified since the last backup
Right-click share for any file backed up on Zoolz
Add/remove files from backup with a right click

Big Data

Extremely inexpensive storage for companies with large amounts of data
Ability to bypass internet upload by shipping data using external medium with Zoolz Import/Export
Preview backed up data before restoring
Supports 3 levels of Deduplication
Block level support
File Retention policies

Enterprise level web core

Leverages Amazon's AWS highly reliable and secure infrastructure
Most computation is done on the back end
Automatic purging by days and versions
Smart deduplication algorithm that supports encrypted files
Secure 256-AES server Side Encryption
On the fly decryption of shared and streamed files
Share files privately and securely via email, link generation
On the fly decryption of files when demanded
The ability to expire links after one download or by days
Password protection to secure shares
Unshare links with ease
No limitation of number of downloads or sharing file size

Cold Storage

Instant backup for rarely accessed files
Designed for archiving purposes
Easy to use data selection
Extremely low cost: 1 TB unlimited users and servers for only $21/mo.
Zero restore cost
View backed up photos
Remote restore

User Management

Add new users locally and globally with ease with simple email invites
Deploy to 100s of users via Active Directory Deployment
The ability to suspend, archive, delete computers and users with easePolicy changes are reflected to the clients instantly
Policy changes are reflected to the clients instantlySet storage limit and file retention
Set storage limit and file retention
Multiple admin support
Labels for easier organization
Define a policy or allow the user to configure their backup

Access files anywhere

Easy to use web viewer to download share files/folders with a click
No download limitations on file size or number of files
On-the-fly decryption of files
List and Tile view of all files
Remotely restore any file to any Computer
Instant search
Show and recover deleted files
Thumbnail preview of raw camera format of images
Permanently delete files that have been mistakenly backed up
Sharing management to retrieve shared links, retire shares, and set/disable password protection
Easy switching between multiple computers under the same account
Right-click windows explorer like options on files and folders
Drag-drop files to any folder location
Keyboard shortcuts for easy manipulation

Restore

Restore from web or client
The ability to restore and resume backups
Step by step easy to use restore
Remotely restore files to your device
Restore to original or alternate location
Intelligent bulk download of files and multi-task restore for faster restores

Servers

Back up Windows Servers
Continuous Data Protection; constantly monitors changes
Server level deduplication that supports encrypted drives
Back up while logged off
Open-File backup support
Block level backups of large files
Assign policies remotely

Tribrid Backup

Automated backups to each storage type
Zero restore cost from Amazon Glacier
Complete users management
Easy, fast deployment via Active Directory or email invites
Remote backup configuration via policies
Seamless restore from all 3 storage types without any intervention
Advanced filtering capabilities
The ability to Copy, Encrypt and Ship all data to Cold and Instant storage And much more
back to menu ↑
Free Signup
Not sure if Zoolz Business Cloud Backup does what you need? Try it out now. Please feel free to download Zoolz Business Cloud Backup here. Zoolz Business Cloud Backup by Geni9 Corp has been tested professionally and we are assured that no viruses, Trojans, adware or malware contained.
back to menu ↑
Why Choose
With Zoolz Business Cloud Backup You can:
Protect Unlimited Computers, Servers, Network and External Drives
Add unlimited servers and users, giving you value for money.
Manage Multiple Devices Automatically
Easily move to the Cloud with automatic Backup and easy Deployment
Secure your Data with Zero-Knowledge Encryption
Cut your IT Costs with the affordable & reliable Zoolz Solution
Monitor conveniently ALL Backup Operations with our Enterprise-Level Reporting Features
Focus on valued Tasks with our low-maintenance Solution & let us take Charge of your Backup Operations
Immune from ransomware attacks, as it will always preserve the first file uploaded for a lifetime.
Perfect for companies of all sizes. Whether you work in Media, Legal, Healthcare, Photography, or Real Estate, your business can take full advantage of Cold Storage.
back to menu ↑
Buy Now
Zoolz Business Cloud Backup retails for $16.67/month for 1 TB Cloud Storage, But, on our website, THE Software Shop, you can save on your purchase of its license key with our our discount coupon code. This offer is available for a limited time!
BUY HERE

You also might like

Software Giveaway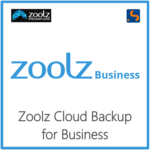 Zoolz Business Cloud Backup - 1TB - Unlimited users unlimited servers
Yearly Subscription
Zoolz Cloud Business 1TB - Unlimited users unlimited servers
Enjoy one terabyte
Unlimited Users & Unlimited Servers
Swift Auto backup
Free Support
30-Day Money-back Guarantee
* Earn up to 40% discount on your initial transaction, and a lifetime 30% discount upon subscription renewal.
$16.67/month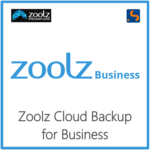 Zoolz Business Cloud Backup up to 50TB - From 1 year up to 3 Years
Yearly Subscription
Zoolz up to 50TB – Unlimited Users + Unlimited Servers, from 1 tear up to 3 Years
Flexible Plans - Choose up to 50TB & Up to 3 Years
Unlimited Users & Unlimited Servers
Swift Auto backup
Free Support
30-Day Money-back Guarantee
* Earn up to 30% discount on your initial transaction, and a lifetime 30% discount upon subscription renewal.
** The price listed here is the price per month for 1-year subscription
$16.67/month
Zoolz Business Cloud Backup Giveaway is unavailable at this moment.
Please note that once you signed in, do not close this page. You will be shown how to get this offer for free.
Also, check out the latest software giveaways that are available here on the software giveaway page.
---
Thanks for reading Zoolz Business Cloud Backup Review & Enjoy the discount coupon. Please Report if Zoolz Business Cloud Backup Discount Coupon/Deal/Giveaway has a problem such as expired, broken link, sold out, etc while the deal still exists.
Excellent
You don't need to be an IT wizard to use Zoolz Business Cloud Backup. Their intuitive system is easy to pick up. They also have a dedicated support team should you need it so, you can reduce operational costs and IT infrastructure costs. Backup everything into a secure cloud that you can always access. Backup your laptop, external, network and hard drive with all your photos, videos, and personal documents are securely protected. Everything is encrypted with military-grade encryption. Plus, you get unlimited file versioning.
PROS
Tribrid Backup
Remote Restore
Protect Servers
Enterprise Level Back-end
Easy Deployment via Active Directory
Powerful & Lightweight File Browser
Save space & Bandwidth
Powerful User Management
Cold Storage: Store More, Pay Less
Enterprise Level Features such as scalability, centralized management, etc.
Offer two highly-secure means to bypass the Internet and transfer massive data to their data centers
Keep track of your Client Across the Globe
Supports on-the-fly encryption and decryption of your files.
Mobile Access via Android Phones/iDevices