GIVEAWAY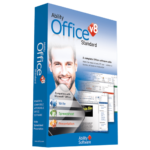 Expired
100% Software Giveaway on Ability Office 8 Standard – Free Activation Code – The Affordable Office Suite – for Windows
An impressive office suite that performs exceptionally well on simple document editing, spreadsheet, and presentation tasks. Get Ability Office 8 Standard full version includes an activation code for free
Free Serial Number
Ability Office 8 Standard Review at a Glance
Ability Office 8 Standard offers the most essential functions that you'd need in an office software including a word processor, spreadsheet, presentation tool, and photo manager. Create, load from, edit and save to Microsoft® Word, Excel, and Powerpoint. This light-weight offcie suite even provides some additional features that will improve your experience. This standard office suite also includes a Photoalbum and quick application Launcher.  It's a little more basic, although you do get extra tools to convert images between formats, and present them in HTML albums.
Ability Office 8 Standard offers the most essential functions that you'd need in an office software. The software boosts of a wide range of features of which you can take advantage. This office program is also reminiscent of older versions of MS Office. The resemblance goes a long way in ensuring you make a smooth transition if you ever make the switch. Just perfect for working from home, allowing files to be edited and exchanged with those back in the office, and absolutely ideal for students and school children.
Features
Key Features of Ability Office 7 Standard:
Write – Word Processing

Compatible with Microsoft® Word 2016 and earlier
PDF or XPS export for your documents
AutoSpelling, AutoCorrect & AutoText
Vector Drawing layer, Autoshapes, Linked Frames & Tables
Indexing, TOC, Sections, Task Panes & WriteFX effects

Spreadsheet – Spreadsheets

Compatible with Microsoft® Excel 2016 and earlier
PDF or XPS export for your spreadsheets
Pivot Table Wizard, Vector Drawing layer, Autoshapes
Over 250 built-in functions & 25 different chart types
Set Print Area, Page Break Previews, Cell Property Pane

Presentation – Slideshow Presentations

Compatible with Microsoft® PowerPoint 2016 and earlier
PDF, XPS, HTML Web-Album & Image export for your slides
Thumbnail Outliner, Slide Sorter & Master Slide View
AutoShapes, Pictures, Charts & WriteFX effects
Spell Checking & Thesaurus
Requirements
To run Ability Office 7 Standard with optimum reliability and performance, your system should match the following requirements:
System Requirements for Windows OS:
Supported OS: Any 32 bit or 64 bit of Any Windows 10, Windows 8, Windows 7 and Vista.
PC suitable for running these operating systems
150Mb hard disk space
System Requirements for Mac OS:
Ability Office Download
Not sure if Ability Office 7 Standard does what you need? Try it out now. Please feel free to download Ability Office 8 Standard for Windows here. This office suite by Ability Software International has been tested professionally and we are assured that no viruses, Trojans, adware or malware contained.
(Standard) (Professional)
Free 30-day trial | Windows 10, Windows 8, Windows 7 and Vista.
Buy Now
Ability Office 8 Standard retails for $39.99, But, through our website, THE Software Shop, you can get Ability Office 7 Standard includes a serial number for free. Please open the Giveaway tab below to grab it now. This offer is available for a limited time!
You also might like

Giveaway
Ability Office 8 Standard Giveaway is available now for a limited time!
Get it now while it's free!
Please note that once you signed in, do not close this page. You will be shown how to get this offer for free.
Also, check out the latest software giveaways that are available here on the software giveaway page.
NOTE:
– All prices shown here are in listed USD (United States Dollar). Your local currency will be converted automatically, You can also switch to any other currencies during the checkout process.
– The discount coupon & your local VAT (Value added tax – if available, vary by country) will be applied at checkout automatically.
– The order(s) for the software are processed by the Avangate company. This company accepts paying on-line, via PayPal, by fax, bank-wire transfer, check, cash, or purchase order.
– You will receive a notification e-mail from Avangate when your order is processed which will also include your license information.
---
Thanks for reading Ability Office 8 Standard Review & Enjoy the discount coupon. Please Report if Ability Office 8 Standard Discount Coupon/Deal/Giveaway has a problem such as expired, broken link, sold out, etc while the deal still exists.