NEW ACID PRO 10 FOR FREE – exclusively by upgrading to version 9 plus $50 Discount!
The new ACID Pro is coming soon and scheduled to be released at the end of February 2020. Now's your chance for double the innovation. Buy ACID Pro 9 today and get ACID Pro 10 for free upon release with this exclusive 2-for-1 offer!
Get the latest ACID Pro version for the ultimate upgrade price at $50 discount and receive ACID Pro 10 for free when released by the end of February! This ultimate remixing tool takes your productions to a whole new level.
The next ACID is already waiting for you! Ready for the next generation of sample- and loop-based music production!
ACID Pro 10 arrives by the end of February …
Sneak peek:

NEW: STEM MAKER 2
NEW: Morphium Pads
NEW: Melodyne essential a
And many more exciting new features…
Brings you a host of new features that take your music production to the next level! zynaptiq® STEM MAKER 2 for unique sampling, Morphium Pads for the best remix, Sidechaining (coming soon), new instruments and ACIDized loops and much more!
ACID Pro 9 Highlights at a glance
The ultimate remix tool: MIDI Playable Chopper
Create beats and remixes in a completely new way. Playfully create your own samples from ACIDized loops and your favorite songs. Jam away – just like with a legendary MPC sampler. Play ACID like an instrument!
A smoother workflow with ARA2
ARA2 support enables improved communication between ACID Pro 9 and other ARA enabled plug-ins such as Melodyne essential (included in ACID Pro 10). Audio data is manipulated in real time, time-consuming transfers are eliminated, and an even smoother and faster workflow is guaranteed.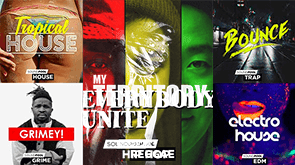 New ACIDized loops
ACID Pro 9 comes with a huge range of fresh loops, covering a range of music genres including EDM, House, Trap and Reggae.
ACID PRO 9 + 10: The ultimate twin pack offer
Order the latest version ACID Pro 9 before the end of February – and receive a free upgrade to ACID Pro 10 when released.
PLEASE NOTE: This offer is available for the users who have the previous version of ACID PRO. This offer will be activated immediately after verifying the program version that has already been registered. Please sign in to your account to continue with this. If you wish to continue as a guest, please have the serial number for your previous version ready.
NEW ACID PRO 10 FOR FREE – exclusively by upgrading to version 9 plus $50 Discount!